14 Things You Didn't Know About Thrasher Magazine
In this article we're going to cover 14 Things You Didn't Know About Thrasher Magazine. This means covering the history, the Thrasher logo, Jake Phelps' thoughts on celebrities in Thrasher clothing, who's banned form the magazine and much much more!


If you enjoy this video please subscribe to our channel to help us make more great skate content.
--------
1) THE START 
Eric Leon Swenson is born in San Francisco, California, August 4th, 1946. Three days later, Fausto Vitello is born August 7th, in Buenos Aires, Argentina. Vitello's family left when he was 9 to escape political unrest in Argentina, and moved to San Francisco, California. 
Swenson & Vitello meet in the US army reserves in the 1960's, they become friends over their bond of motorcycles. Swenson was quiet, logical and handy, liked to design things. Vitello was loud, flamboyant and outspoken. Together they made a great partnership.

In 1978, the duo starts Independent trucks with Richard Novak & Jay Shiurman.


In January 1981, Swenson and Vitello found Thrasher Magazine. The main reason behind starting a magazine was to promote their independent trucks brand. They want a magazine to promote their riders and products, being in San Francisco, they felt the magazines in Southern California overlooked them. Their printing company becomes High Speed Productions, which will also goes on to own Juxtapoz and Slap Magazines.

The magazine quickly grew to represent a sense of opposition to the status quo. While it was never the biggest or most successful of the skateboard magazines, it stood for something, raw uncensored skateboarding. Unfortunately, neither Vitello nor Swenson would live long enough to see the amazing success the mag has become today.


In 2006, Fausto Vitello dies of a heart attack while riding his motorcycle with friends. His wife Gwynn Rose Vitello who took over as president at High Speed Productions, his daughter runs marketing and sales, and son Tony Vitello took over the reigns at Thrasher Magazine. It is still a family run business today.




In 2011, at age 64 Eric Swenson is found dead in front of an SF police station. He shot himself from being in so much pain from an old motorcycle accident. He did it in front of the police station so his family wouldn't have to find his body. 
Both men left an amazing legacy and skateboarding would not be the same without it today.
2) JAKE PHELPS
James Kendall Phelps was born in San Francisco on Sept 24th, 1962. But moved to Boston when he was young; James parents often called him J.K. which eventually became shortened to Jake.

When Jake was 13, his mom bought him his first skateboard. In the 1980's he later drops out of high school and moves from Boston back to San Francisco and starts working at Concrete Jungle Skateshop in the Haight District. He also got added to the sponsored AM team along with names like Noah Salasnek, Danny Sargent, & Mickey Reyes.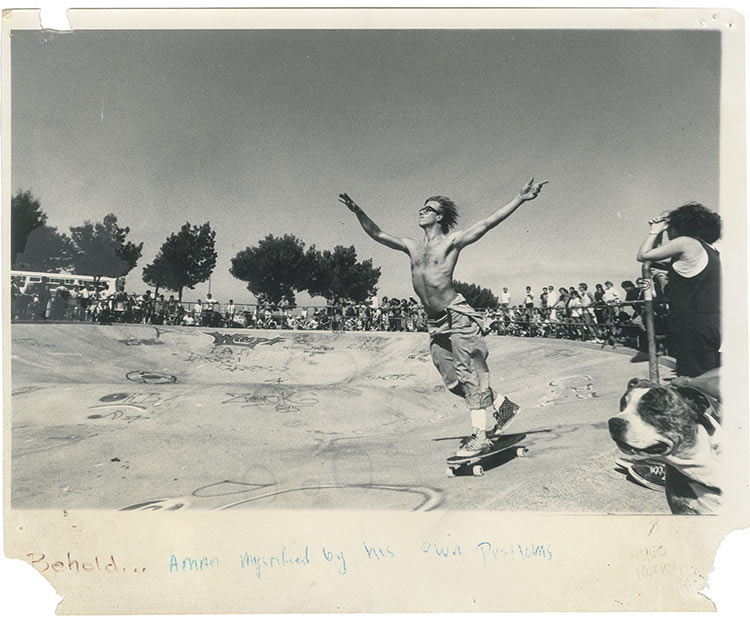 In 1986, Jake Phelps met the owners of Thrasher at Concrete Jungle, and they asked him to write for the magazine. So in August 1986, Jake becomes an official contributor at Thrasher magazine. In 1989, he became the shipping manager, 1992, he becomes the associate editor, and then in 1993 is made the Editor in Chief, a title he would keep for the rest of his life.

Jake embodied exactly what "Thrasher" was more than anyone in existence. He was kind of abrasive but still compassionate and cared more about skateboarding than almost anyone. His persona became the voice of the brand. He didn't care about any of the other stuff, just pure, raw skateboarding.

"Anybody can cover a hard trick in the Mountain Dew contest," says Phelps. "We don't cover all that crap." "Skateboarding doesn't owe you shit. It owes you wheelbite in the rain" - Jake Phelps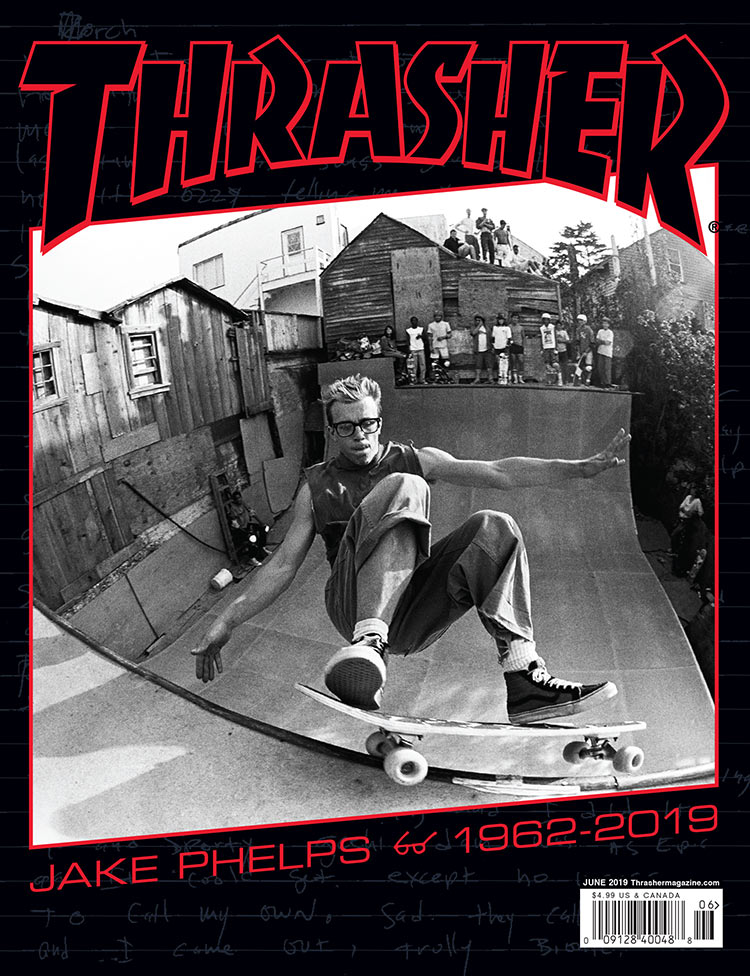 Over the years he has "gotten fired" or come close a few times for controversial remarks. One of his previous employees told Vice Magazine that "Jake didn't even have a computer on his desk, he didn't have an email address, and his voice mail was never even set up."

Jake spent a lot of time in hospital beds. He claimed to have a 290-page medical record that detailed seven knee surgeries and fractures to his legs, pelvis, collarbones, thumbs and skull.

Jake Phelps passed away on March 14 in San Francisco at the age of 56, and was cremated with his skateboard. After his death, "PHELPER" was spray-painted on a wall in Thrasher's flame-tipped font as a makeshift memorial at the Potrero del Sol skatepark, at the edge of the Mission District, where he loved to watch kids skate, and give gear away. His passing was covered in every skateboard magazine on earth + most huge media companies from NY Times to Vogue. 
3) SNOWBOARDING COVER- Early on thrasher used to cover anything they thought fell into the skateboarding demographic in their magazines. This included skateboarding, music, stories and even some snowboarding articles.

There was a long time when Thrasher covered snowboarding and there's even an issue with Rob Roskopp snowboarding on the cover. He even has a Thrasher sticker on the board, one of the weirdest covers you'll see from Thrasher.




Note: Even weirder, they had a longboard cover in July of 1995. Along with an article on the "cult of the longboard" the feet on the cover are actually Craig Stecyk, who you might remember form our Powell Peralta video.


4) THE THRASHER LOGO
The thrasher logo is just a typeface called Banco designed by French Graphic and Poster designer: Roger Excoffon for the Olive Foundry in 1951. Excoffon was a designer who specialized in typography.


The saying "Skate and Destroy" had been floating around the skate and punk scene for some time already, and became an iconic part of the brand.
5) PERMANENTLY BANNED
Jake Phelps was known for banning skateboarders from the magazine who he didn't like, and he considered separating the kooks from the rest his calling. Lots of the time there weren't permanent, but many were.

In 1996, Phelps had labeled pro-skateboarder Billy Pepper  "Most Annoying" in the previous year's issue, and Billy showed up at Thrasher's offices to punch Jake in the face. Billy got banned from ever appearing in the mag again, along with others like Benji Galloway, Tony Farmer, Frank Hirata, or Choppy Omega.

Other people partially banned included iconic photographer Daniel Howard Sturt and Jeremy Wray. But they were later unbanned when DHS shot the legendary water tower photo that became the cover of the XXXX issue of Thrasher.

Side Note: Daniel Howard Sturt was actually unbanned before the water tower Ollie photo because he snuck in on a Transworld skateboarding shoot with Danny Way jumping out of a helicopter, and shot the photos of Danny from far away with a long lens, Thrasher would print the photos and rush them to get out before Transworld could get them on their cover, making it an already seen image and destroying a little bit of the shock value of that cover.

6) CELEBRITIES WEARING THRASHER 
Thrasher grew up with the Californian punk and hardcore culture, and became a set part of this subculture. Even back in the 90's, everyone from the Beastie Boys to Sonic Youth used to wear Thrasher clothing and appear in the mag.
Over the years some celebrities that are not quite as "on brand" have started wearing Thrasher clothing, such as Rihanna, Justin Bieber, Tyler the Creator, Ryan Gosling, Bella Thorne or Adam Levine. As well a tons of other celebrities and models.

W Magazine claimed "It's official: you no longer need to own – or have any idea how to ride – a skateboard to embrace skater style." 
When asked by the media Phelps said "We don't send boxes to Justin Bieber or Rihanna or any of those fucking clowns."
The hype around Thrasher even prompted Vogue magazine to publish "skate week," which brought on lots of criticism from the skate community, because the articles were super bad and it was obvious they were being culture vultures and just cash in on skateboarding's cool factor.

Vogue published Articles like: -"Here's how to do skater style like a model", "an ode to great skate hair" and "7 break out skate brands to trick out your summer wardrobe". The articles even have bits that talk about people "appropriating skate culture", pretty ironic for a fashion magazine doing "skate week".

Many skaters have reacted to pop culture trying to jump on the skateboard fashion trend, and Phelps even commented, saying it was "corny shit"


7)  Michael Burnett:
Michael Burnett was a kid from Texas who moved to Colorado for school. Burnett sent in a zine to Thrasher, which Phelps liked and they eventually brought him on board to shoot photos and write articles He said in an interview that he learnt to shoot photos and everything he needed along the way.

For over 20 years if you open any Thrasher to the first few pages, you'll see Burnett's name listed as "Editor At Large" and Jake Phelps as "Editor In Chief". Meaning that Burnett does most of the heavy work and Phelps gives the seal of approval. A situation Burnett says he's more than happy with.
8) THE MODERN SUCCESS OF THRASHER 
In 1981 they let out the first magazine and didn't even have a skater on the cover, now in 2020, it is the biggest skateboard magazine and media outlet on earth. It is also the longest running skateboard magazine out, living up to it's nickname "The Bible" of skateboarding.

In 2011, Thrasher is distributing 250,000 copies of the Magazine and the website is receiving 1.5million visitors / month. Today, their website gets approximately 2.5 Million visitors a month (similarweb.com) making it the biggest skateboard website ever.
Thrasher's motto was "Skate and Destroy." Its vision of skateboarding was unrelentingly gnarly; it had a recurring feature in which readers were encouraged to send in pictures of broken bones and open wounds.


9) THRASHER HAD A VIDEO GAME
In 1999, Thrasher partnered with Rockstar games to come out with the video game "Skate & Destroy". Unfortunately it released around the same time as the first Tony Hawk Pro Skater video game, which came out a few months later. Thrasher's game tricks were a little more realistic than Tony Hawk Pro Skater game where you could backflip over buildings.

In the game you could break your board, snap bones and get arrested by police officers. The goal of the game was to get sponsored and get the cover of Thrasher magazine. There was also a Gameboy Color version of the game, but it ended up getting cancelled after the Playstation version sales were slow. 

10) SKATER OF THE YEAR
"I'm not gonna give the award to some Johnny-come-last-month, flavor-of-the-week guy," Jake Phelps.
The Thrasher Magazine Skater Of The Year (SOTY) is the only award of its kind, and the most coveted award in all of skateboarding. A coveted achievement within the skateboarding world

Skater of the Year started in 1990, with Tony Hawk winning the first year. It's grown in notoriety every year since. With it now being the top honour in skateboarding. The magazine doesn't let anyone in on the process of picking the recipient, but most skateboarders believe the common rumour that Phelps was ultimately in charge of the decision 

Other notable SOTY winners include skateboarders like Bob Burnquist, Andrew Reynolds, Mark Appleyard, Andrew Reynolds, Eric Koston, Arto Saari, Ishod Wair, Bob Burnquit, and Jamie Foy. Note that Danny Way and Chris Cole are the only skateboarders to have won SOTY two times.

HERE IS A COMPLETE LIST OF THRASHER SKATER OF THE YEAR WINNERS:

1990: Tony Hawk
1991: Danny Way
1992: John Cardiel
1993: Salman Agah
1994: Mike Caroll
1995: Chris Senn
1996: Eric Koston
1997: Bob Burnquist
1998: Andrew Reynolds
1999: Brian Anderson
2000: Geoff Rowley
2001: Arto Saari
2002: Tony Trujillo
2003: Mark Appleyard
2004: Danny Way
2005: Chris Cole
2006: Daewon Song
2007: Marc Johnson
2008: Silas Baxter-Neal
2009: Chris Cole
2010: Leo Romero
2011: Grant Taylor
2012: David Gonzalez
2013: Ishod Wair
2014: Wes Kremer
2015: Anthony Van Engelen
2016: Kyle Walker
2017: Jamie Foy
2018: Tyshawn Jones
2019: Milton Martinez


The last SOTY Phelps chose was Tyshawn Jones, although we think he'd agree with the Milton Martinez call this year.

With the Olympics fast approaching, it's important to note, that no skaters will remember who gets gold at Tokyo, that will be interesting for your grandparents and big corporations looking to put a skater in their commercial, real skaters know that SOTY is the highest honour given in skateboarding every year.

11) KING OF THE ROAD
In 2003, Thrasher launches their famous contest the King Of The Road. This is a contest thought up by Micheal Burnett, designed off of crazy skate road trips he'd been on over the years. A contest made up of a road trip from hell that's also a scavenger hunt, where teams do different crazy challenges to earn points.



This is a 2 week road trip around the states where skaters are given a book in each city informing them of where to go and what to do next including challenges they have to achieve. Challenges range from gnarly or weird tricks, to making out with old ladies or taking a dump in the van with everyone in it. 

At a time when Thrasher wasn't the biggest magazine, Burnett commented, "Transworld was making epic videos, with the world's biggest pros, it was our way to get the biggest pros to be in a Thrasher video".

12) HALL OF MEAT
Back in the day you could send it your pictures of disgusting injuries and if they were gnarly enough, Thrasher would print them in a page at the back of the magazine with the label "Hall Of Meat" or sometimes "Hall Of Carnage".



Over the years this moved onto their website and Instagram account @HallOfMeat (with around 2M followers). It features all the worst skateboarding slam and injury clips or photos.

Thrasher Hall Of Meat has featured a few of our team riders over the years.

13) DOUBLE ROCK 
Thrasher also has their own private little indoor skatepark, called Double Rock. The skatepark is right along the bay at a secret location in San Francisco, California. The park is invite only and creates lots of footage for their website including edits from teams like Enjoi, Powell Peralta, Dickies, Lakai and even Lil Wayne.


14) 666TH Street
In 2018, Thrasher opened their first ever public location, a retail spot in their hometown of San Francisco, located at 66, 6th Street. The Thrasher store is part skateboard museum, it's also a collective meeting spot for skateboarders all around SF.