The Comprehensive History of Skateboard Shoes, From Barefoot, to the First Skateboard Shoes, to the Bulky 90's, and to Today's Modern technology of Skateboard Shoes!
We're going to take a deep dive look into skateboarding shoes, how they have evolved over time, new technologies, new trends, and how they relate to what was going on in the world of skateboarding at the times these shoes were released!
THE 1950's:
The 1950's was the dawn of skateboarding, with the first commercially produced skateboards hitting the market; these first skateboards were commonly sold at grocery stores. One of the first commercially sold skateboards was known as the "Roller Derby"

During the 50's skateboarding was commonly known as "Sidewalk Surfing", Skateboarders would be seen "Surfing" down sidewalks in bare feet, it was seen as a Neat toy by the public at the time.
THE 1960's:
In 1962; Val Surf becomes the first surf shop to sell skateboards, making it the worlds first skateshop! Also in the 60's; the original Skateboarder Magazine Arrives, which is known to be the world's first skateboard magazine ever made!
Skateboarders Featured in Skateboarder Magazine are commonly seen in either bare feet or very thin shoes that provide a similar barefoot feel while protecting your feet from getting too beat up.
In 1965; Randolph Rubber Company, releases the first ever skateboarding shoe advertised to skateboarders, the shoe was known as the Randy "720" Skateboard Sneaker. The Randy 270 Advertised tougher rubber on the "toe & heel", making the shoes ideal for skateboarding. These shoes were created to feel like skating barefoot (very thin) and were very good for turning and doing spins. The Shoes cost $14.95
During this time skateboarding wasn't very popular, the public saw it as just another toy that's time had passed, similar to toys like the Slinky and the Yo-Yo

A year later on March 15, 1966; The Van Doren Rubber company launched in Anaheim, California. A custom footwear shop that would make boat deck shoes. they would go on to become fairly popular with skateboarders, through this they had received the nickname "Vans", this nickname would go onto become the name of the company as they shifted to skateboarding footwear. Stacey Peralta had said in the book "Made For Skate"; that Vans was the first company "to recognize us as skateboarders"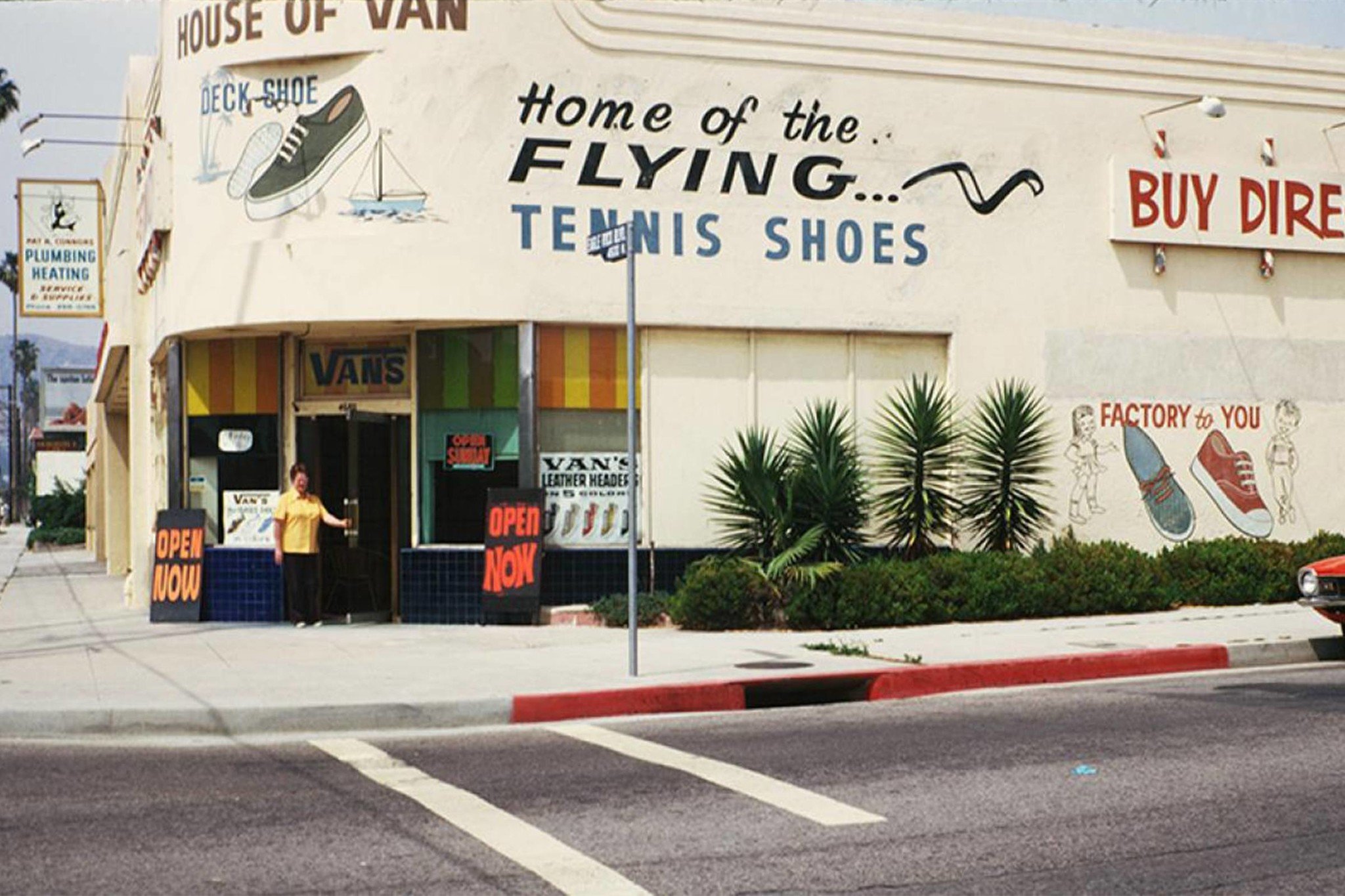 1970's:
In the early 1970's (1972) the Polyurethane wheel is introduced by Frank Nasworthy, this gives skaters tons more control, and skateboarding tricks leap forwards with progression.

In 1976, Stacey Peralta & Tony Alva & Vans design the world's first "skate shoe". Meaning the first ever shoe designed for skateboarding. The Style #95, known today as the Vans Era. Later on in 1977 the Style 36 is released AKA the Old Skool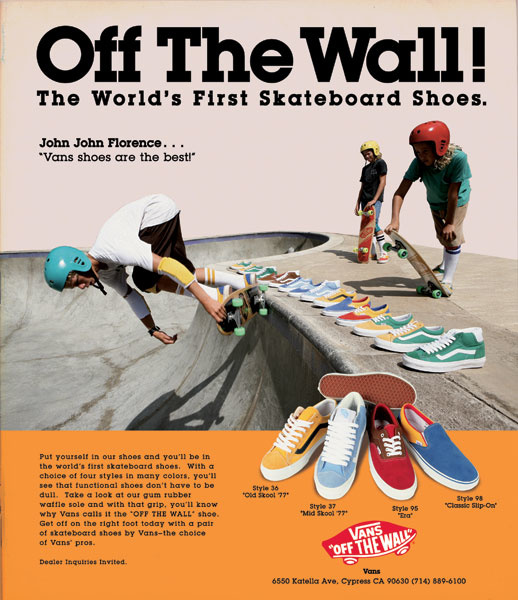 In The late 70's famous skateboard manufacturers like Makaha and Hobie skateboards began to make skate shoes. A lot of rubber companies and random shoe companies start seeing interest in skateboard shoes at this time as well. Large amounts of skaters start wearing court shoes from other brands Nike, Adidas, and Converse. As skateboard tricks are getting more technical, the high top is exploding! During this time skaters can be seen wearing shoes like the Nike Blazers and Jordan's.
Amidst the popularity of high-top shoes in skateboarding Vans releases the Sk8-HI aka the Style 38.

Adidas attempts to make a small push into skateboarding in the late 70's showing their interest in the sport, something Nike Would not try to tap into for decades to come…

Finally, in 1978, the Ollie is invented by Allan "Ollie" Gelfand , this is a big deal to the wear of shoes as the act of doing an Ollie ended up destroying the thin shoes skateboarders had been wearing at the time.
1980's:
Moving into the early 80's, High-top shoes were becoming a statement piece for all skateboarders, and as the shoe style became more popular, the high tops kept getting bigger and higher

In 1984, the iconic skateboard video "Bones brigade video show" comes out, the video goes on to change the way skateboarding is perceived completely

IN THE MID TO LATE 80'S STUFF GETS REALLY INTERESTING
In 1986, 'etnics footwear is started, which turns into what we know today as Etnies. 1986 was also the year that AIRWALK footwear is founded, these early AIRWALK shoes tended to look very similar to the Vans and Converse shoes that were popular during this time.
In 1987, the iconic video "Animal Chin" is released; Every skater in the intro is wearing Jordan 1's, apart from Tony Hawk who is seen wearing the iconic Vans Sk8-His. Around this time Nike is still disinterested with skateboarding. Craig Stecyk had a friend at Nike who sent them Jordan 1s. Seeing these skateboarding All-Stars wearing these shoes meant you'd see the cool street skaters like Gonz in them as well.

Gonz, TG and Natas start taking street skating to new levels. These iconic skateboarders do the first grinds and slides on handrails! In 1988, Converse launches a skate program; Chuck Taylor's end up being very popular. Loads of other shoe brands are making chuck knock off shoes during this era (Santa Cruz, Vision, etc.)

During 1988- Early 1989, the iconic NATAS shoe comes out, followed up by the Caballero Vans shoe. Strangely, Tony Hawk was the biggest name in skateboarding at the time and no pro shoe, he thought it would be weird or corny. Both the Natas shoes and the Caballero shoes were very huge High Tops.
1990's: 
THE EARLY 90'S:
In the early 90's, skateboarding was changing, the explosion of street skating is starting to take over vert and this shift in style rapidly changes the needs and wants of what a skater looks for in a shoe.
In 1992, Steve Caballero notices street skaters cutting down the Caballero pro model and taping them, seeing this he goes to Vans with the pitch of making the half cab an official model for Vans. The Half Cab shoe was an instant success, and is the longest running signature skate shoe in history. Today it is very hard to find a pro that has never owned or been seen in half cabs over the years. Due to the legacy of the Half Cab, Vans is Celebrating 30 years of the shoe in 2022.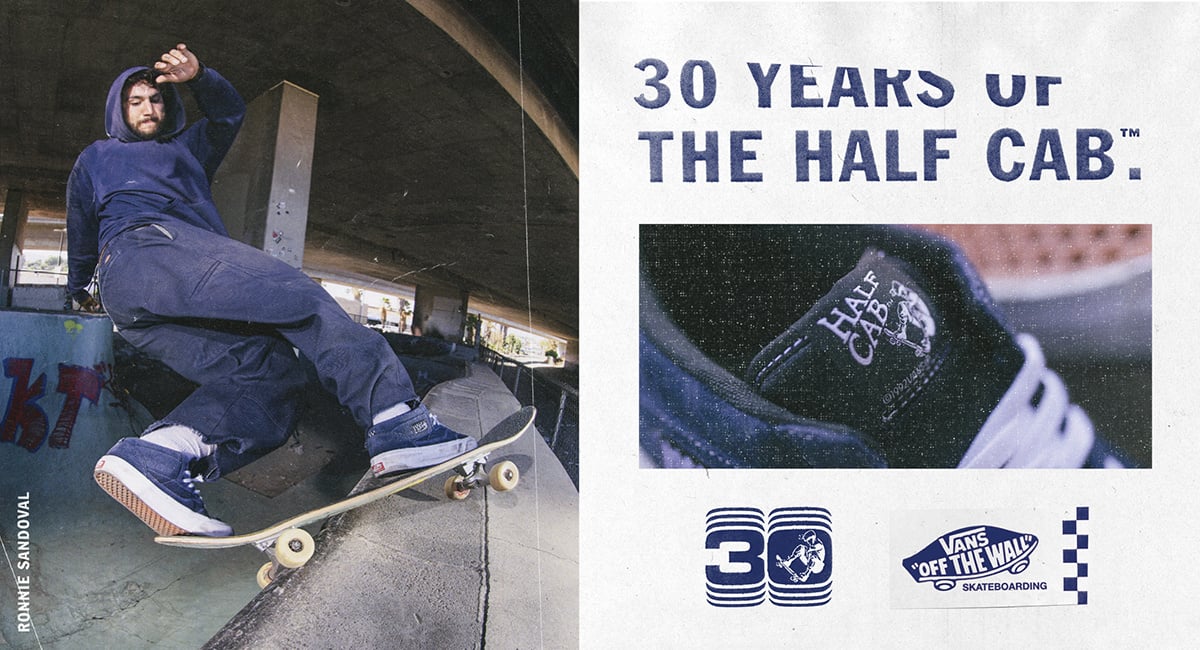 1993 - DUFFS is founded under world industries

June 1994 - Damon Way brother of Danny and College friend Ken Block decide to start a shoe company, Eventually becoming DC Shoes.
1995 - AIRWALK drops the first Tony Hawk & Jason Lee pro models
1995 - ES footwear launches with an insane team: Sal Barbier, Tom Penny, Eric Koston and Chad Muska. The Sal 23 shoe drops the Es Accel drops.

MID-LATE 90'S:
During the mid to late 90's Skateboarding was beginning to achieve a massive mainstream resurface, the skate shoes during this era began to receive massive influence from Basketball and other sports.

1996 - Vans Mike Carroll Shoe drops
1996 - Etnies America drops - Emerica
1997 - The Es Koston drops, it gets released with the first airbag
1997 - Sheep Shoes 1997
1991 - Simple
1994 - Globe

1995 - DVS is founded by Tim Gavin and friend
1996- Osiris
1998 - AXION

1999 - Audio

1999 - Lakai

1998 - Adidas picks up Gonz
1999 - Osiris D3 is released
In 1996 Nike tried their first entry into the skateboard world. At the time skateboarding was still really a really niche subculture that didn't take kindly to corporate brands coming in. Their shoes at the time were also not the prettiest and didn't skate very well. Team rider Bam Margera used to wear és accels and glue Nike logos onto the sides of them.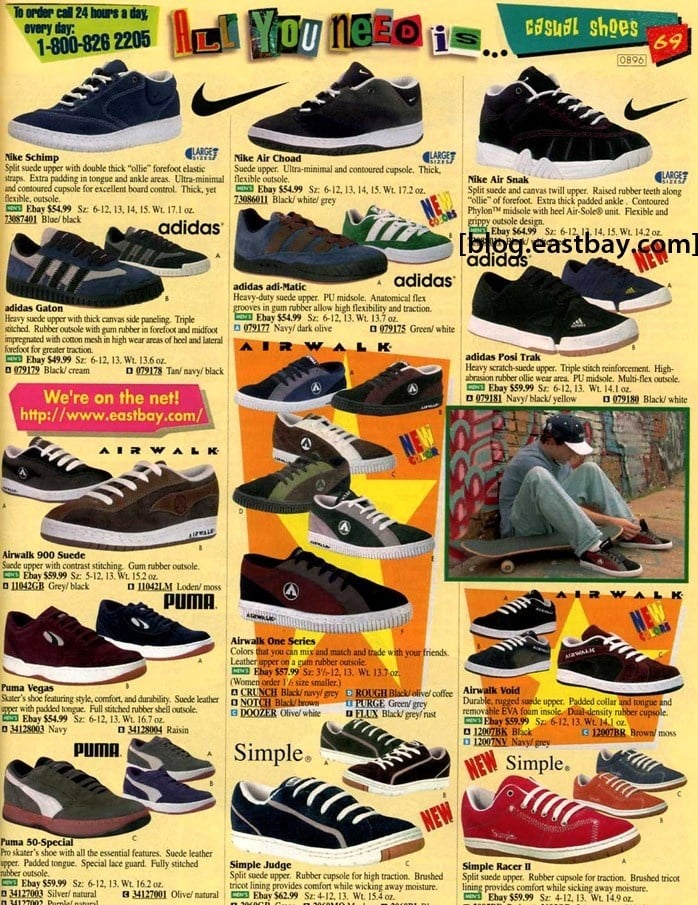 2000's:
Skateboarding is exploding in the mainstream.
1999 Tony Hawks Pro Skater had dropped, skateboarding is getting gnarly, footwear has to bulk up to step up to the jumps that pros are taking.

Everyone is wearing skate shoes at the time, the skateboarding shoe companies are growing so insanely fast, they're looking outside of skateboard shops for growth opportunities. 
2000 - Andrew Reynolds Emerica pro drops

2001 - Osiris releases the D32001
2002 - NIKE SB is launched, Nike's 3rd attempt at skating. They Launch with the dunk, and the crazy heritage of Dunks and Jordan 1's in skateboarding. It's also an interesting time where ''skate shoes are exploding''
2003 - Fallen

2006 - VOX

2006 - Element footwear
2009 - Converse re-laucnhes its skate program with skateable fabrics and insoles
1998 - Gravis
2006 - Supra
2009 - Gravis Launches the Dylan Shoe

2009 - Nike SB releases the Janoski, it is now on their wall of top selling Nike shoes of all time

2010's:
Skateboarding shoes are slimming down. Technology is exploding. Skateboarding is huge and mainstream, but also tiny and niche. Women's skateboarding is exploding, as it womens footwear explosion: Nike Sb Bruin High, Nora Pro, Lizzie Pro, etc. Extremely technical skateboard footwear has been ushered in.
2010 - Huf Footwear
2012 - New balance launched Numeric, New Balances Skateboard shoes
2018 - Nike launches the Nyjah Pro
In recent times, Skateboard shoe pro models have been becoming less frequent, woth brands like Last Resort AB, Cariuma, Straye, and other brand not having pro models for any team riders. Brands like Vans have been seen releasing colourways for team riders rather than a fully designed pro shoe.
What do you think the Future of skateboarding footwear will look like?