Everything You Need To Know About Bones Bearings
Bones Bearings are the bearings that every other skateboard brand uses to compare their products. This speaks volumes about the brand and how they've become the gold standard for all skateboard bearings. He's our little article on everything you need to know about Bones Bearings, the world's #1 skateboard bearings. Not all balls are created equal.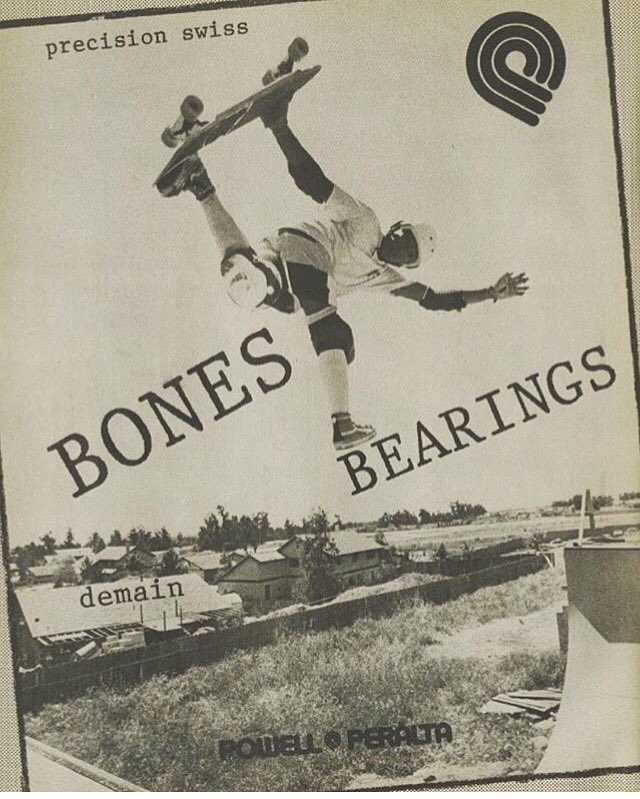 HISTORY:
George Powell was an aeronautic engineer that got into making skateboards, he formed Powell Corporation in 1977, that later went on to become Powell Peralta. In the 1980's he noticed that there were no good skateboard bearings on the market. Most brands were just buying bulk bearings from random bearing manufacturers and rebranding them as skateboard bearings. He ended up in Switzerland where he found a really high quality bearing factory, he worked with them to design bearings specifically for skateboarding. Skateboard bearings needed to be made differently from bearings used for machines, because machine bearings needed to be able to spin at incredibly high speeds, but machine bearings weren't taking to side to side impacts that skateboard bearings were taking.



WHY DON'T BONES BEARINGS HAVE ABEC RATINGS:
Bones bearings chooses not to put an ABEC rating on their bearings because it doesn't make sense on a skateboard bearing. ABEC ratings measure the tolerance of a bearing, so a higher ABEC rating means it can spin much faster in a machine, but this is not actually helpful when ranking skateboard bearings. Since George Powell created these are the world's first bearings designed specifically for skateboarding, he decided to leave off any mention of ABEC rating and instead calls his bearings Skate Rated.

WHATS THE DIFFERENCE BETWEEN BONES SWISS AND BONES REDS BEARINGS:
Lots of people ask what the difference is between Reds and Swiss, lots of the boxes look similar and have similar bearing names (IE: Swiss Ceramics vs Reds Ceramics).
Originally all the Bones bearings were designed at their factory in Switzerland and they changed the skateboard bearing game. But after years of this Bones realized they wanted to let out another version of their bearings at a more affordable price point. Anything with the Swiss label on it is made at the Switzerland factory still, but anything with the Reds label on it is made in China which brings down the costs considerably.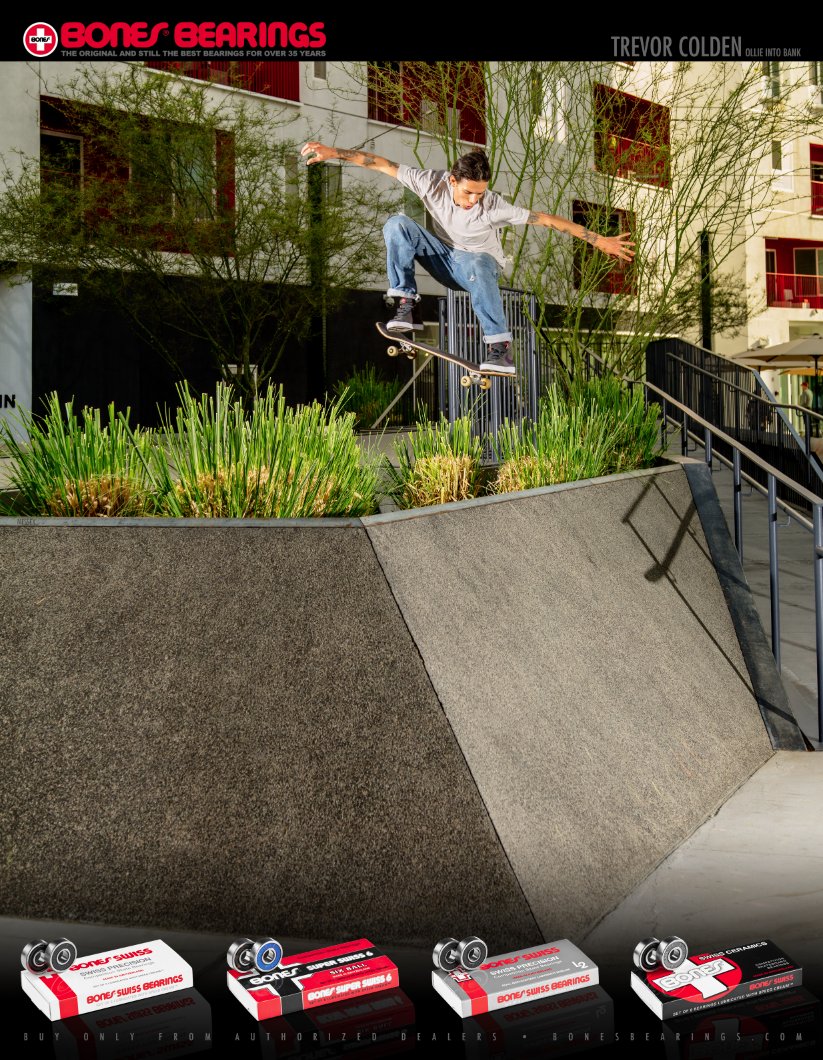 HOW TO SPOT FAKE BONES BEARINGS:
Lately we've noticed a bunch of fake bones bearings popping up on the market, we've seen these bearings and they are really terrible quality in comparison to real Bones Swiss. There's a few things to watch for when purchasing Bones bearings online to make sure you're getting the real deal. First, fake Bones Swiss are made in China, which as discussed above doesn't happen, only Bones Reds are made in China. So before you buy, inspect the packaging for where they're made. Next, you can look for these differences in the shields on the fake bearings (see below).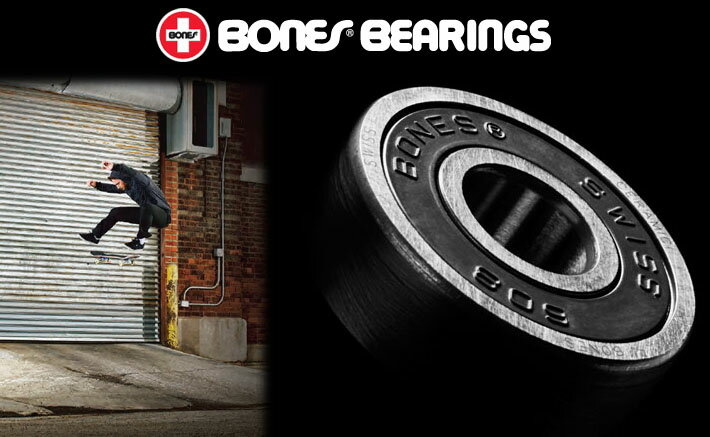 THE BONES BEARINGS LINE:

Bones Swiss Bearings: The bearing that started it all. Worlds top bearing for over 34 years. Normally will last several times as long as a standard ABEC rated bearing. Their classic design, signle removable rubber shield is low friction and easy to take off a clean. High speed nylon ball cage = added strength and speed. Skate rated and fully designed for skateboarding. #1 high end bearing out. The bearing everyone else compares theirs to (indy,, Bronson….)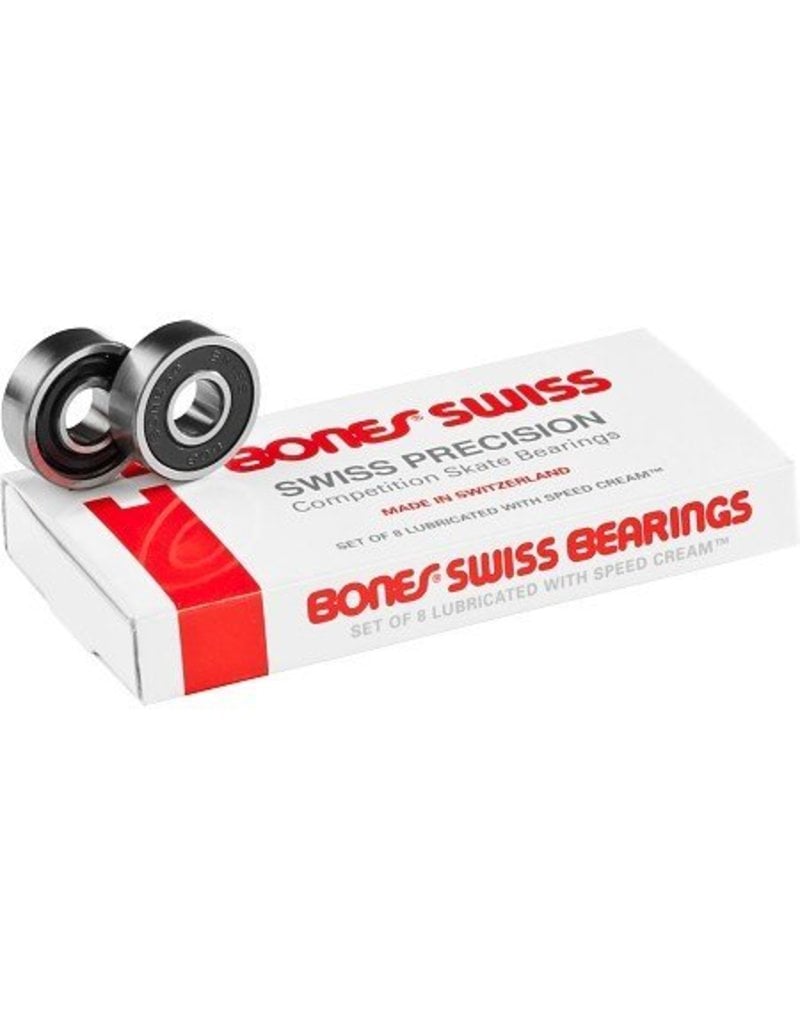 Bones Swiss 6 Ball Bearings:
The classic swiss bearings redesigned with 6 balls instead of 7. This is designed to make them faster and stronger.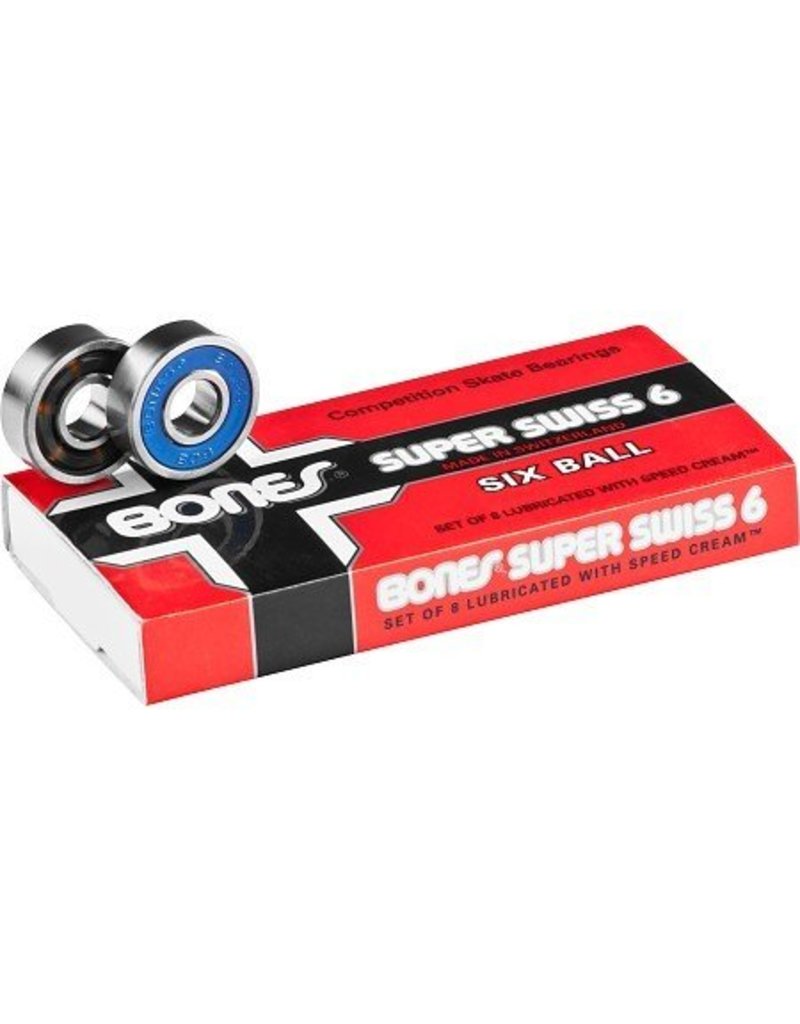 Bones Swiss L2 Labyrinth Bearings:
The classic swiss bearings with the Labarynth 2 dual non contact shields that reduces drag and friction = faster bearings.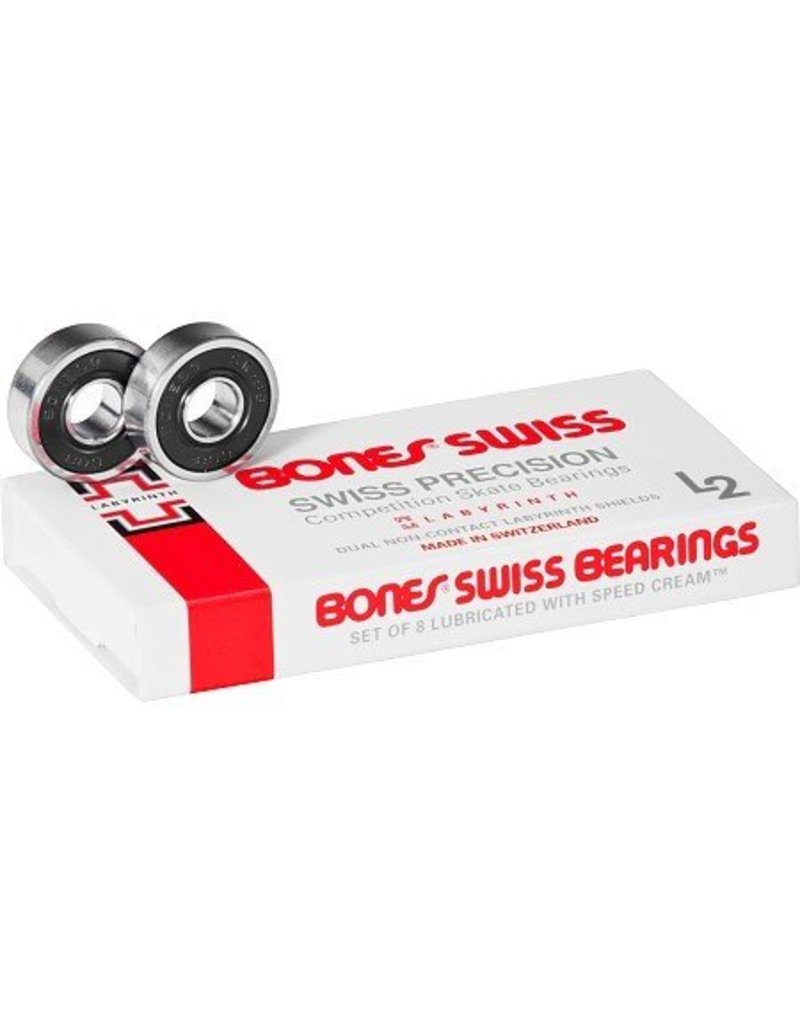 Bones Swiss Ceramics Bearings:
"A class of their own" also super expensive, don't sell many of these because the price jump for the added performance is $$$. The balls in these bearings are Cerbec ceramics made in Switzerland and are lighter weight, harder, stronger, don't rust and lower friction than steel ball bearings.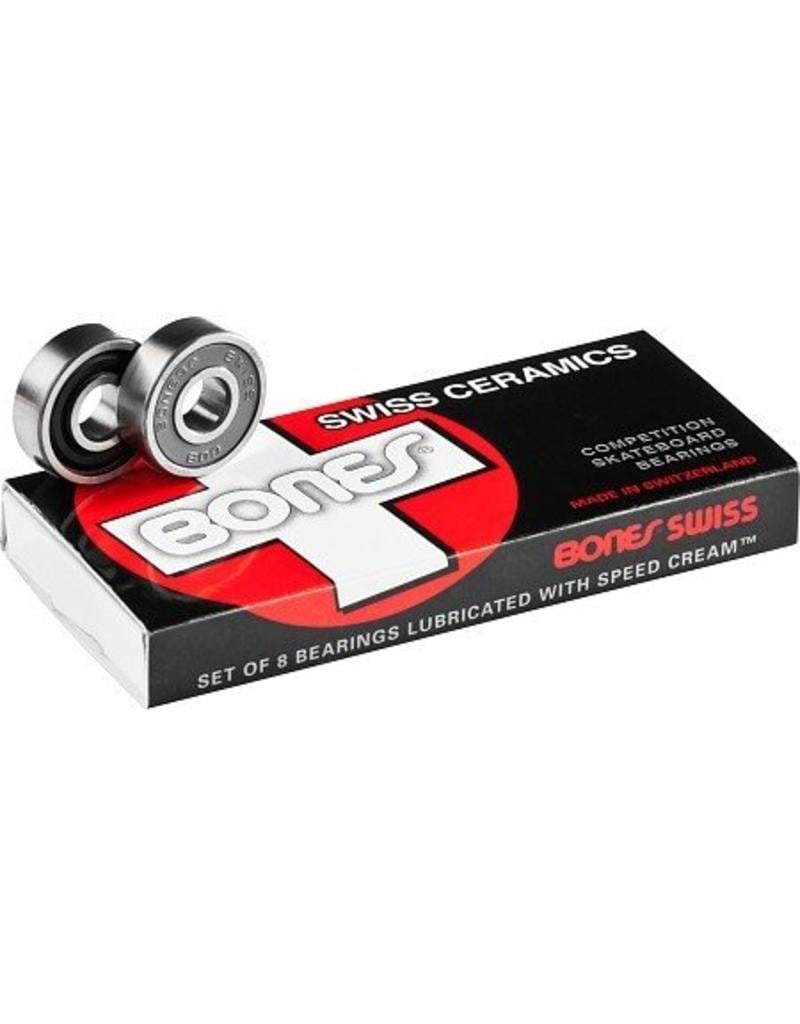 Bones Reds Bearings:
-Reds bearings – the chinese made version of the with classic bones swiss bearings design specifications (cages, shields, ball bearings sizes and lubrications). Bones brags that these come really close to the swiss bearings but come in at elss than half the price.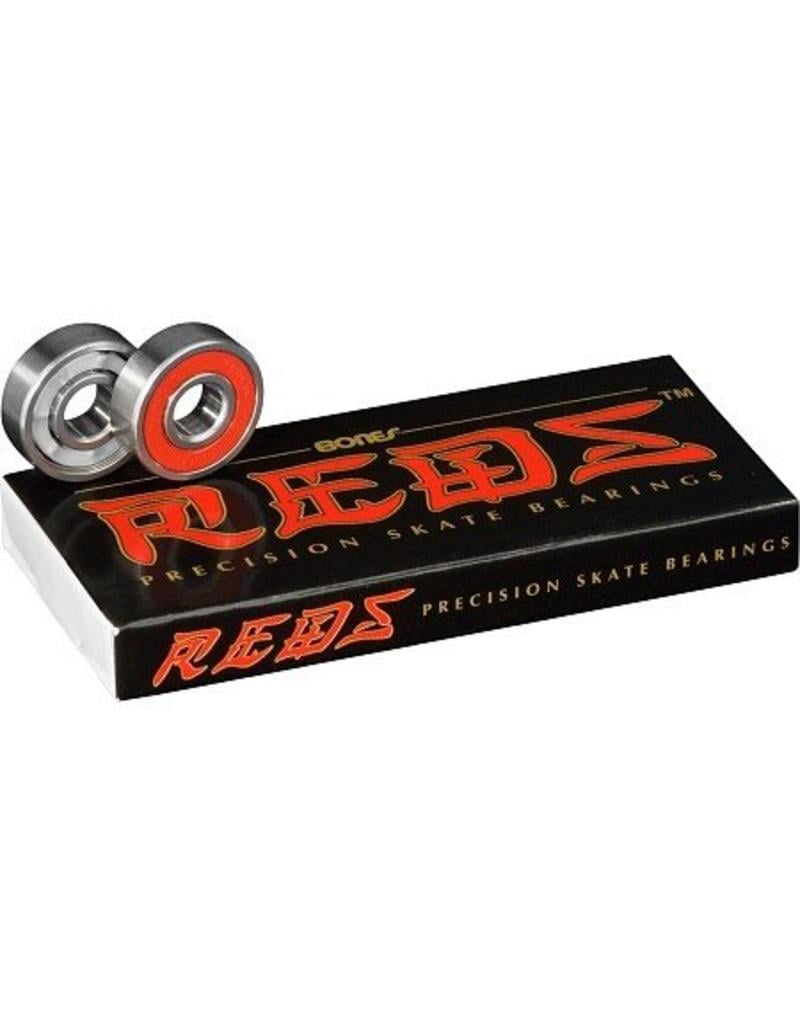 Bones Super Reds Bearings:
These are an upgraded version of reds. They are same design but with superior grade Steel races, the ball bearings inside are also upgraded to superior quality materials, then given a superior surface finish. They are as fast as reds but quieter, smoothly and will last longer.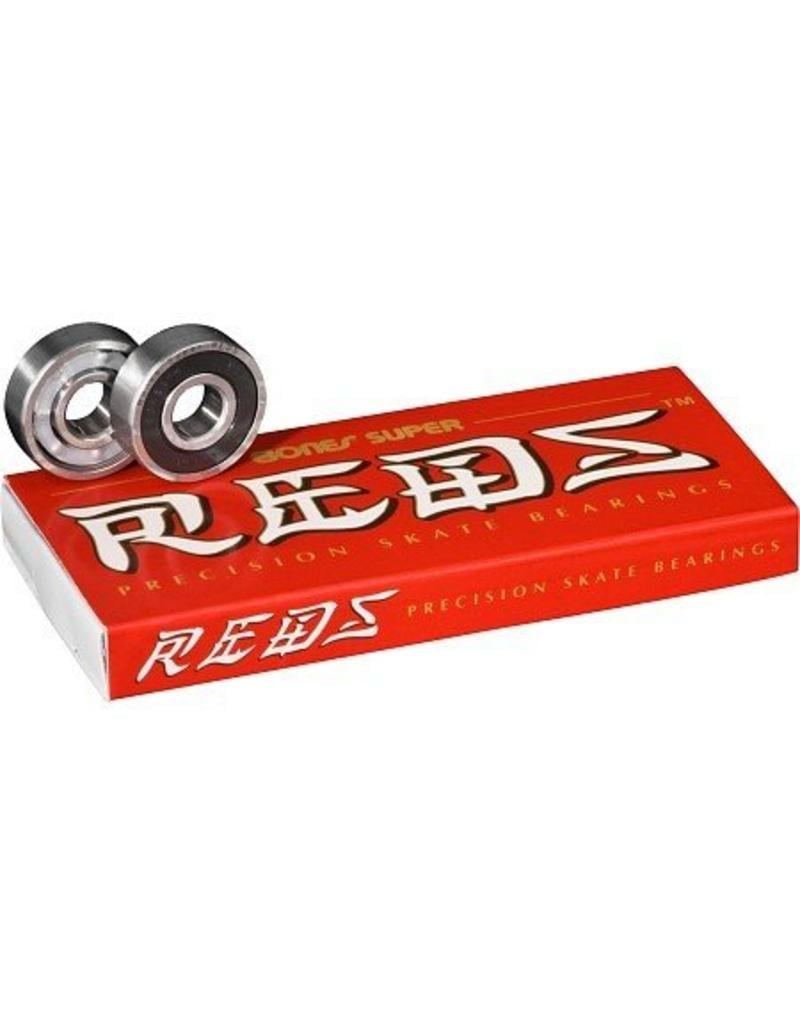 Bones Big Balls Bearings:
The newest member of the Reds bearings line. The Bones Big Balls bearings are here by demand. After the success of the Bones Swiss 6 Ball bearings, people were asking for a more affordable version, so Bones took the Swiss 6 and remade them in China under the Reds line.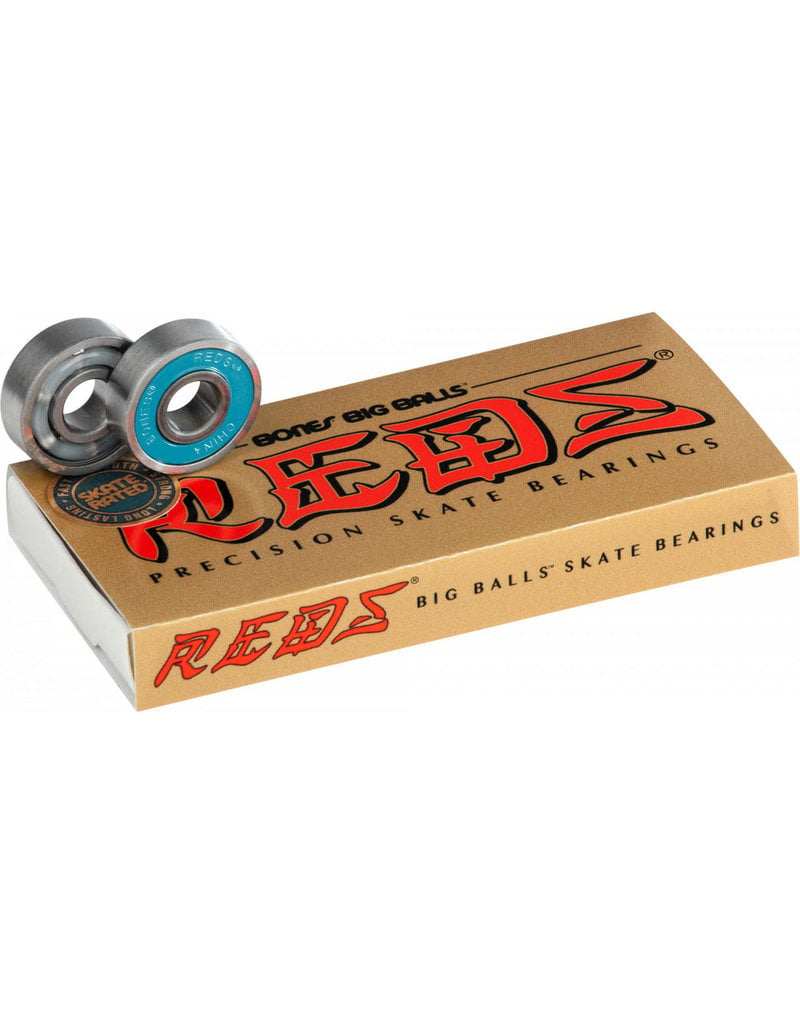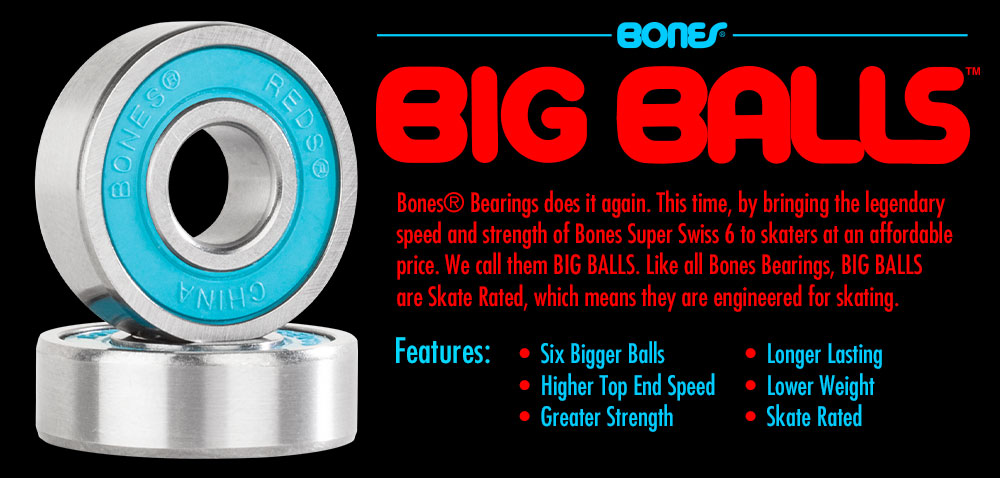 Bones Reds Ceramics Bearings:
light and faster. The ceramic material ball bearings create less friction which = less heat = faster and longer lasting. Ceramic is also much harder than steel and will not rust= so they will last longer.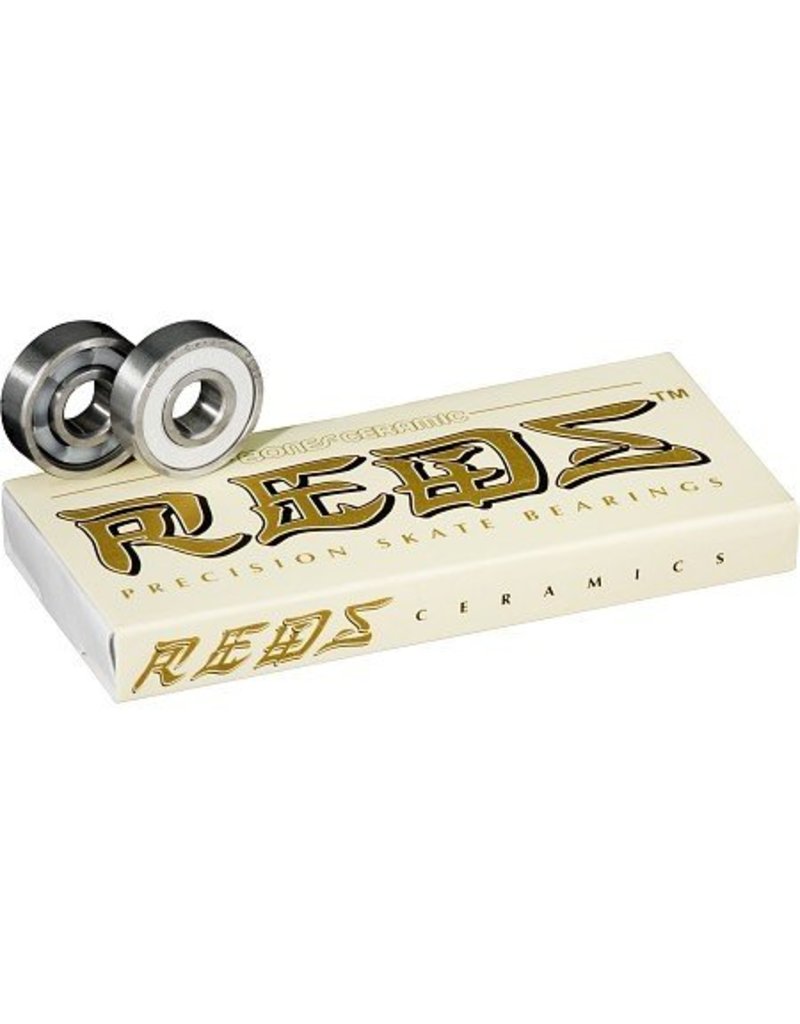 We hope you enjoyed this article!
Let us know if there's anything we missed or that you want to know more about in the comments below.
-Shredz