14 Things You Didn't Know About Baker Skateboards
In this article we talk about 14 Things You Didn't Know About Baker Skateboards, everything from how it started, their original team, some of their most iconic videos and how they tried to get a reality TV show at one point, plus much much more.


1) Andrew Reynolds:
Andrew Reynolds picks up a skateboard and starts rolling at the age of 9 in Lakeland, Florida. In his teens Reynolds gets a phone call from Tony Hawk asking him to ride for Birdhouse, after Tony saw his sponsor me tape from another board brand.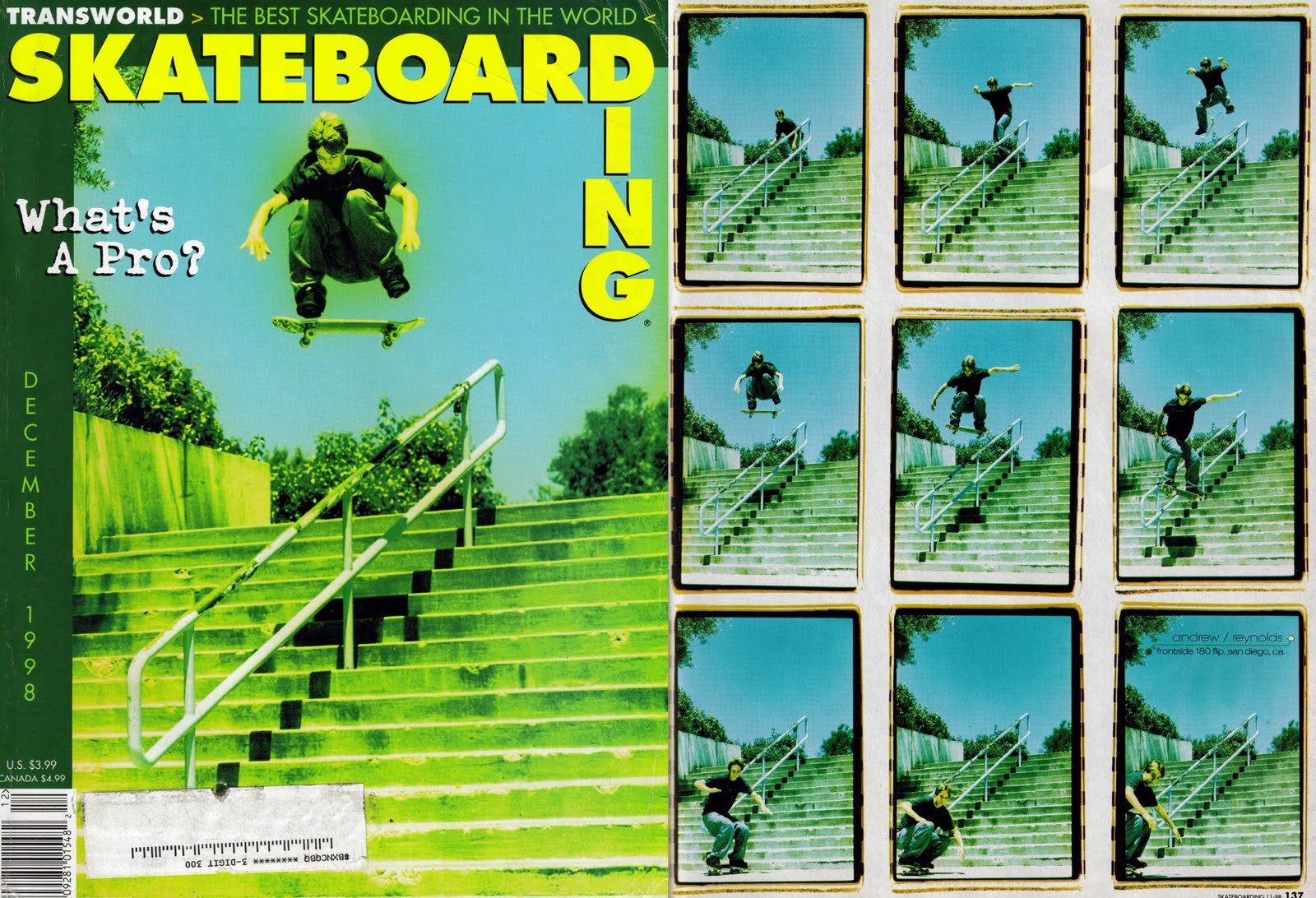 During his rise to fame he is living and partying in a house with lots of other birdhouse riders on Warner Ave. Very quickly Reynolds becomes one of the biggest names in skateboarding.

Reynolds comes out to California and films with the team to make the birdhouse video "THE END", the video is really well received and Reynolds wins Thrasher Magazine Skater Of The Year Award. This video skyrockets him to fame, Tony Hawk ends up including Andrew Reynolds in all of the THPS video games (he would also later be featured in the SKATE video game series).





2) Jay Strickland:
Jay Strickland is a skateboard filmer, photographer and artist. Strickland meets Reynolds when Jay is working as the birdhouse team manager. He's a controversial figure in the skateboarding industry for many reasons and seems to be fairly polarizing, people either love him or hate him. He's famous for holding Heath Kirchart's footage hostage from Transworld for $10,000, saying if they don't pay him he's going to "throw the footage in the river". This 4 years of footage would eventually become Heath's famous Sight Unseen part.
Note: it's not unfair for Transworld to pay him this money, because everyone knows 4 years of filming for $10,000 is still less than minimum wage for a ton of work.

3) The Baker Bootleg Video
After Birdhouse "The End" came out, Jay wanted to make a video featuring lots of the footage he had of the guys that was not 'clean cut' enough to go in a Birdhouse video.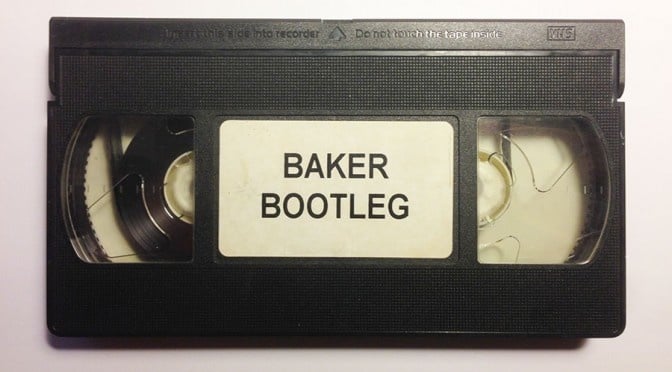 Jay works to let out a video of all the party footage and extra skate clips their crew of friends had filmed together over the years that was too gnarly for any Birdhouse videos or marketing.

This video project is called "The Baker Bootleg Video" and puts together a video featuring all their extra skate footage along with a bunch of other hijinx from being out skating around LA.

Baker Bootleg features Andrew Reynolds, Ali Boulala, Dustin Dollin, Elissa Steamer, Jim Greco, Heath Kirchart, Erik Ellington and more. The video was super well received and is an instant classic in the skateboard world.

4) The Start - BAKER2G 



In the year 2000, Reynolds and Strickland partner together to start Baker Bootleg. -The official release of the brand is launched by the release of their video BAKER2G. Lots of people are still wearing Birdhouse shirts, or their old sponsors gear and boards. Just like the Baker Bootleg video, BAKER2G is an instant classic.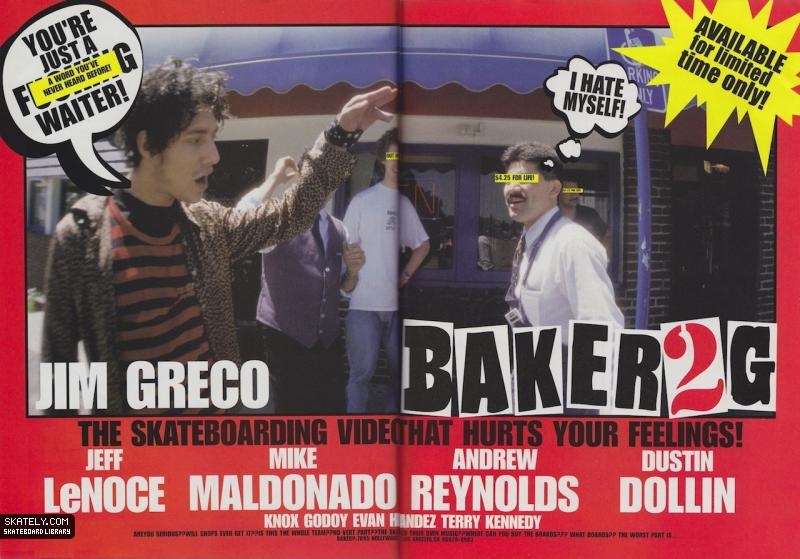 There were even prank calls to Jamie Thomas and Chad Fernandez by Knox Godoy that were taken out. Thomas threatens to sue Baker for defamation after some footage they put in the video. This includes lots of insane hyjinx footage, even part of the video saying "Sorry!! Skateboarding has become so serious the following 2 minutes has been cut due to legal problems"

Greco & Ellington end their time as part of the Zero team, Dustin steps back from Stereo, and Reynolds officially leaves Birdhouse. Interestingly Ellington quits zero for Baker, then goes back to Zero, then quits again and goes back to Baker.

The original Baker Team consisted of Reynolds, Greco, Lenoce, Dollin, Mike Maldonado. They bring over Knox Godoy and Evan Hernandez from Birdhouse. Not longer after they add Terry Kennedy as the original 3 Baker AMs.

Heath Kirchart has a part from being friends with J Strickland, but never actually rode for Baker. Brian Sumner and Ali Boulala also have parts in the video as well but never officially rode for Baker.
"Baker is very honest it's who we are"-Andrew Reynolds

Beagle: Ryan "Beagle" Ewing

When everyone was living on Warner Ave they meet a kid named Ryan Ewing, he became and friend and filmer. They gave him the nickname Beagle because he looks like the 90's Foundation pro Josh Beagle. He is a good filmer and is known for capturing some of the most insane moments and Hijinx on film.


5) THE SPLIT:
Baker Bootleg were two separate brands when they started both under Reynolds and Strikland. Baker Bootleg end up splitting up because Reynolds & Strickland are not seeing eye to eye. Reynolds takes Baker and Strickland Takes Bootleg.

Bootleg went on to have an amazing team featuring pros like Trainwreck, Anthony Mosley, Scott Kane and Elissa Steamer. They made some great videos, but would end up shutting down.

FUN FACT: Strickland also drew the L.E. logo

6) Origin Baker Logo
The name BAKER was a bit of an innuendo based off of drugs, and in an interview Reynolds mentioned that it was "childish now that I look at it" and one of his regrets looking back is having drugs in their ads.
The original Baker logo features BAKER BOOTLEG written above a creepy little elephant.The original typography was drawn by Jay Strickland, he wrote out the words in impact font and hand traced it in sharpie adding slight variations to the font.
Eventually after the two brands split, Baker would continue to use the blocks font and just exclude the Elephant and "Bootleg" wording.

7) Baker Ams: Andrew Reynolds has always had an incredible eye for finding new talent. Over the year's he's scouted out lots of up and coming skaters that were overlooked by other brands and helped put them on the map and create long term careers.
When Baker started he brought over two Birdhouse flow kids; Knox Gody and Evan Hernandez. Not long after, Reynolds also added Evan's friend from long beach Terry Kennedy.  Terry Kennedy, gave them a sponsor me tape from Bryan Herman who was later added to the team as well.

-Knox Godoy – Knox was a hellion, punching Reynolds in the face, making him cry, prank calling Jamie Thomas and torturing photographers. At 10 years old, Knox goes on a Baker tour and is drinking beer, and skating downtown at night, he eventually ends up quitting Baker and ends up in jail. Currently he is out of jail and running a small deck brand, still skating but not in the limelight.




-Evan Hernandez: Rough kid from Long beach, one day he gets ditched by friends at Huntington skatepark. Reynolds and friends come to skate the park and after seeing him skate, ads him to the Birdhouse flow team.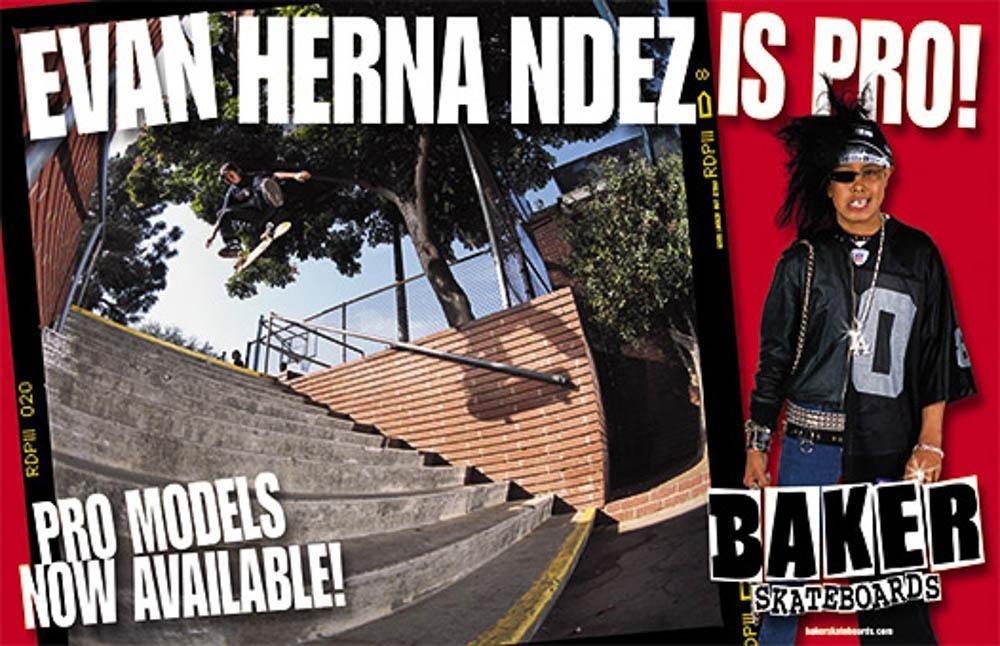 Terry Kennedy: Terry's a friend of Evan from Long Beach that Reynolds loved and thought was hilarious. Reynolds added him to Baker when he could barely 50-50 a curb. Later gets added as an AM on Krew & Vans as well.

Terry's personality becomes a huge part of Baker, but he would eventually leave for a better offer at Element, and then come back a couple years later. Reynolds welcomed him back with open arms.




He went on to ride for Ice Cream shoes (Pharell's brand) and also ends up rapping lots with Pharell (Fly Society). He later releases and IG video claiming he's quitting Baker and saying "much love to everyone on the team apart from Andrew Reynolds". At the time it was pretty obvious he wasn't skating much, and most people think he got kicked off.

-Bryan Herman: A poor kid from the desert, Herman was extremely talented and on flow for World Industries skateboards. Terry Kennedy took his sponsor me tape at a tradeshow to help get him on the Firm skateboards; it ended in the hand of Reynolds and Greco at the Baker booth.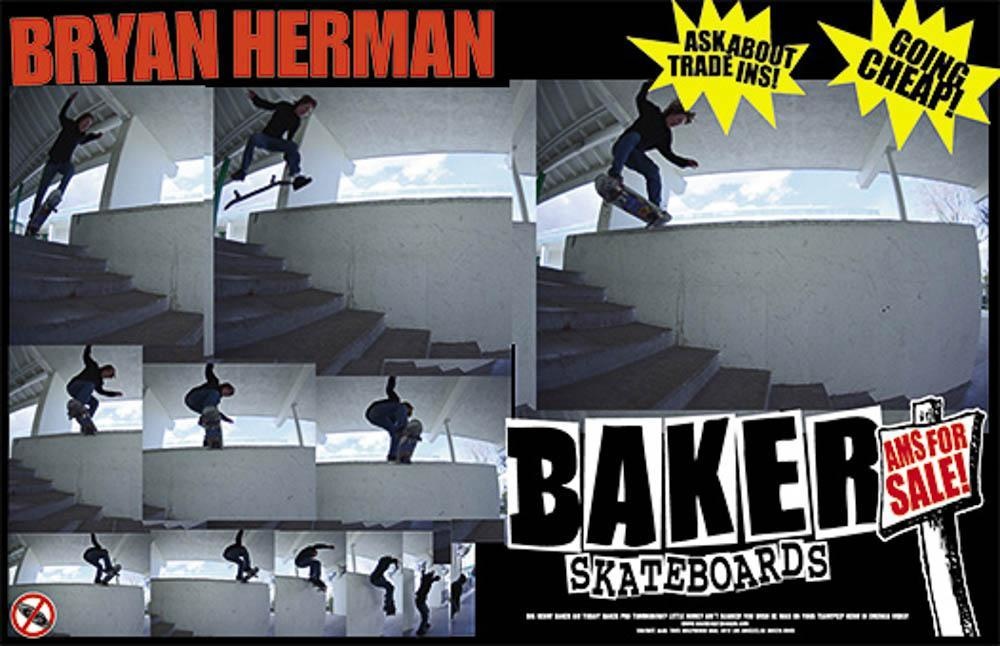 They start flowing him some Baker stuff. He films with Beagle a bunch over the next couple months, and gets arrested for skating with in Orange County. Since he was in another city and his mom wasn't present (and he couldn't get a hold of her), he got charged to the fullest. Herman stayed in jail for 90 days and even spent his 15th birthday in jail. The Baker dudes were hyped on him and make him an official AM on the squad. He went pro for Baker in 04.




8) Baker Summer Tour 2001
https://www.youtube.com/watch?v=JjKFyYfVU9s (27:00) good am stuff
As soon as they started Baker went on tour to launch the brand. It was a crazy tour that showed the other side of skateboarding and some of the funny stuff going on behind the scenes on skateboard tours. Knox is 9yrs old at this point, on tour with a crew of the craziest skateboarders around at the time.

9) Evan Hernandez
After the tour video drops, Evan is progressing so fast. He has a break out part in Transworld Skateboarding's "In Bloom" video, that was filmed around the age of 13 and 14yrs old. He has first part in a video featuring skaters like Paul Rodriguez, Trainwreck, Chris Cole, and TNT. By the time he's 15, he turns pro for Baker, Vans, and Krew.
His pro career is short lived, after having footage in the Baker Tour Video 2001, Baker2G, In Bloom and a couple digital videos.  After just 3 years he's off Baker and fades into obscurity, saying he was having some personal issues at the time.

Years later, when he's around 21, he has little comeback riding for DGK, Krew & Ice Cream, but it doesn't last long. If you follow him online, you'll see he still skates with Prod and Lil Wayne often, and is still super talented.
https://www.youtube.com/watch?v=hCfjc_kPK6M IN BLOOM part

11) Spanky Joins: 
In 2003, City Stars is falling apart, so Paul Rodruiguez, Mikey Taylor, Spanky were looking for new board sponsors. Spanky wins Tampa Am and puts out one of the best parts in the Emerica video This Is Skateboarding.
He gets offers from Toy Machine and Baker amongst many others. Spanky goes on a Baker tour to Australia at the time and develops a really close friendship with Andrew Reynolds that lasts to this day (he is Andrew's daughter's godfather). the Baker tour a shot, and his friendship with Drew leads him to Baker.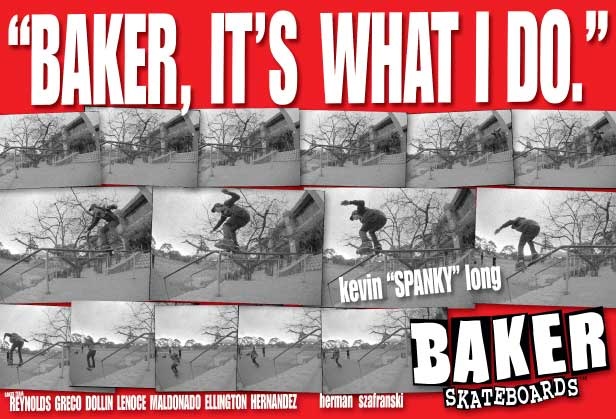 (add Spanky's Tampa Am footage) https://www.youtube.com/watch?v=qFoUOnmju-I  (2:08)
In 2003, Spanky goes pro for Baker skateboards. Pretty soon after he starts partying, and gets caught up in the L.A. club scene. After a few years of low productivity, Spanky loses his pro board and seems to be fading out pro skating altogether. At this time he also loses his pro model shoes with Emerica.
In 2016, Spanky works to get sober and he is added back to the Baker team, his name is once again added to the Baker Skateboards pro lineup.


12) BAKER LAUNCHES DEATHWISH: & Baker Boys Dist:
In 2007, Baker decides to start their own warehouse and distribution company called Baker Boys Dist. In April of 2008, they officially launch Deathwish Skateboards featuring a stacked team of Jim Greco, Erik Ellington, Lizard King, Antwuan Dixon with AMs Brian Hansen and Furby. A few months later the joint video Baker Has A Deathwish comes out featuring both teams.

13) Antwan Dixon:
Behind the scenes -https://www.youtube.com/watch?v=N5LVbZy73Ms
Antwuan first gets sponsored by his local shop transitions and was flow for chocolate skateboards and és footwear. After seeing his tape through the hands of Beagle, Reynolds and Ellington approach his at an ASR tradeshow about riding for Baker.




When he gets flow he starts being brought on filming missions and films his entire Baker 3 video in around 2 months. He skates to Biggie in his Baker 3 part and it instantly explodes him into skateboarding stardom. Antwuan says he started crying at the premiere when his name came on the screen. Not long after he goes pro for Krew and gets a signature shoe on Supra footwear.

As he explodes in the limelight he gets caught up in lots of stuff and ends up getting arrested and put in jail. He gets a mix of charges from possession of drugs and an illegal firearm, to assaulting a police officer. He even gets arrested on some of their tours.

Deathwish plays into his crazy nature with crazy board graphics of his antics, but eventually it becomes too much and he is let go from all his sponsors. Even when he's in jail, his board is the #1 selling board on Deathwish.

12) I WANNA BE A BAKER
Baker made a pilot for a skateboarding reality TV show. The show was going to be called "I Wanna Be A Baker" and was an elimination style reality TV show where the winning skater gets a Baker sponsorship deal. The show never goes into production though, probably for the best.

13) Modern Baker
Leo Romero has a brief stint on Baker around 2009, but ends up leaving, saying he didn't feel like he fit in with the team.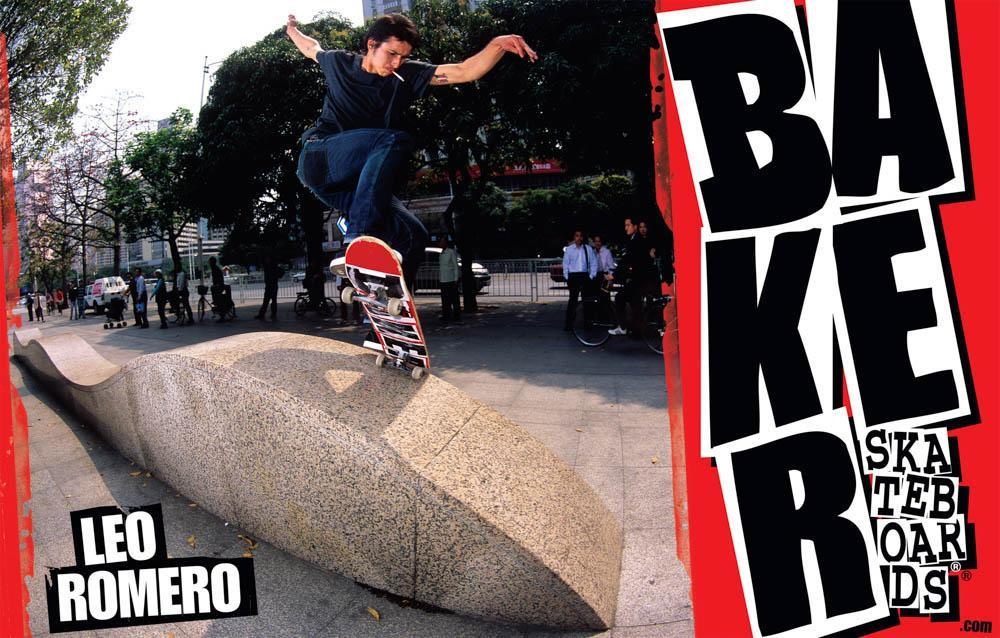 Over the years they would add lots more firepower to the team including Figgy, TFunk, Rowan, Kader, Tyson, Riley Hawk and more. Their newest video Baker 4 feels a bit like a handing of the torch from the older guys to this younger new generation of Baker riders.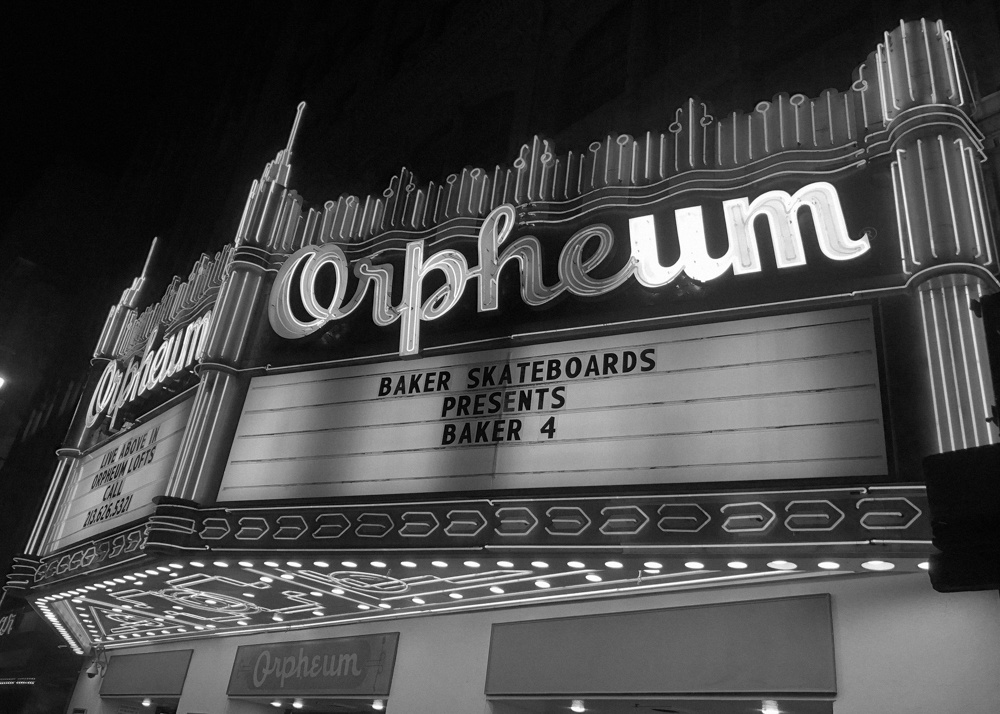 14) BAKER Collabs:
Being seen as one of the most well respected skateboard companies for over 2 decades now, Baker has done a lot of big collaborations with other brands. Some of the more prominent collabs we've seen over the years are with Lakai, Emerica, Vans, DC, Volcom and even Trailer Park Boys.


If you've enjoyed this article make sure you follow us on Instagram and Subscribe to our YouTube page! @shredzshop