Everything You Need To Know About Nike SB
This article covers everything you've ever wanted to know about Nike Skateboarding. The rich history of Nike shoes in skateboarding, Nike's first and second attempt at making skateboard shoes, their third and final attempt, and key players along the way. The whole story is also in chronological order, so feel free to skim down to whatever year's you're interested in.

We'll also cover some of the key events that happened with Nike SB over the years from the start. Including key people like Sandy Bodecker, Kevin Imamura, Robbie Jeffers, Paul Rodriguez, Stefan Janoski & more.

Watch This Video That Covers Everything
Scroll To The Bottom For Frequently Asked Questions



This article goes over:
1) The History Of Nike In Skateboarding
2) Nike's First Attempt At Skateboarding (Nike Skateboarding)
3) Nike's Second Attempt At Skateboarding (Savier)
4) Nike's Third Attempt At Skateboarding (Nike SB)
5) Frequently asked questions

1) History Of Nike In Skateboarding
In the 80's skateboarding was still new and there weren't many shoes designed with skateboarding in mind. Nike basketball shoes were really popular with skateboarders because of their durability and flat soles.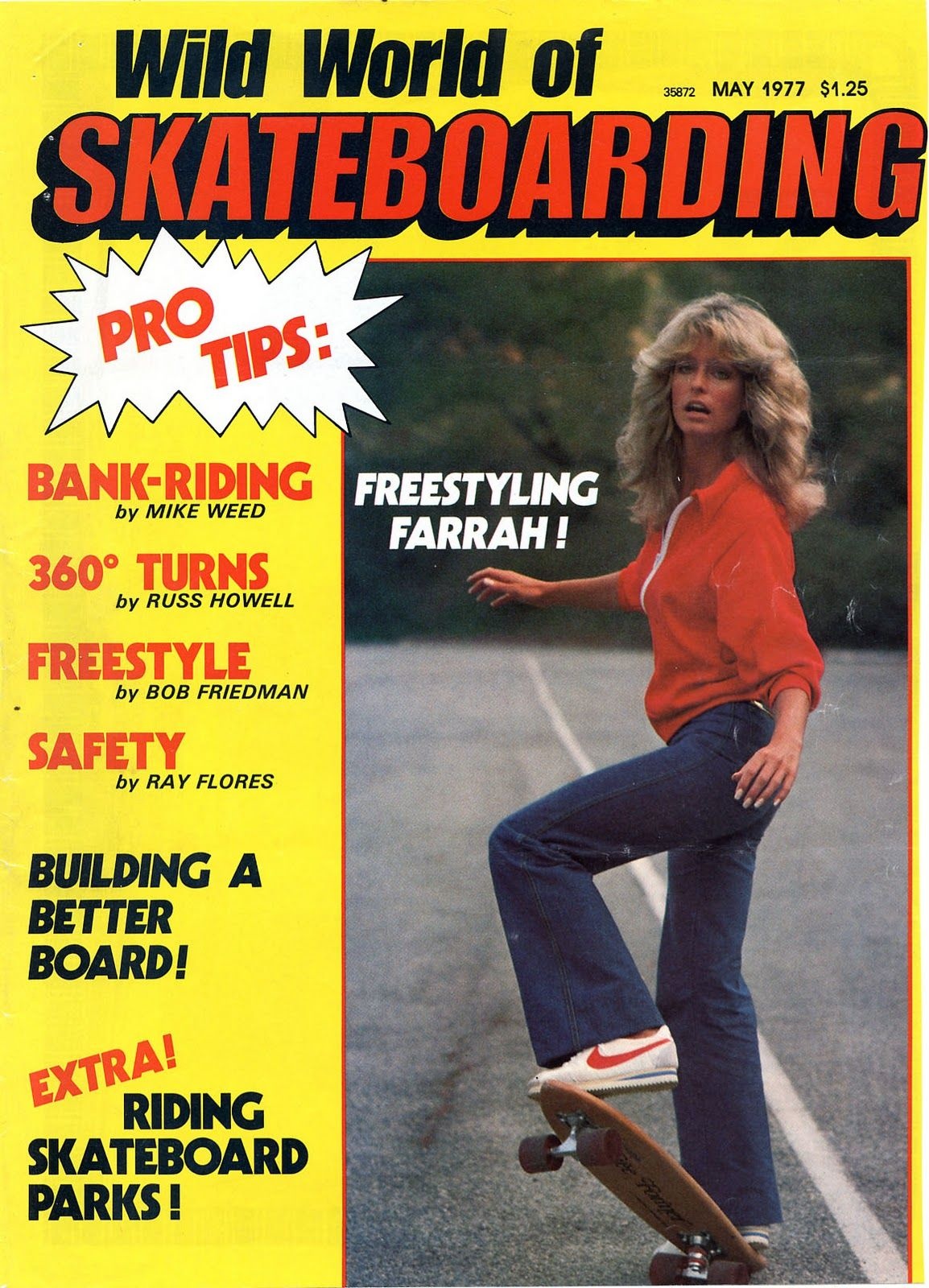 On the famous Powell Peralta Animal Chin ramp session, the entire Powell Peralta team is wearing Nike Jordan 1's, apart from Tony Hawk who is wearing Vans Sk8-Hi's. After this video came out, Nike shoe blew up in the skate world with Jordan's, Blazers and Bruins leading the charge.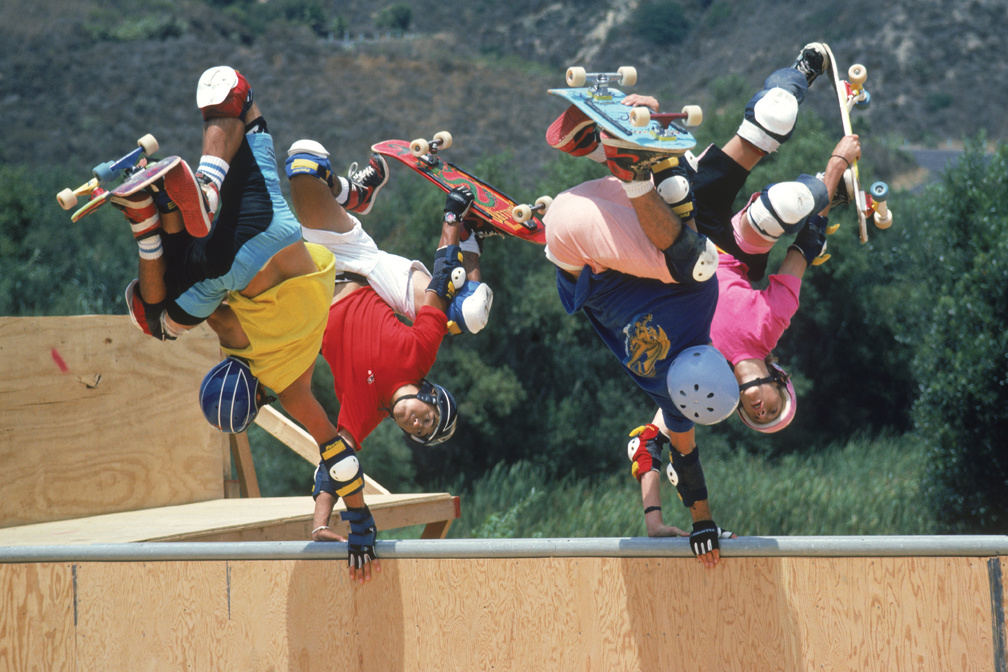 The Powell Peralta team in black/red Nike Jordan 1 Shoes.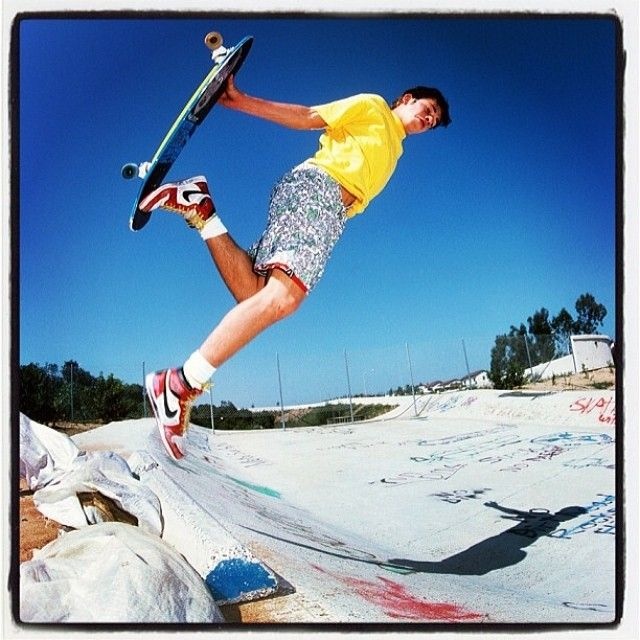 Mark Gonzales wearing Nikes in a Vision skateboards Ad.

2) Nike's First Attempt At Skateboarding - Nike Skate Shoes
In 1996 Nike tried their first entry into the skateboard world. At the time skateboarding was still really a really niche subculture that didn't take kindly to corporate brands coming in. Their shoes at the time were also not the prettiest and didn't skate very well. Team rider Bam Margera used to wear és accels and glue Nike logos onto the sides of them.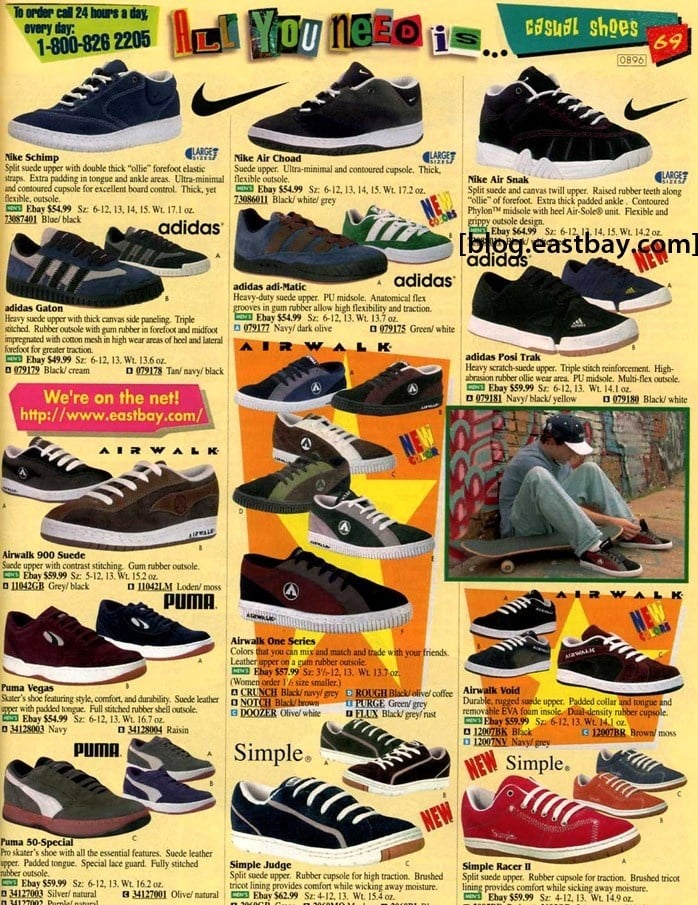 Nike's First Designed For Skateboarding Shoes: The Choad, The Snak, The Schimp

Nike also partnered with an advertising agency and launched some pretty amazing ads. This campaign was called "what if we treated all athletes like skateboarders", the ad features a young Bam Margera kickflipping over the Nike logo at the end. The shoes just weren't there, and skaters didn't want them, so Nike bowed out from the skate world.



3) Nike's Second Attempt At Skateboarding - Savier 
In 2000, Nike made their second attempt at the skateboard marketing, buying the brand Savier. Savier was a small Portland, Oregon based skate shoe brand that was still in its design stage. The team included Brad Staba, Brian Anderson, Stefan Janoski and Jon Rattray, who all went on to work or ride for Nike SB.



4) Nike's Third Attempt At Skateboarding - Nike SB

2001: Nike Launches Nike SB

Sandy Bodecker
Nike plans their third attempt at entering the skateboard world. They put Sandy Bodecker on the case, who is the right-hand man of Mark Parker (CEO) and Phil Knight. Sandy Bodecker started at Nike as a shoe tester and gave the most insane notes on all the products he tested that he kept getting promoted. He was also the man they put to the task of Nike Soccer in Europe, another market that Nike found tough to enter. Bodecker understood that if Nike wanted to be successful in skateboaring they needed to come in with skateboarding's best interest in mind. This time around he made sure they gave back a lot to the skateboard community, shops and skaters. He also understood skateboarding and the importance of authenticity in the community that surrounds it. Bodecker also understood that Nike had a rich history in skateboarding (as shown above) and he wanted to play on that history, instead of trying to design new shoes.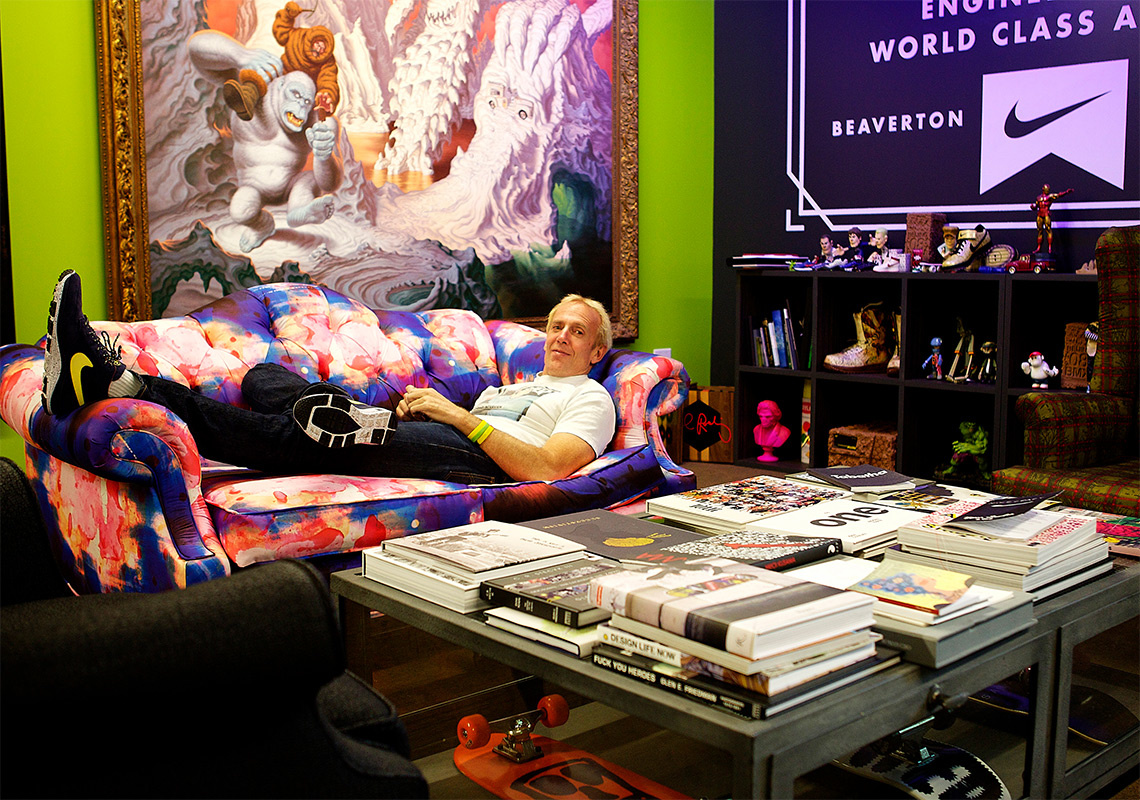 His plan was to re-introduce the Dunk to skateboarding because it was so popular in the past and it resembles the Nike Jordans that are huge in skateboarding history. He also partnered with some of the best and most well-respected core skateboard shops, many of whom felt like they were being left behind as skateboarding was becoming more mainstream and the skate shoe brands were focusing more and more on the mall stores. 

They also brought in Kevin Imamura from Stance Magazine, who came on to help with marketing strategies. Last but not least Robbie Jeffers came on board as their team manager, he already had lots of experience building skate teams coming over from Stussy. Jeffers said he wanted to start the Nike SB team with all "timeless" skaters, not the flavor of the month pros. In an interview, Jeffers said, "I want Rick Howard to look at the team and say 'that's rad'". The original Nike SB team consisted of Gino Iannucci, Richard Mulder, Reese Forbes & Danny Supa.

Nike SB launches their first-ever shoes in March of 2002, a collection of signature Dunks to each of their pros. The Danny Supa Los Angeles Dunk, a Gino Iannucci Long Island New York Dunk, a Richard Mulder Los Angeles Dunk (that was also based on the colors of his first Nike shoes ever), and a Reese Forbes Wheat Dunk (based off of his favorite work boots).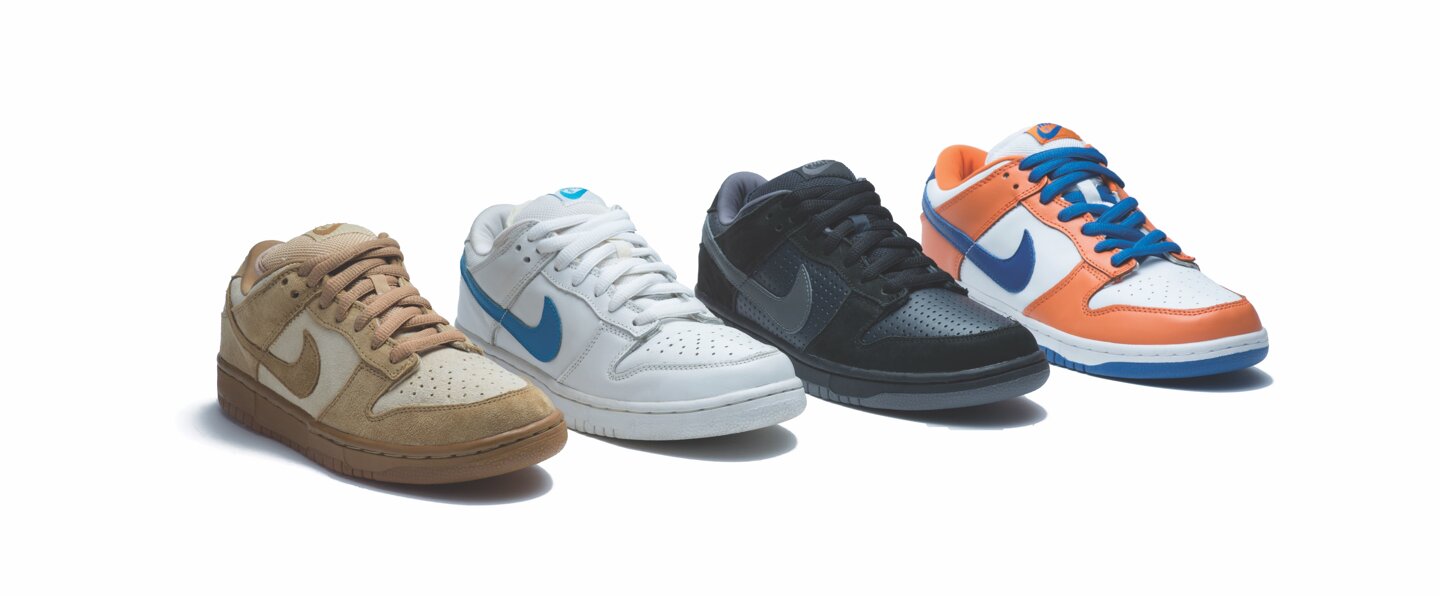 Later that year (2002):
Supreme teams up with Nike SB for their first of many successful collaborations. The Nike SB x Supreme Dunks were the first Nike shoes to borrow the iconic elephant print from the Jordan Brand line. These were limited to 500 pairs and are worth a ridiculous amount of money if you have a pair today. 


Brian Anderson Skating the black cement Nike SB Supreme Dunk Low.
Later in 2002, they also released two newly designed shoes: The Zoom Air URL & Zoom Air E-CUE (seen below). These shoes definitely feel more like the "pre-SB" Nike era of shoes, than what we see from Nike SB today.


| | |
| --- | --- |
| Nike SB URL Shoes, 2002 | Nike SB E-Cue Shoes, 2002 |


They also released collab Dunks with Zoo York and Chocolate. This is a prime example of Nike borrowing the cool from some of the most well-respected brands in skateboarding. 


| | |
| --- | --- |
| Nike SB Zoo York Dunk Low, 2002 | Nike SB Chocolate Dunk Low, 2002 |


2003:
Continuing their push on the Dunks and limited products. Nike makes the Charity Dunks, inspired by a famous auction site we can't legally mention, the rarest Nike's ever made, they were auctioned off with all the money going to charity. The shoes ended up selling for $30,000US and the display model was sawed up, leaving only one pair in existence. 
2004: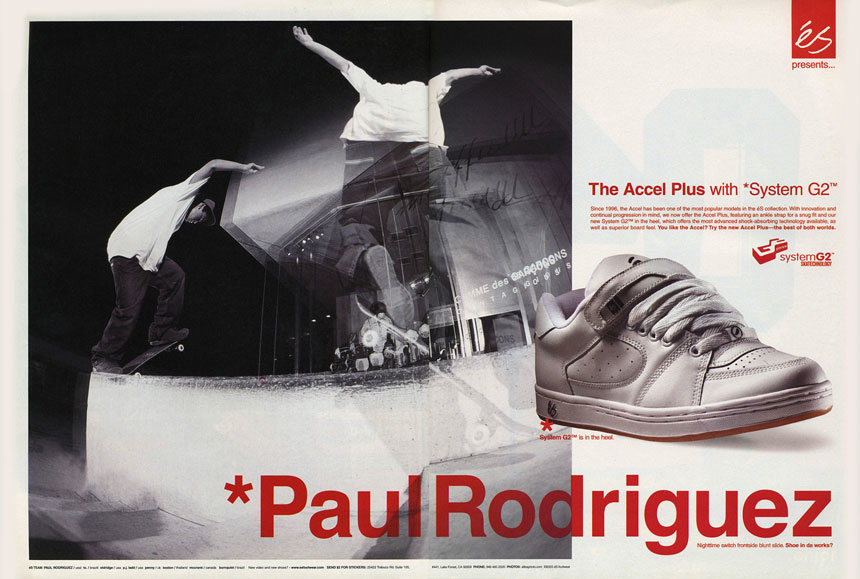 The skateboard world is shaken when Paul Rodriguez announces he's leaving his long term shoe sponsor és footwear to ride for Nike SB. P-Rod is in the prime of his career at this point and is viewed by many as the gold standard of pro skateboarders, this really solidifies Nike SB as a player in the skate shoe world.

His first ad was shot by Atiba and is him doing a switch flip front board on a handrail in Supreme Dunk "Gold Star" Highs. In an interview with P-Rod he said he didn't know they were Supreme Dunks when he put them on for the ad, he just picked them out of a package Nike sent him because he thought they looked dope.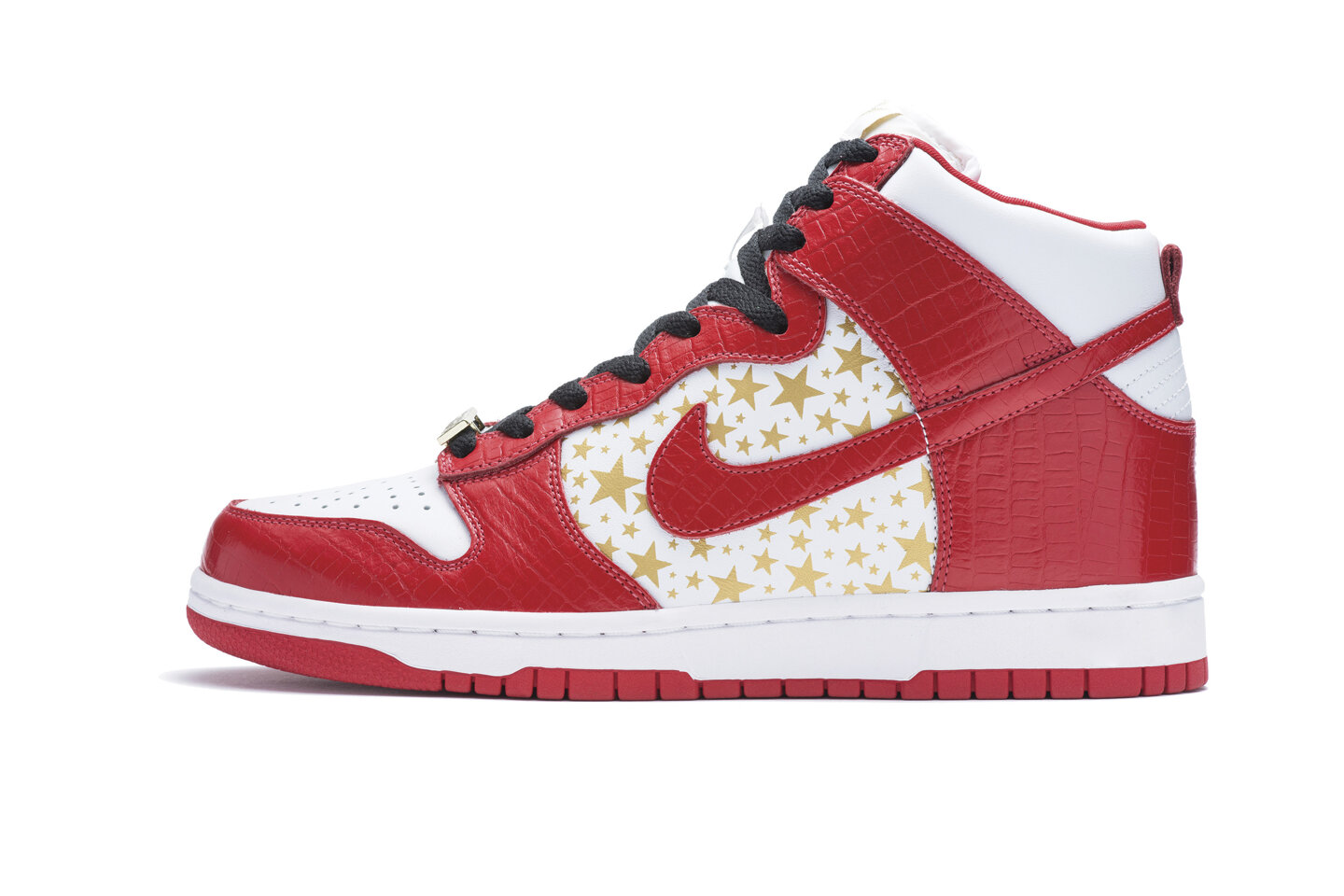 Nike SB x Supreme 'Gold Star' Dunk High, 2003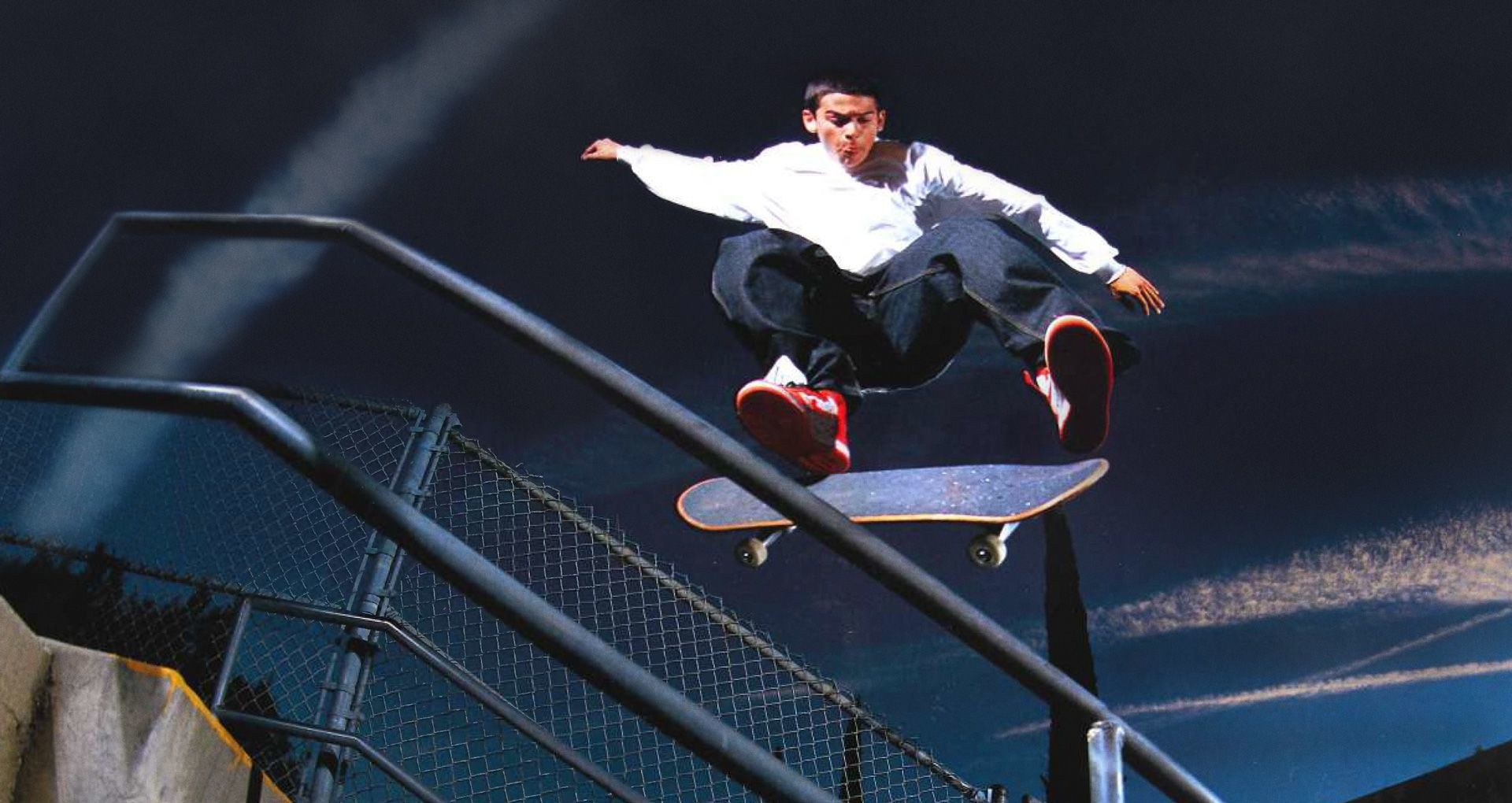 Paul Rodriguez In His First Nike SB Ad shot by Atiba Jefferson - Switch Flip Front Board



2005:
In 2005, not only had the trend of Dunks in skateboarding caught on, but it had also exploded in the shoe collector world. This year saw some of the craziest shoe releases in history. 

In March 2005, the Pigeon Dunks are released. Nike Sb partners with New York City designer Jeff Staple to release a city dunk designed by him and representing his city. Staple designed a pigeon to put on the heel of the dunks, a true representation of the city. No one could have guessed the demand these shoes would have, not even Staple. The shoes caused riots on the streets of NYC.




The Nike SB x Jeff Staple Pigeon Dunks, 2005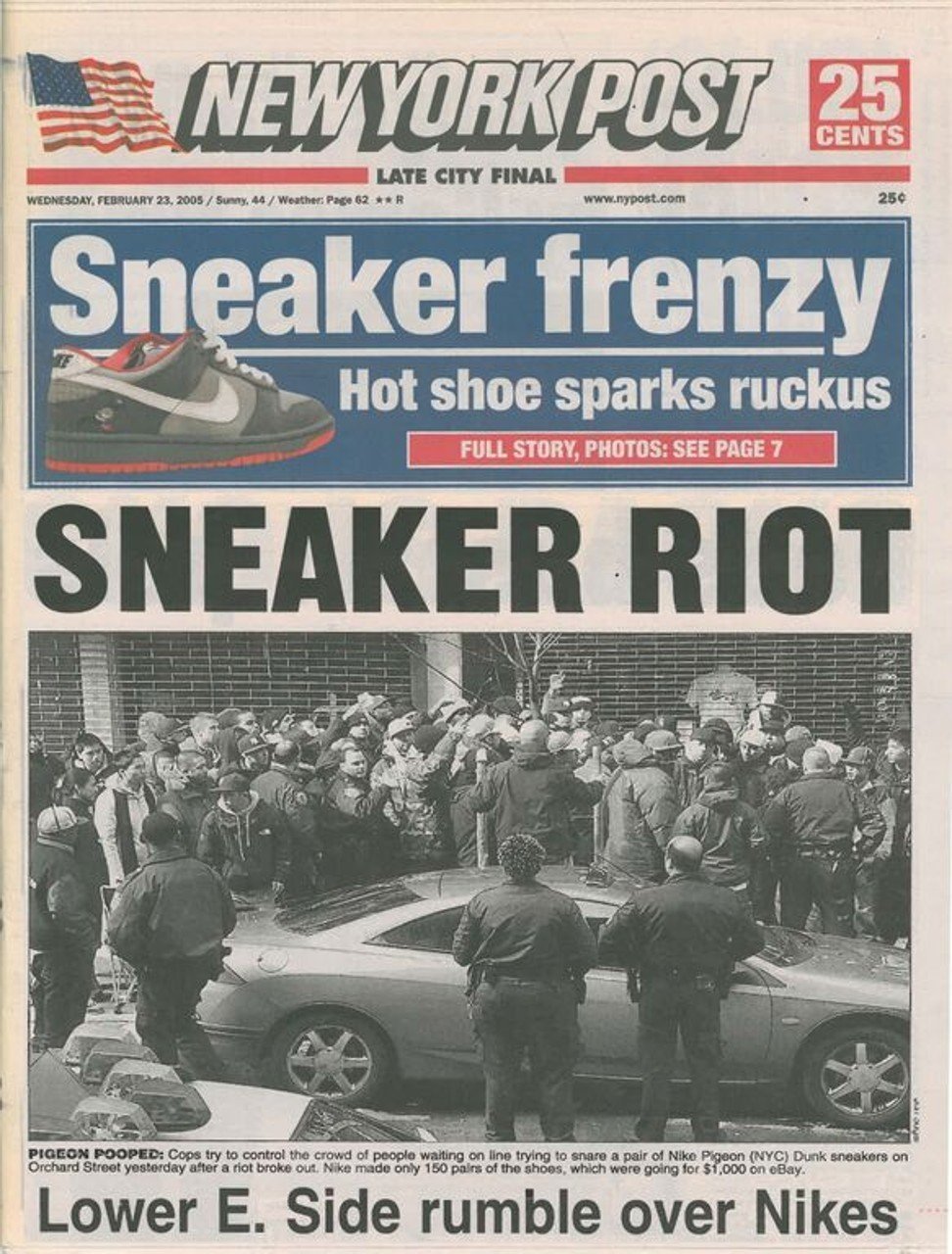 In August 2005, Diamond Dunks released Designed by Nicky Diamonds of Diamond hardware fame. After designing these shoes and getting samples, Diamond released a "sneak peek" photo of the shoes, that went viral on Niketown and many other sneaker websites, making them the most viral dunk ever. These shoes are so iconic that you can even wear them in NBA 2019.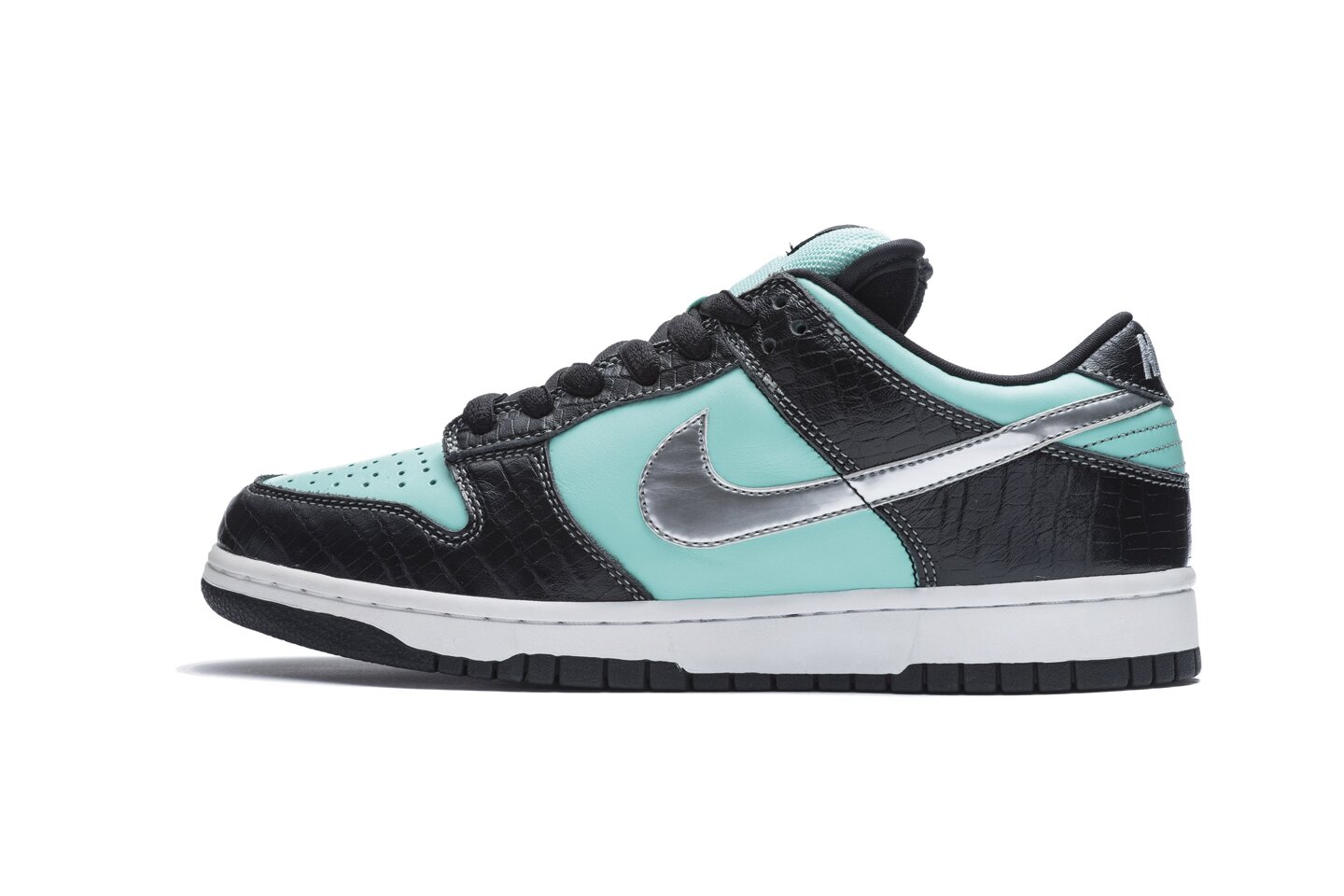 Nike Sb Tiffany Diamond Dunks, 2005


In November 2005 the first-ever Nike SB pro model shoe is released. The Paul Rodriguez Zoom Elite Shoes are released to the public and coined the J-Rod. These shoes are significant because they were designed by Paul Rodriguez and Tinker Hatfield (famed Nike shoe designer who designed the Jordan 3 to 15 plus many other notable shoes).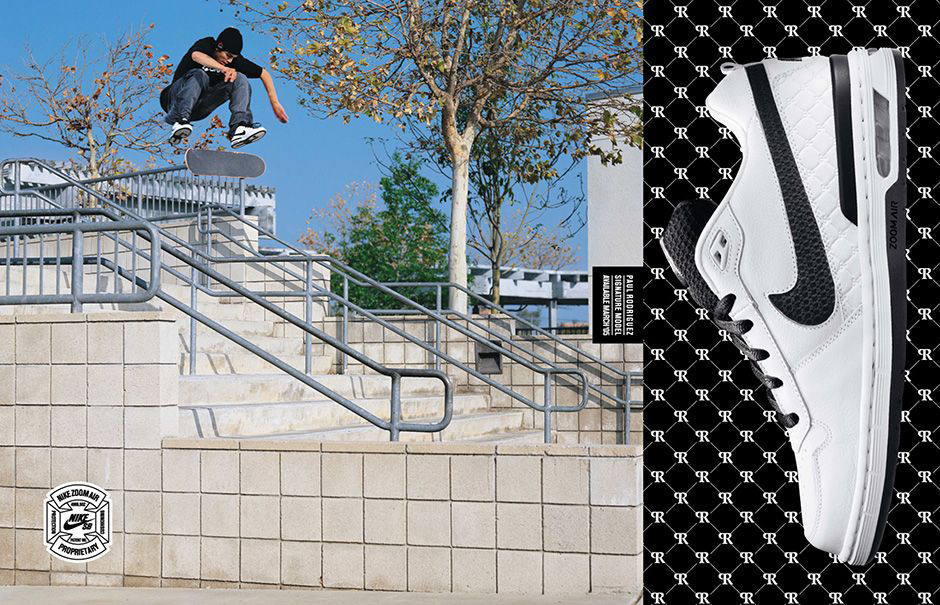 Paul Rodriguez is one of only 4 people to ever have 10 signature pro shoes with Nike, he's in the company of only Lebron James, Kobe Bryant, and Kevin Durant.

2007:
Nike releases their first skate video "Nothing But The Truth", filmed by Dan Wolfe and featuring full parts from Lewis Marnell, Stefan Janoski, Wieger Van Wageningen, Chet Childress, Omar Salazar, and Paul Rodriguez. 



This year Lance Mountain leaves Adidas to join the team at Nike SB.

2009:
Nike releases the Stefan Janoski Shoes. Nike skateboarding's most iconic designed shoe. They had traditionally just re-done retro shoes. Nike originally didn't want to release these shoes, thinking they were too simple and wouldn't sell well. It's on the wall at the Nike headquarters on their wall of the 100 most popular Nike Shoes ever made. Over the years it's been made into a slip-on, air max 1 & 2, Hyperfeel, & different forms of boots.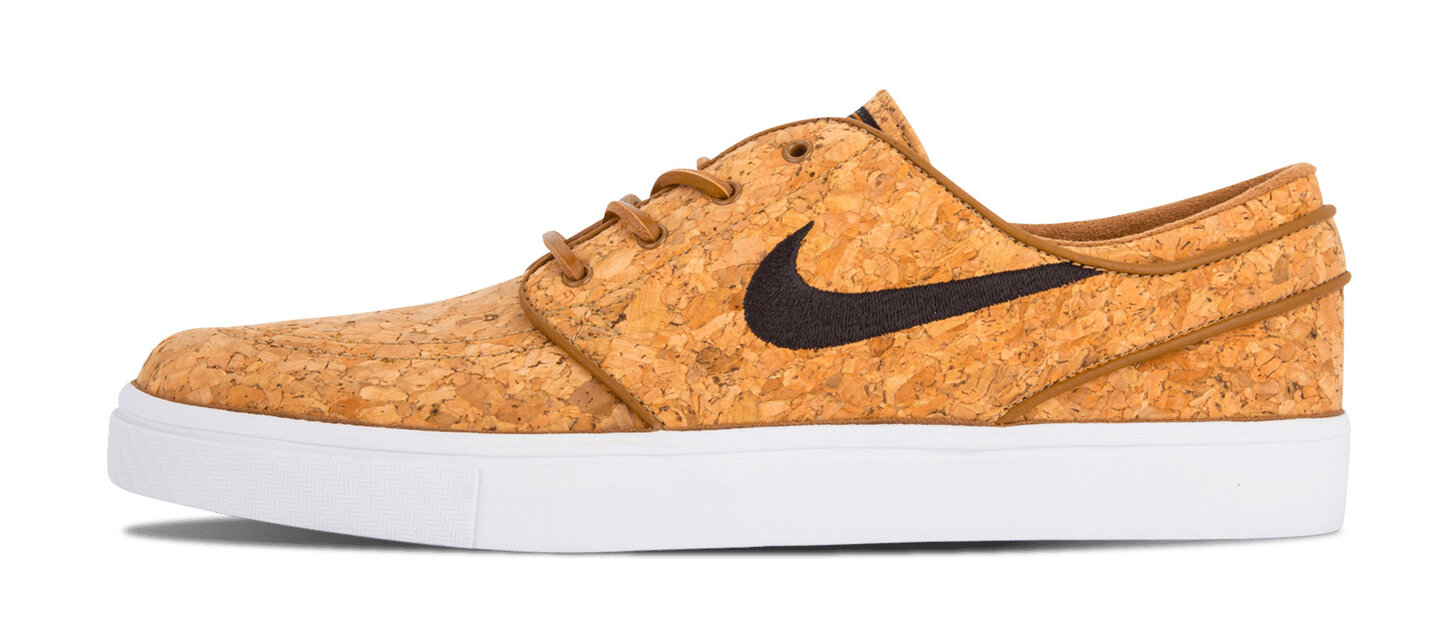 Nike SB Stefan Janoski Cork Pro Shoes, 2015 

Eric Koston joins the team, again solidifying Nike's image as a presence in the skate world.
Nike SB releases their all amateur video "Debacle" featuring: Daryl Angel, David Clarke, Shane O'Neill, Theotis Beasley, Grant Taylor and Justin Brock.



2011:
The Nike SB teams up with Jason Hernandez to do a series of online videos featuring their skate team. The video includes Chet Childress, Clark Hassler, Daniel Shimizu, Grant Taylor, Lewis Marnell, Stefan Janoski, Wieger Van Wageningen, and Youness Amrani.

2012:
Sean Malto and Luan Oliveira join the skate team at Nike SB.

2013:
Nike Chronicles Vol.2 is released featuring Daryl Angel, Donovon Piscopo, Ishod Wair, Justin Brock, Luan De Oliveira, Shane O'Neill, and Theotis Beasley.

2015:
Nike releases their 3rd and final series of the Chronicles videos by Jason Hernandez. The video introduces Blake Carpenter to the Nike SB team with opening part while also featuring Brian Anderson, Cory Kennedy, Eric Koston, Karsten Kleppan, Kevin Bradley, Lance Mountain, Omar Salazar and Trevor Colden.


2016:
Nyjah Huston's contract with DC Shoes ends and he doesn't renew, choosing to join Nike SB. He is currently the most award winning person in skateboarding. 

2018:
Nyjah Huston Pro Shoes releases to the world.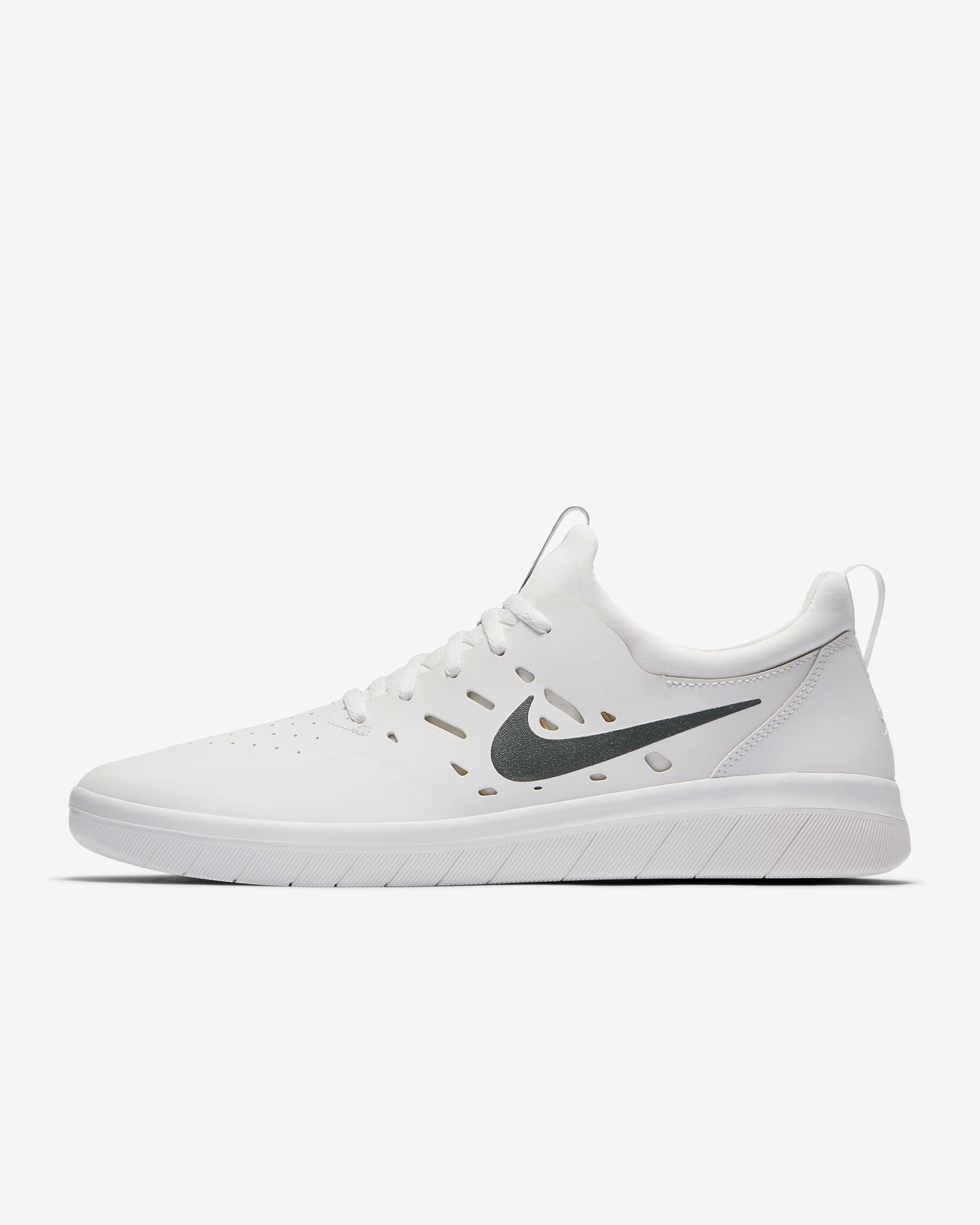 2019:
Nike SB releases GIZMO a video by Jason Hernandez featuring an all female crew that is widely acclaimed. The video features Elissa Steamer, Aori Nishimura, Hayley Wilson, Josie Millard, Leticia Bufoni, Nicole Hause, Rayssa Leal, Sarah Meurle, and Lacey Baker.

Other Notable Nike SB riders:
Guy Mariano
Brian Anderson
Ishod Wair
Shane O'neill
Alex Olson
Kevin Bradly
Lance Mountain
Sean Malto

FREQUENTLY ASKED QUESTION ABOUT NIKE SB:

What Does SB Mean in Nike? The SB, in Nike SB stands for skateboarding. It is a line of Nike shoes that are specifically designed with skateboarding in mind. Usually they have a little more padding, are made or more durable materials and have upgraded insoles. 

When did Nike SB Start? Nike SB was officially launched in March 2002. Although, Nike did try to launch into the skateboarding market twice in the decade before hand with Nike Skate and Savier Footwear, these efforts were unsuccessful. 
Does Nike Own Vans? Nike does not own Vans. Nike however does own Converse and Jordan Brand.

When Did Nike Start Making Skate Shoes? Nike shoes were adopted by skaters in the 80's because they were durable and flat soles. Nike didn't start making shoes designed specifically for skateboarding until 1996. Their first attempt failed and their current successful Nike Skateboarding line was started in March 2002.

Who Started Nike SB? Nike SB was launched as a private sector the the Nike brand, founded by Phil Knight and Bill Bowerman. Nike SB's launch was headed by Sandy Bodecker, a beloved Nike employee and right hand man to Phil Knight and Mark Parker. Bodecker also successfully launched the Nike Soccer line in Europe.