14 Things You Didn't Know About Hookups Skateboards
In this we talk about how Hookups was started under the Birdhouse umbrella, why they never had a team, the videos, the fake spots, Hookups shoes & much much more.


01) JEREMY KLEIN:
Jeremy Klein was Born on July 12th, 1971 in Torrance California. Jeremy would go on to become flow for Powell Peralta. In 1989 he goes pro for world industries; he was the first to do a backside smith grind on a handrail and had a stand-out part in the "Rubbish Heap" Video. Jeremy's skateboarding was considered way ahead of its time.
Jeremy has been known for being opinionated, and sometimes gets characterized as a bit of an asshole by some people, Jeremy just speaks his mind and is a little quirky. Jeremy also has voiced that he is very anti corporations in skateboarding

02) BIRDHOUSE PROJECTS:
Jeremy received an offer from Tony Hawk to ride for the original Birdhouse team, one week later he goes to Steve Rocco from World Industries and tells him "I quit", Rocco says "no you're off the team" and he says "yea, I quit".  Big Brother writes an article roasting Jeremy after he leaves as well. Rocco was also trying to get Willy to ride for World, Willy ended up on Birdhouse as well.
The Original Birdhouse team also includes: Tony Hawk, Jeremy Klein, Willy Santos, Steve Berra (moves from Nebraska to Tony's house, starts skating vert). Birdhouse release their first video: 'Feasters', named by Jeremy from Willy eating everyone's food all the time, and became a word for someone who wanted something from you, and it's a great success. Tony Hawk was the filmer for Feasters, Tony also edited the video. Feaster featured the first real appearance of "Street-Hawk".

Original Team Birdhouse Projects Ad: https://www.youtube.com/watch?v=EVM0GuulEVw


03) PYROMANIA:
Heath Kirchart & Jeremy Klien become famous for their pyrotechnics featured in their videos, they shared a love for fireworks and were hanging out a bunch. Heath was the first guy to ever Backside Nose-Blunt a handrail. Birhouse was giving them big budgets for the videos they were making, they played a large part in making "The End". They named the video the end because they literally thought it was going to be the end of skating. Jeremy and Heath did all their own stunts, expect for when the van explodes. JK & Heath also famously lit themselves on fire at a premiere of the End in Japan, blocking people from seeing their parts and closing the entire movie premiere down half way through.
04) FAKE SPOTS:
An iconic skateboarding clip was JK skating the blockbuster signs and with ramps. JK says the bus bench they skate in the END they made a 13 foot cover for the bus stop session, they bolted it to the top of their van and drove it over, left it on when they left and it stayed there for 6 years on the bus bench. They liked the idea that people watching the part that didn't understand skating, they would be able to understand how big and crazy the things they skated were.
05) HOOK UPS (THE START):
The brand Hookups starts in summer of 1993, at first being a small collection of shirts and pants. 6 months after starting, hookups released some boards.
At the time; JK said he really liked the anime style and felt like there needed to be more of it, so he started it up. Klein also said he never actually put any money into the company. It was basically just a liscensing deal with Blitz Distribution (dist for Birdhouse). Despite starting hookups, Klein remains on Birdhouse and "double dips"

06) SEAN CLIVER:
Sean Cliver is one of the most famous skateboard artists around, he was doing stuff for Birdhouse at the time he started to do Hook Ups Graphics. Sean has done a ton of the Hook Ups artwork over the years; He said he only did two real anime style graphics, then faded into his weird interpretation of "americanized anime". Klien was doing the art direction for Hook Ups.
07) ARTWORK:
-Originally Cliver did alot of the artwork A piece of hookups artwork takes him around 3 days x 8 hours a day. FUN FACT: JK doesn't actually like anime that much really anymore

08) JEREMY KLIEN x TOM GREEN:
Jeremy Klien has made multiple appearances on the Tom Green Show. JK and Tom were teammates on Birdhouse for a while, they had remained friends
09) ASIAN GODDESS:
In 1994 Hook Ups releases their first video ' Asian Goddess' There's no real team so it features a whole bunch of friends; including Dan Rogers, Geoff Rowley, Jeremy Klein, Jim Greco, Rune Glifberg, Tom Penny, Tony Hawk, Willy Santos
10) HOOKUPS SHOES:
Hookups had their shot at making shoes; The hookups Footwear team only had two riders, JK & Heath. JK was asked why they didn't have more of team, he said "we have Heath Kirchart, that's all we really need" JK also said in a ride channel interview they sold a ton of shoes in the mid 90's, however in the end Blitz couldn't afford to keep doing shoes, it cost them around a million dollars for a run of shoes. Recently, HookUps shoes came back with Etnies as a partner
11) DESTROYING AMERICA:
In 2001, Hook Ups releases their video 'destroying america', which features; Heath Kirchart, Jeremy Klein, Tony Hawk, Willy Santos, and even Gonz, Bam, as well as some of the CKY dudes. The video has the most insane compilation of jump ramp footage you've ever seen in your life.
12) JK INDUSTRIES: 
Klien also started a board brand called JK Industries, we are not sure if there's a little nod or dig at his former sponsor of Rocco and world industries, the brand was solely owned by Klien. JK Industries mostly made re-issues of JK's graphics. He silkscreens every board by hand, it is super premium stuff, you can get boards signed ordered off there too.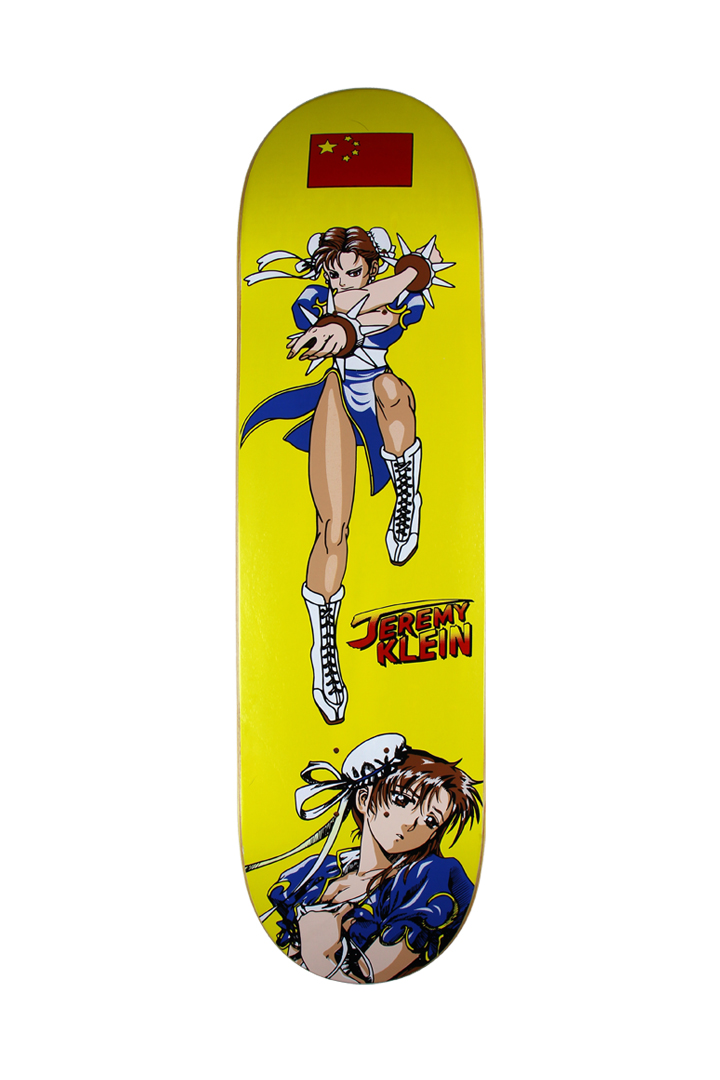 13) NO TEAM:
Hookups skateboards has never officially had a team, even Jeremy Klein stayed riding for birdhouse. Klein says hookups had its glory years in the late 90's and were making the most money they'd ever made, He said in an interview with Black sheep skate shop that the #1 selling Hook Ups board of all time is the Alice In Wonderland Graphic.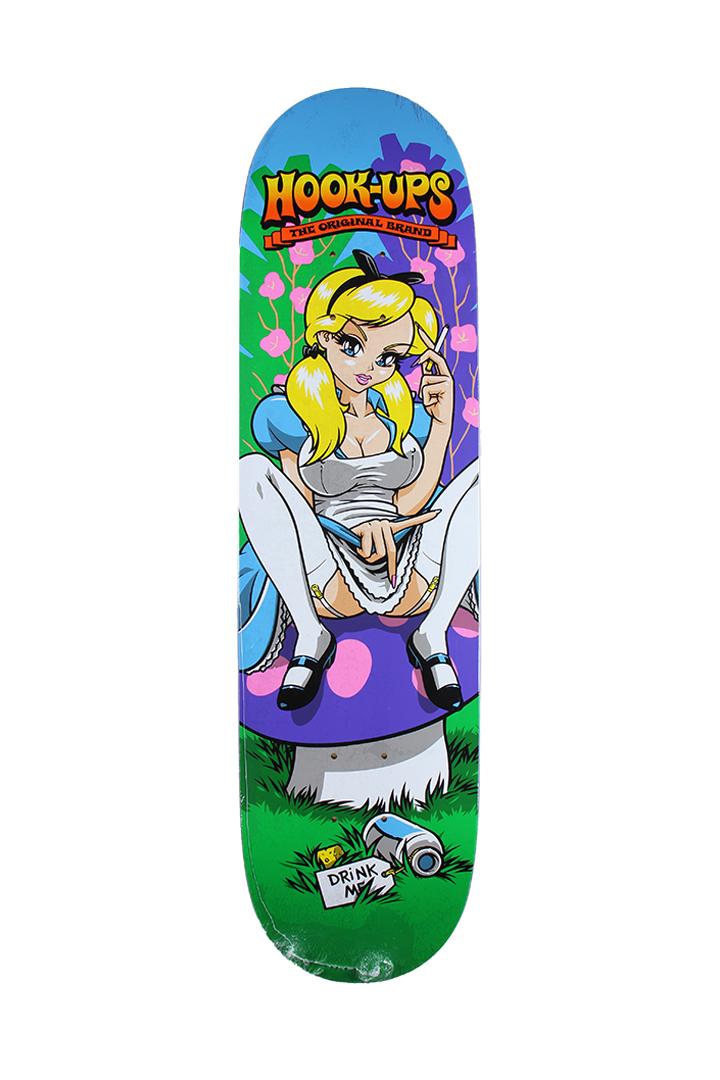 14) MODERN HOOKUPS:
Jeremy Klein retires from Birdhouse in 2008 and not by choice, he wanted to keep a board out, but Birdhouse was changing ownership and he was kinda forced out, also the retirement was due to Klein not skating much at the time. Today, Hook ups is a pretty garage style company, its hard for us and many other shops to find. They have never stopped making boards since the start, and Klein now has full control of Hook Ups.