How To Get A Skatepark Built In Your Town

In this article we cover everything you need to know about getting a skatepark built in your city, town, or community. Building a skatepark is a slow process, so you need to get started early, and make your network as large as possible. We also give some information on different skatepark builders and which ones might be good for your area.

Steps:
1) Research
2) Building your team
3) Fundraising
4) Design
5) Building you community
We hope this helps you start a skateboard park in your community!
Skatepark picture above: Banff Skatepark, Alberta, Canada - Built By Newline Skateparks



1) Research: Before you go out and start working to get a skatepark built in your community, you need to do some research. You need to look into how many skaters (or BMXers, etc) are in your community and how big your think the park needs to be. You also need to look into skateparks and the pricing associated with each park. If you're in a small town, you're not going to get the countries biggest park, but you might be able to get a small concrete pad with some ramps and rails on it. Try to avoid temporary skateparks or ramps, because half the time they are just garbage and don't work or last.



Sterling Heights Skatepark Michigan, USA - Built by Evergreen Skateparks

When you're researching skateparks and costs associated, you could also look into what skatepark builders have built in towns or cities nearby, they're familiar with your area and would be a good partner to have. Here are a list of a few of the popular skatepark builders in North America, check them out, where they're from and their Instagram accounts for pictures of their work.

NewLine:
webinfo@newlineskateparks.com
(866) 463-9546
Headquarters: Langley, BC, Canada
Instagram: @newlineskateparks
Locations: Primarily Canada & USA, but build Internationally as well.
www.newlineskateparks.com

California:
info@californiaskateparks.com
(800) 227-5283
Headquarters: Upland, CA, USA
Instagram: @caskateparks
Locations: Primarily USA, but builds Internationally as well.
www.californiaskateparks.com

Evergreen:
evergreenskateparks@gmail.com
(503) 807-0103
Headquarters: Portland, OR, USA
Instagram: @evergreenskateparks
Locations: Primarily USA, but builds Internationally as well.
www.evergreenskateparks.com

Grindline:
inform@grindline.com
(206) 932-6414
Headquarters: Seattle, WA, USA
Instagram: @grindlineskateparks
Locations: Primarily USA, but some parks in Canada & Internationally.
Website: http://grindline.com/

Spectrum:
info@spectrumskateparks.com
(604) 986-5683
Headquarters: Lonsdale, BC, Canada
Locations: Primarily Canada
www.spectrumsk8parks.com

Dreamland:
dreamlandskateparks@gmail.com
(503) 577 9277
Headquarters: Lincoln City, OR, USA
Instagram: @dreamlandskateparks
Locations: Primarily USA, but do international parks as well.
Website: www.dreamlandskateparks.com

Transition Construction:
Headquarters: Vancouver, BC, Canada
Instagram: @transition_construction
Locations: Primarily Canada


2) Building Your Team: This step is really important. You want to build a decent sized team to help you start a skateboard association. This skateboard association will start a non-profit, organize fundraisers, build awareness for the need for a park, go to city council meetings and other odd jobs.

When you're building a team, it's really important that it is diverse. You can't just have 30 skateboarders, or no one is going to take your seriously. Here's some people we think work well on skateboard committees:
-skaters
-parents in the community
-local business owners
-town council members
-someone with financial skills

Once you have your team together and you've set up a Skateboard Association, you need to apply for charity or non-profit status and open a bank account.
Note: when you set up a bank account, make sure your bank is setup so there are multiple members of the association on the account, so two people need to sign off on any transactions on the account (this prevents anyone from stealing the money).



Eugene Skatepark, Oregon - Built By Dreamland Skateparks

3) Fundraising & Awareness: 
Once you're organized, the best way to get the ball rolling on a skateparak is to create awareness that a skatepark is needed in your town. When you're doing this you also need to tell people some of the positive effects having a skatepark will have; it's great exercise, builds community, is used by all age groups and is almost free to maintain once built.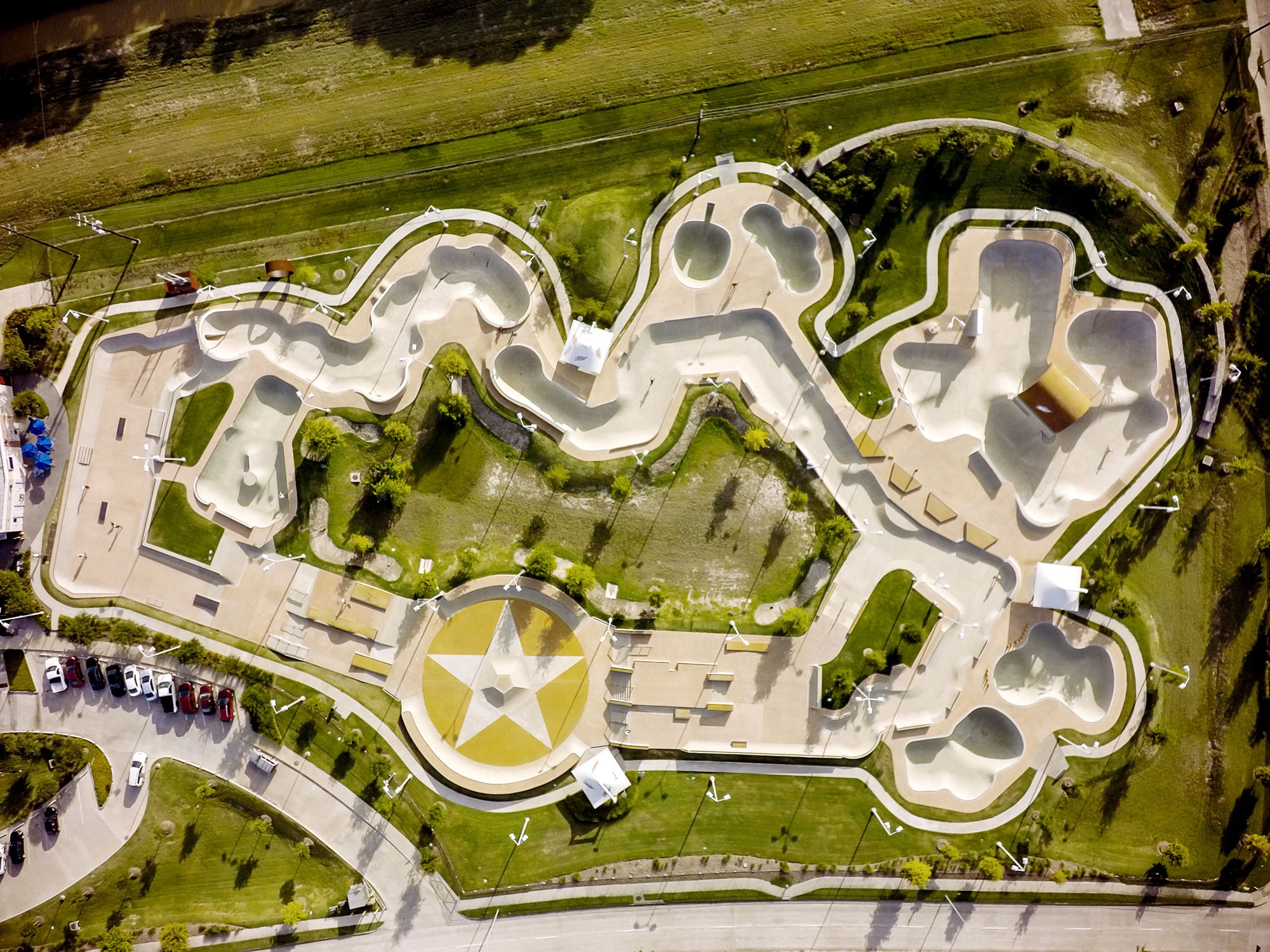 North Houston Skatepark, Texas - Built by Grindline Skateparks

Some great ways to build awareness are to attend local events, contact a reporter at your local newspaper to do an article or other media in your town (websites, blogs or Instagram pages), try to set up a meeting with your city or town council members to present to them why a skatepark would be a great investment. We also always recommend doing a bottle drive to get the funding going, it gives local skaters something to do to get the ball rolling and feel involved in the process, it's also a great way to go door to door and promote the idea of a skatepark to people in your community.

When fundraising as mentioned above, a bottle drive is a great start, it doesn't put a huge amount of money in the bank, but it gives you some cash to start and is a great way of connecting with the community. Another great fundraising initiative (in Canada) is to try to do a Charity Casino Night Fundraiser, these raise lots of money but are also a long wait so you have to be proactive and get your name on the list early.

Other great fundraising ideas, once you have the ball rolling is to setup a corporate sponsorship package. Most towns or cities have some big companies that provide lots of money to the community, big companies are usually looking to donate money to different causes every year, they are a great resource to have on board.

The last, but definitely not least, government grants are an amazing way to raise money for your cause. Every level of government (local, provincial/state and federal) will have grants and funding for community projects. You should look into what grants you are eligible for and put together a proposal. Lots of these grants go unused, so they are a great resource. When our store in Drumheller was raising money for their park, they got a gov grant for $150,000 which covered a decent portion of the funding of the park.

Examples of funding:
Our Drumheller location worked to get a skatepark built in their community. The park cost around $700,000 Canadian.

Here's a breakdown of the where that money came from:
Government Grant: $150,000
Canalta Donation (large local company): $250,000
Drumheller Municipal Government: $150,000
Community Fundraising: $150,000
Total: $700,000



Drumheller Skatepark, Built by Newline Skateparks

4) Designing & Building:
Once everything is in place and most of the money is sorted you get to start the fun stuff! Designing a skatepark is a really cool experience that most people never get to do. Here's some inportant things to remember when you're designing a skatepark for your town.

Design the park for everyone: You're not the only person that's going to be using this skatepark, so make sure the park you design is well rounded and fun for all skill levels and types of skateboarders. Just because you love skating bowl, doesn't mean the entire park needs to be transition.

Make sure you have a good beginner section! If you don't have a beginner section on your park, it's really hard for new kids to get into skateboarding, every skatepark should have a small rail and ledge with some flat ground for kids and people new to skateboarding. These beginner or training sections usually end up being the most used part of the entire skatepark, so don't skip out on it.



Vans Skatepark in Shanghai, China - Built by California Skateparks

Make it beautiful: A good looking skatepark draws lots of attention. Having a great looking skatepark will bring in attention from all over and will make photos at the park popular for newspapers and other media outlets.  

Location: Where the park is located is really important. Back in the day skateparks were ugly concrete messes, and people used to put skateparks in the most remote tucked away part of town. Now skateparks look like beautiful city parks, try to put your park somewhere central that is easy to get to using public transit. Having it somewhere central will also eliminate crime or sketchy people hanging out at the park. Also, try to have a bathroom at the park or somewhere close by that has public washrooms.


The Elements: Put the skatepark in a spot that is going to be easy to protect people from the elements. If you live somewhere that is extremely hot, try to put the park near somewhere with some shade, or water fountains. If your town is somewhere that is really windy, try to position the park near trees or buildings that will cut down on the wind. Lastly, try to give a little bit of your budget to getting lights at the skatepark. This will let people use the park more often when the weather permits!

5) Building you community:
Ok, now you've got a skatepark, you're still not done. Having a skatepark is a great way to build the skateboarding community in your town. If you build your skateboarding community it means more friends and more events! If you do a good job at this it means more skaters and eventually more skateparks!



The Berrics Skateparks Los Angeles, California - Built by California Skateparks

Here's the best ways to build the skateboard community in your town: keep the park clean, be respectful to everyone using the park, organize a skate school or summer camp, put on local contests, partner with other community events to have a skateboarding event. Watching the skateboard community grow in your town is a cool experience, more people out enjoying the park means more skaters, more events and eventually more skateparks!