Here we take a look at one of the most iconic shoe brands in skateboarding; Lakai. Lakai has called themselves "The Best Kept Secret In Skateboarding", this has to do with their rich history in skateboarding as well as being one of the last skater owned shoe brands! With iconic videos like "Fully Flared" under their belt, Lakai is a force to be reckoned with.
1) Mike Carroll:
Mike came up in the skate world along with his older brother Greg, He got recognized and began riding for H-street and FTC. His name is synonymous with Embarcadero and he is a certified SF legend. After standout parts in the H-Street and Plans B videos, he earned himself a pro shoe with Vans. 1994 SOTY
In 1997, he finds a footwear home on what is referred to as 'the DC Superteam'; Alongside names like Moses, Kalis, Mckay, D Way, Rob Dyrdek, Scott Johnson, and Rick Howard. In 1998 Mike Carrol gets a pro shoe for DC called the cosmo

2) Rick Howard:
Rick Howard was a good Canadian boy who got picked up by Blockhead and ends up relocating to California, where he winds up on the Plan B team alongside Mike Carroll. Together, Mike and Rick would form Girl & Chocolate Skateboards amongst other brands with Spike Jonze and Meg Baltimore.


Fun Fact: There is an official Rick Howard day in Vancouver on Sept 29th, as the mayor said he was a positive ambassador to the City and Country and awarded him with a plaque. The day lined up with a celebration of 20 years of Girl in Vancouver. Rick's a modest guy and said it was really embarrassing.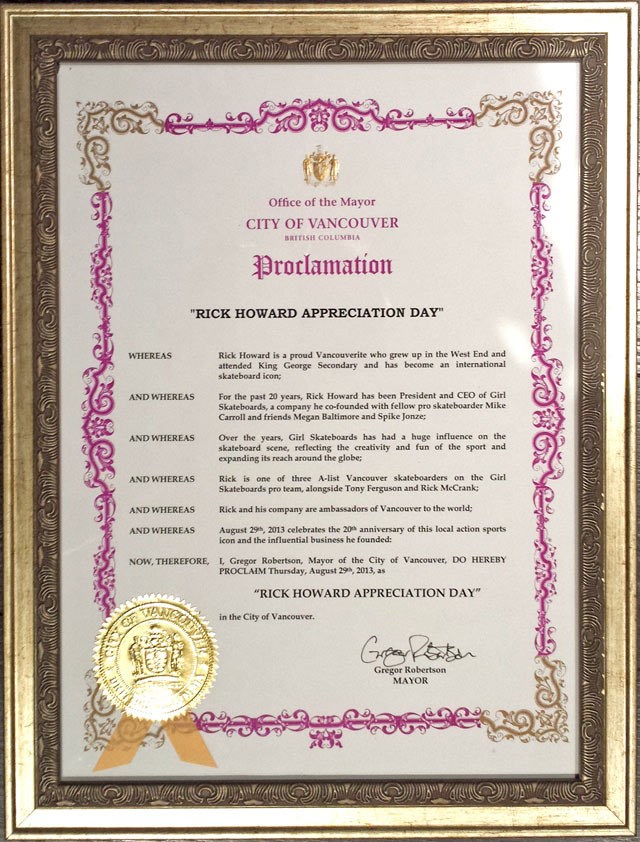 3) Leaving DC:
In April 1999, Rick Howard and Tim Gavin are out for beers at a comedy club, when Tim Gavin (Podium CEO, DVS Shoes etc.) brings up the idea of starting a new skate shoe brand. Rick talks to his partner in Girl/Chocolate Mike Carroll about the idea and they decide to leave DC shoes. Rick and Mike partner with Tim Gavin over at Podium (DVS Shoes) to launch Lakai Footwear.
4) The Name & Logo:
The logo is designed by long term artist at girl; Andy Mueller. The Lakai logo gets nicknamed 'the flare' , as in Nike has the Swoosh, Adidas has the stripes, and Lakai has the Flare. A friend has a kid named Malakai and Mike Carroll suggested Lakai for the brand name. The first ads were rick and mike holding the shoe drawings.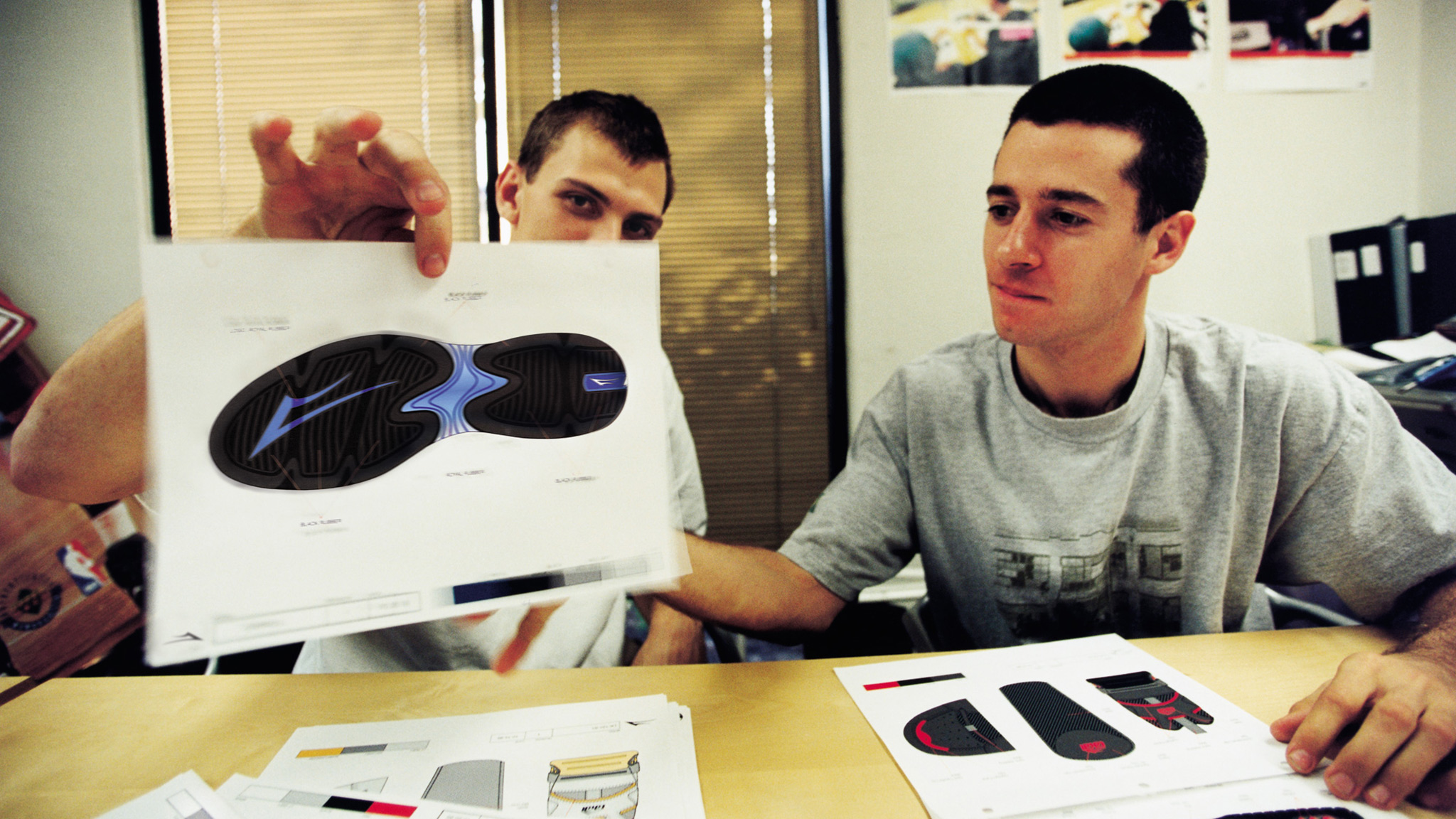 5) The OG Team:
The OG Lakai Team included Rick Howard, Mike Carroll, Scott Johnson, Jeff Lenoce, Rob Welsh, Anthony Popalardo, and Cario Foster. Not long after they add Danny Garcia and Mark Johnson. Also, after sharing a part in TWS, they add Brandon Biebel to the team.

6) New Lakai Video... :
In the early 2000's they start talking about putting together a 'Lakai Video' that would be set to release in 2005. They get together and look at everyone's footage, and see that Marc Johnson already has 15 mins of footy... seeing this lit a fire under everyone's ass and more filming started to happen. In 2005 There are ads teasing the new video...
7) New AMs (2005):
In 2005 during the filming for fully flared, Guy Mariano is quietly added to the team. Over the last five years; Guy had been struggling with drugs and addiction, however, by 2005 he had cleaned himself up and been added to Lakai, with Rick and Mike asking him to film some clips, with Ty Evans working towards getting him a full comeback part. They go on to add Mike Mo and the son of legendary skater Steve Olson; Alex Olson.

8)Eric Koston On Lakai:
In 2005, Eric Koston is added to the Lakai Team; the world goes crazy for this. Koston also becomes a co-owner of the brand, investing his own money.
9) Fully Flared:
In October of 2006, everyone on Lakai watches the raw footage and end up adding another year onto the video deadline that has already had ads saying it was coming. The Lakai website has a countdown ticker for the videos release. Finally, on November 16th, 2007; Fully Flared premiers to the world. It wins pretty much every video award you can get including video of the year from TWS, and skater for the year for Marc Johnson. Fully Flared became the highest selling skateboard video ever made.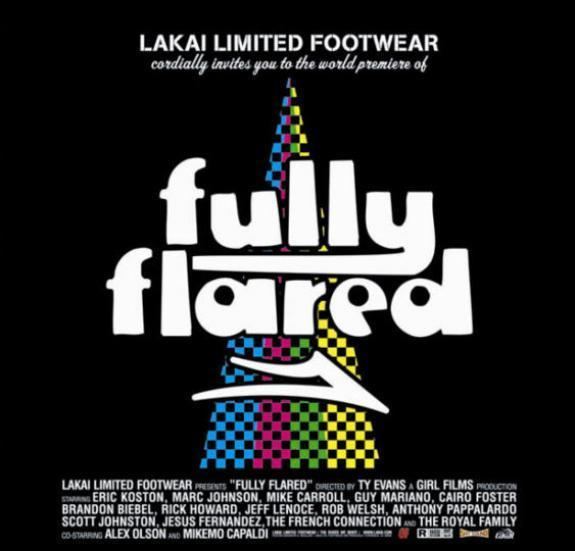 10) The Reckoning:
Soon after Fully Flared is released, everyone that was in the iconic intro quits the team, it seemed that everyone got head hunted to do other things. The team all gets offered life changing money by a bunch of different brands, this includes Eric Koston (Nike), Marc Johnson(Adidas), Mike Mo(DC Shoes), Alex Olson (Vans), Lucas Puig (Adidas), Cairo Foster (Etnies), and more.

11) The Rebuild:
Despite the loss of so many heavy-hitters, Lakai began to rebuild. They add Vincent Alvarez, then Riley Hawk, Raven Tershay, Daniel Espinoza, and even brief stints of Nakel and Miles Silvas being on the team. The Lakai Team also win Thrashers King Of The Road. They also had added Amateur riders such as Cody Chapman, Simon Bannerot, Tyler "Manchild" Pacheco, Yonnie Cruz, James Capps, Nico Hiraga, and Johnny Jones. Also veteran pro Rick McCrank, and Last but not least, Griffin Gass.

12) THE FLARE
Lakai releases their second video in July of 2017 with a whole new crew of skaters.
After the video; In the last couple years Lakai has brought the Telford Shoe back from the dead.
13) Hawk-Man
Lakai adds Legendary Skateboarder; Tony Hawk to the team in November of 2017

14) Modern Lakai
The Current Lakai team is amazing, Consisting of Rick Howard, Mike Carroll, Vincent Alvarez, Stevie Perez, Riley Hawk, Griffin Gass, Jimmy Wilkins, Simon Bannerot, Tyler Pacheco, Cody Chapman, James Capps, Nico Hiraga, Kyonosuke Yamashita, and Greg Dehart.