NEW VANS SKATE CLASSICS COLLECTION:
Forget everything you thought you knew about Vans skate shoes...
Vans just completely re-designed all their skateboard shoes from scratch! Although they might look the same to the untrained eye, everything has completely changed. They changed the fit, the durability and the branding. Learn more below.


WHAT THIS ARTICLE COVERS: 
1) History of Vans & Checkerboard
2) Why they went about and designed these shoes
3) What they changed in these shoes
4) How you can recognize "vans skateboarding shoes" 


Watch the video of this article here:


THE CHECKERBOARD HISTORY IN SKATEBOARDING:

Vans has the richest history in skateboarding of any shoe brand out. Started in 1966 it was quickly adopted by skaters, like many shoe brands at the time, but Vans was the only shoe brand that cared about skating and actually started sponsoring skaters and skate events. Vans was the first shoe company to sponsor a skateboarder, when they added Stacey Peralta to the team. Not long after, adding Tony Alva as well.

The Vans Era shoes (back then it was called the style 95) was actually designed by Peralta and Alva, making it the first ever skater designed shoe. Over the years, Vans has never wavered from their skateboarding roots. They even designed the Caballero pro, one of the earliest ever pro model skate shoes. It's important to note that they never stopped funding skateboarding ever and skateboarding in communities.


WHY CHECKERBOARD?
The checkerboard print began in 70's with the Vans Slip-Ons (called the style 48 back then). Steve Van Doren noticed Alva and all the skaters were drawings checkers on their shoes. Vans ran with it on their shoes, making the iconic checkerboard slip-ons.

Around this time,  Ska music and punk music were exploding and using checkerboard prints on band logos and concert posters. (specials, the toasters). It was a very turbulent time politically, and at that time, the checkerboard pattern (black and white mixed together) came to symbolize the breaking down of racial barriers. This print has forever had a rich history in skateboarding and counter culture music.

Vans has always been a big proponent of skateboarding is for everyone regardless of your skin color, sexual orientation, age, or gender, Vans is as inclusive as skateboarding itself. 

We brought up these two points because they're important moving forwards.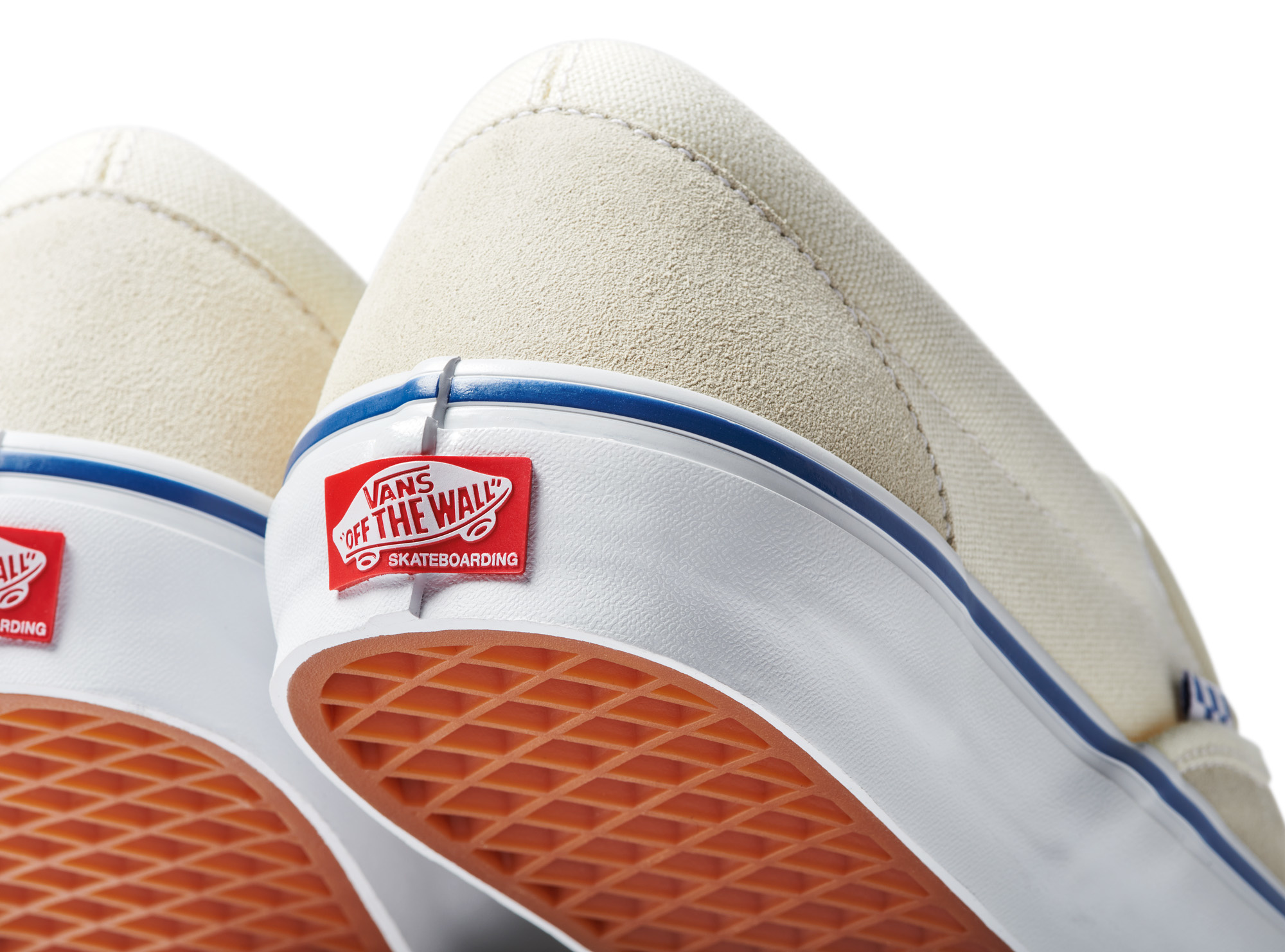 VANS CHANGES EVERYTHING: 
Fast Forward 55 years, skateboarding has changed, and shoe technology has changed. Vans sets out to rediscover their shoes by improving the fit, durability & branding with skateboarding in mind.

We're excited about this because at Vans skateboarding comes first. It's also a nice little back to the start moment, they're back getting a ton of input from the skate team from flow riders to pros.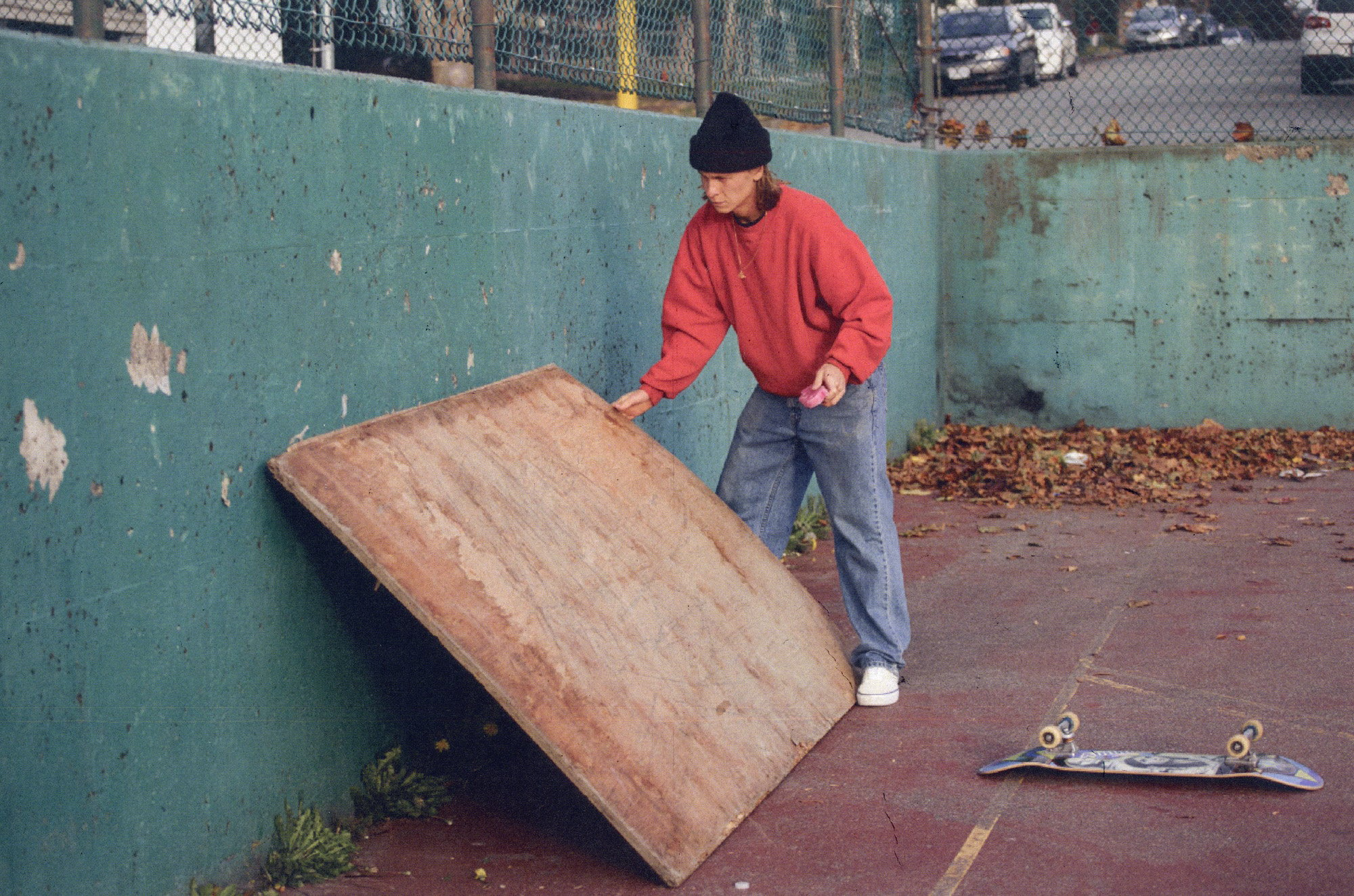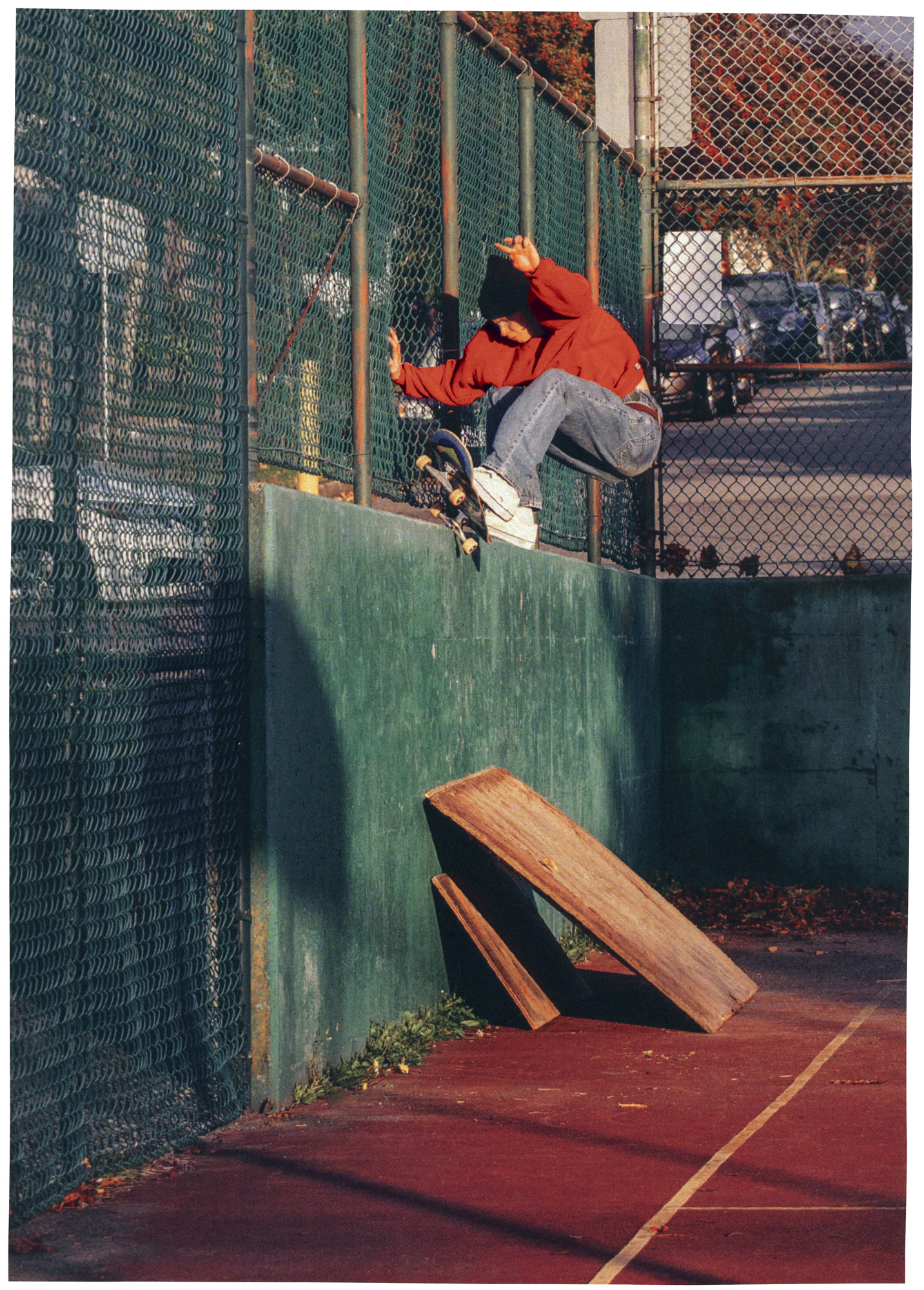 THE NEW VANS SKATE CLASSICS:
At the start of this journey Vans surveyed over 3000 skaters, from random kids to their top tier pros like A.V.E. and Beatrice Domond. They also got input from skaters all across the country, from East to West coast. This is a big deal because it's the biggest wear testing and research that Vans shoes have EVER done!
After talking to over 3000 skaters before and after testing tons of different shoes and materials, these are the important changes they've made.

BRANDING:
First and maybe the least important part of the redesign is they changed the name. Vans used to call their skate shoes 'pros skate' then the model name, ie: "Vans Pro Skate Slip Ons" and now going forwards all the Vans skate shoes will be called 'Vans Skate' then the model name. "Vans Skate Slip Ons". This is a minor change, but it shows that they're leading with skateboarding, this isn't a pro wakeboarding shoe or a skydiver shoe, this is a skateboarding shoe. In their research Vans found that 34% of the people they talked to, didn't even know that Vans made skate specific shoes. So this should 100% eliminate this problem going forwards.

How do you tell if it's a Vans skateboarding shoe?
As soon as you pick up a Vans shoe, you can tell if it's a skateboarding specific shoe by picking it up. Three things to look for on the shoes are:
-checkerboard Vans hang flag
-checkerboard interior heel cup
-Vans skateboarding tab on heel




Lastly, all the Vans Skate Classics will come in custom Vans boxes that are different from the regular Vans shoe boxes.

IMPROVED FIT:
The biggest complaint we heard from customers on the older versions (Vans pro skate), was how differently they fit than a classic Vans shoe. Since they had biggest insoles and extra rubber, they fit a little off, and looked a little goofy in comparison to a traditional Vans shoe. The Vans Skate Classics, will have a much more snug fit with your foot sitting much deeper in the shoes.


Vans improved the fit by first, updating their last. The last is the model of a foot that shoe factories use to build a shoe around. The new last is less bulky and shaped more true to the shape of a human foot. This allowed Vans to remodel the heel counter (checkerboard piece inside the shoe), and eliminate a bunch of volume in the heels of the shoes (see below). This is allows a much more snug and consistent fit to your foot and reduces heel slippage when walking or skating.

On the left is the New Vans Skate Classics fit and the right is the older 'pro skate' version. You can see the volume is cut out around the feel to reduce the volume of the shoe and give a much better fit.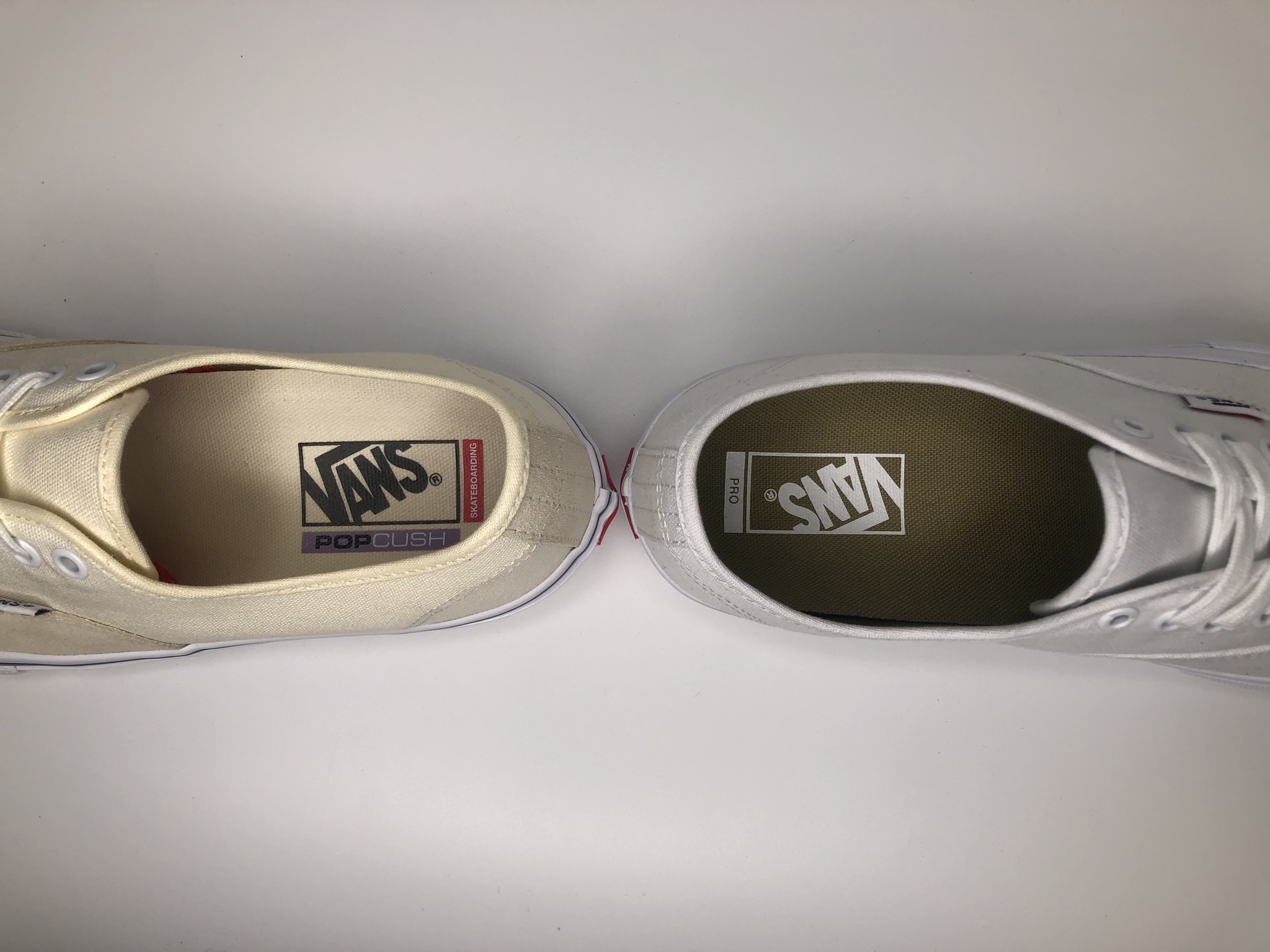 Next step in improving the fit was redesigning the foot-bed (or insole). The new insoles are still their signature 'Pop Cush' insoles, but they changed the shape, still allowing the same amount of cushion under your heel, but allowing your foot to sit much lower in the shoe. A lower fit looks much better when you're wearing it, your foot doesn't look like it's exploding out of the shoe, and your socks won't bunch up. Also, a lower fit in the shoes will give more stability (your foot isn't sitting on this inch high insole), and reducing injury.

A comparison of the fit between the old 'pro skate' Slip Ons (first picture in white) & the new 'Skate Classics' Slip Ons (second picture in black). As you can see, your foot sits a lot lower in the new slips.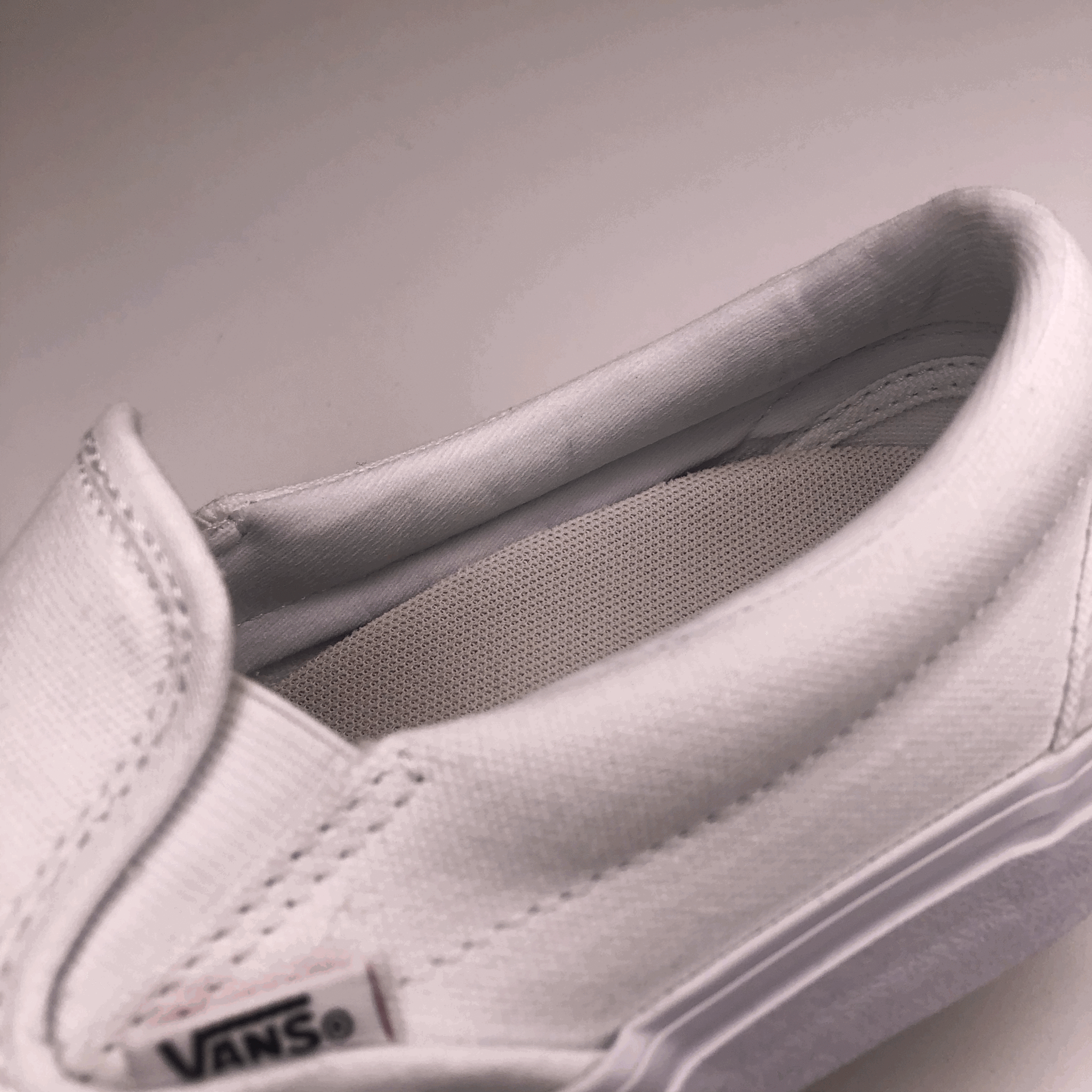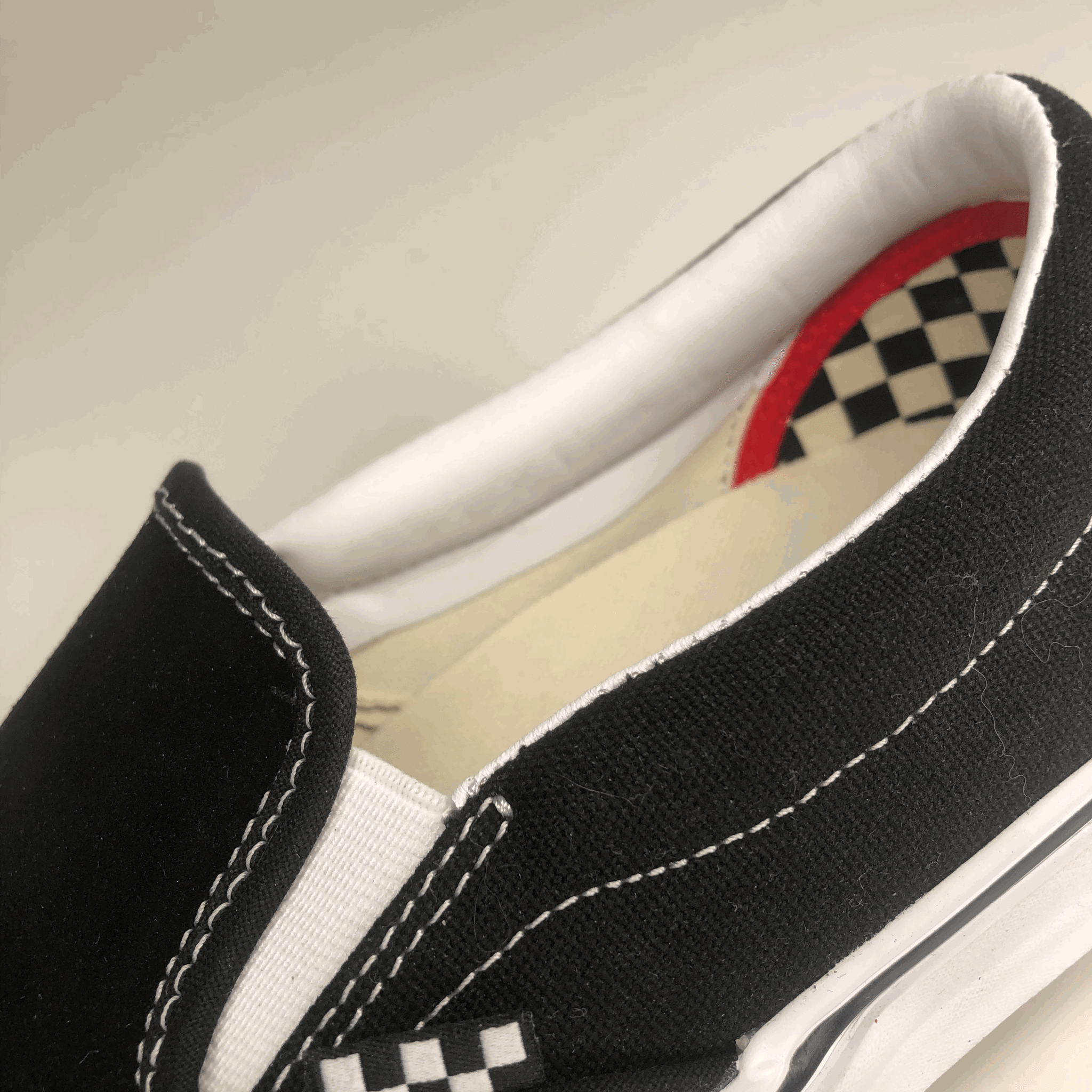 Inside the shoes, you'll notice the premium tongue elastics, this is a big deal because the old shoes didn't have tongue elastics and it drove people insane. Lastly on fit, and this is just for looks but it's a great change, but the designed reduced the toe spring by 2mm, so your shoes won't 'toebock' and look like clown shoes.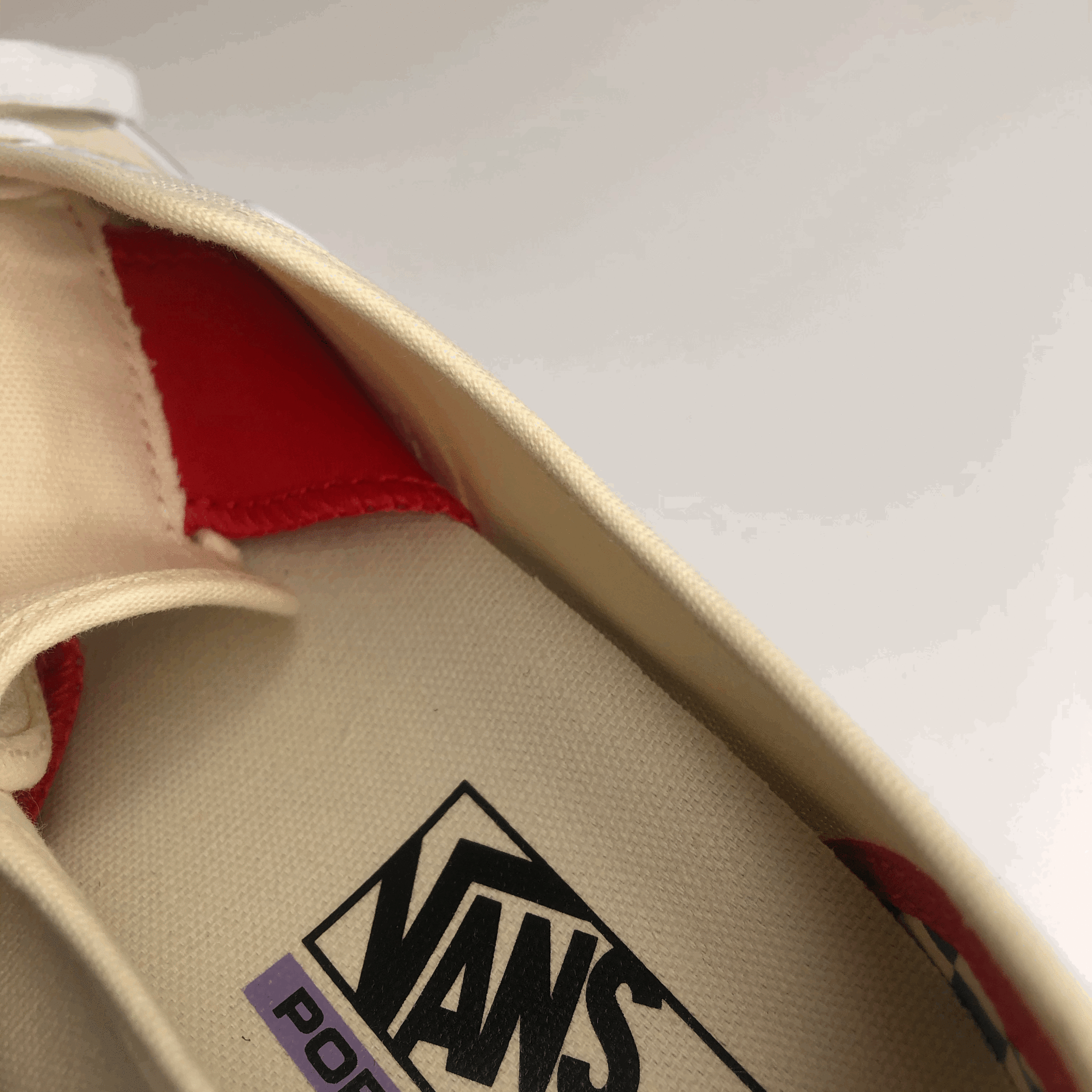 IMPROVED DURABILITY:
Here's the icing on the cake! Vans also improved the durability on all of the Vans Skate Classics and didn't increase the price at all!

New Soles: Everyone knows and loves the Vans waffle soles as the grippiest soles in skateboarding period. In all of the updated skateboarding shoes with have their new 'Sickstick' rubber compound, this is a rubber they spent a few years designing and launched on the Rowan Pro shoes last year. It's been really popular because it's more durable and grippier than classic waffle soles. Also, they added a brand new design called 'vertical tread transitions' which is actually altering the angles of the grip on the waffle grip. The best way of describing the new soles in skate terms is if the old waffle grip was a straight wall, the new tread is shaped like a jersey barrier.  This has been found to stay grippy much longer, and absorb more energy when taking impacts.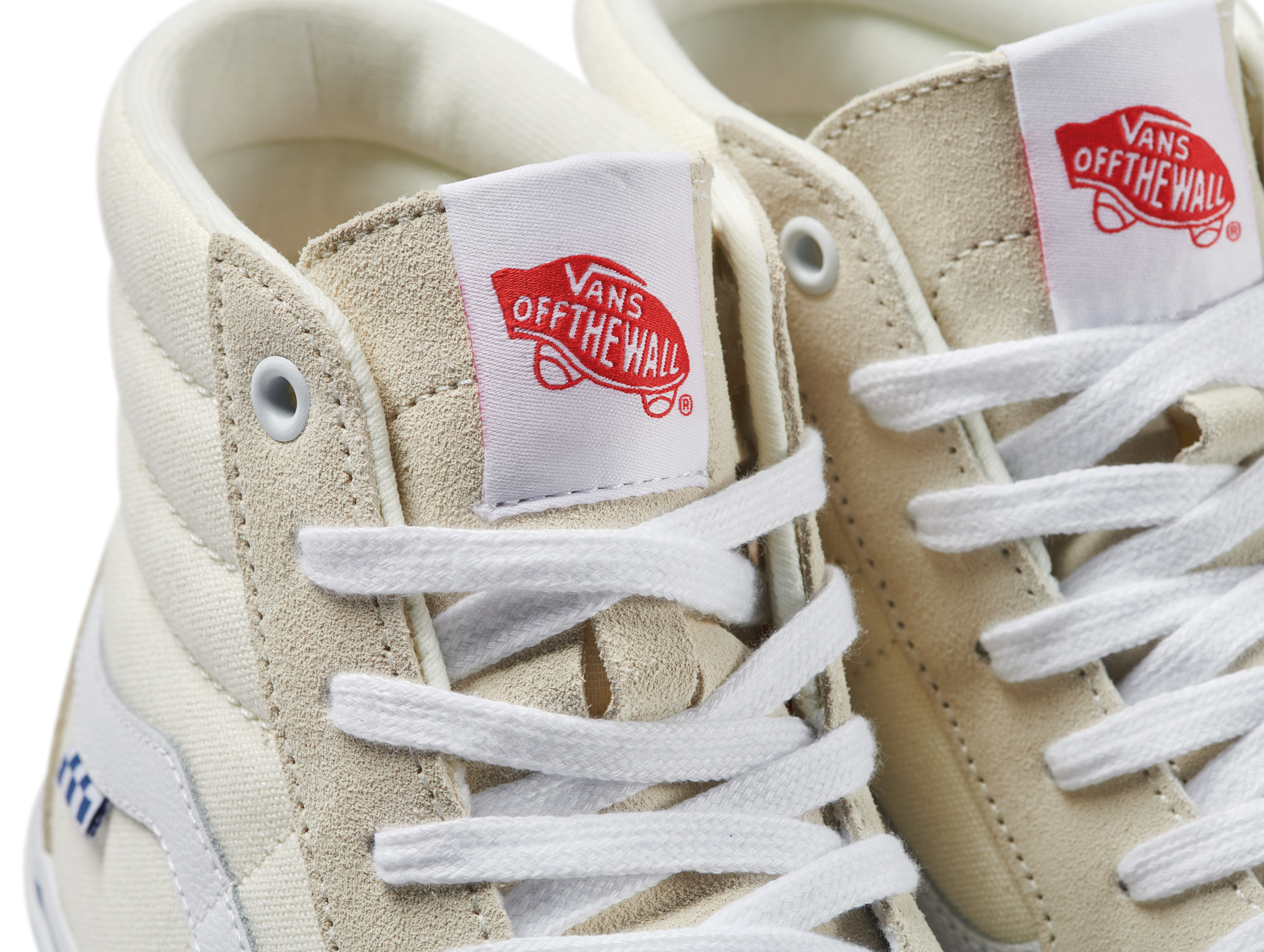 Inside the sold they updated bottom plate, if you take the insoles out, you'll feel its much sturdier when you push on the heel of the shoe. This makes your feet feel much better after a long day out skating. They also updated the toe bumper heavier more durable rubber compound (again using their patented Sickstick rubber). With the toe bumped they also added a dual foxing, giving extra rubber to the shoes so they can withstand more wear and tear.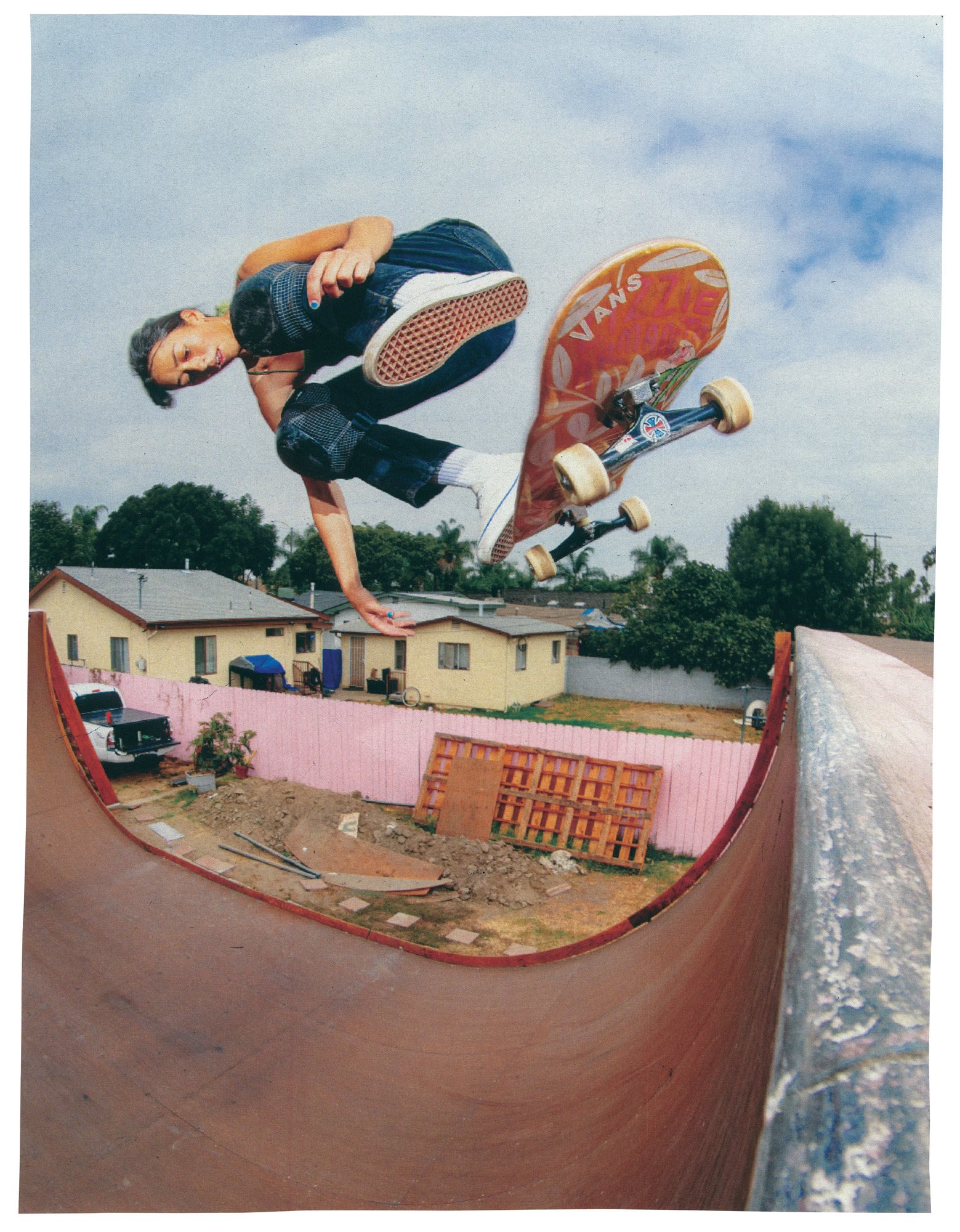 Lastly, a few minor changes to note, the soles are a lighter and glossy white, closer to the limited Vans vault shoes and looks a lil more premium, which the sneaker heads might enjoy. Also, one of the negatives we found in the Vans Skate Classics Shoes, is they are slightly heavier than the previous 'Vans Pro Skate' shoes, but we feel like with this bit of added weight comes a lot more durability, so it's a great trade off.

Classic Look with new technologies.