14 Things You Didn't Know About Skull Skates:
14 Things you didn't know about Skull Skates- Canada's longest-running, shop, and skateboard company. Also one of the longest-running skateboard companies on the planet. How they got their name, what massive skate brand's artwork they inspired, famous celebs caught in skull & much more.
1) The Start (Great North Country Skateboards):
Brothers Peter and Rick Ducommun are living in Regina, Saskatchewan, Canada. Older brother Rick got into skating in the mid 60's and younger brother Peter started skating in the early 70's, so they are definitely pioneers to the skateboarding. Older brother Rick starts with an iron-on t-shirt company and is traveling back and forth to California. Rick is coming and going from the skate mecca of California and bringing skate stuff back to his brother and friends in Canada. Eventually, the lists of things he needs to bring home become so large that they decide they need to start a shop.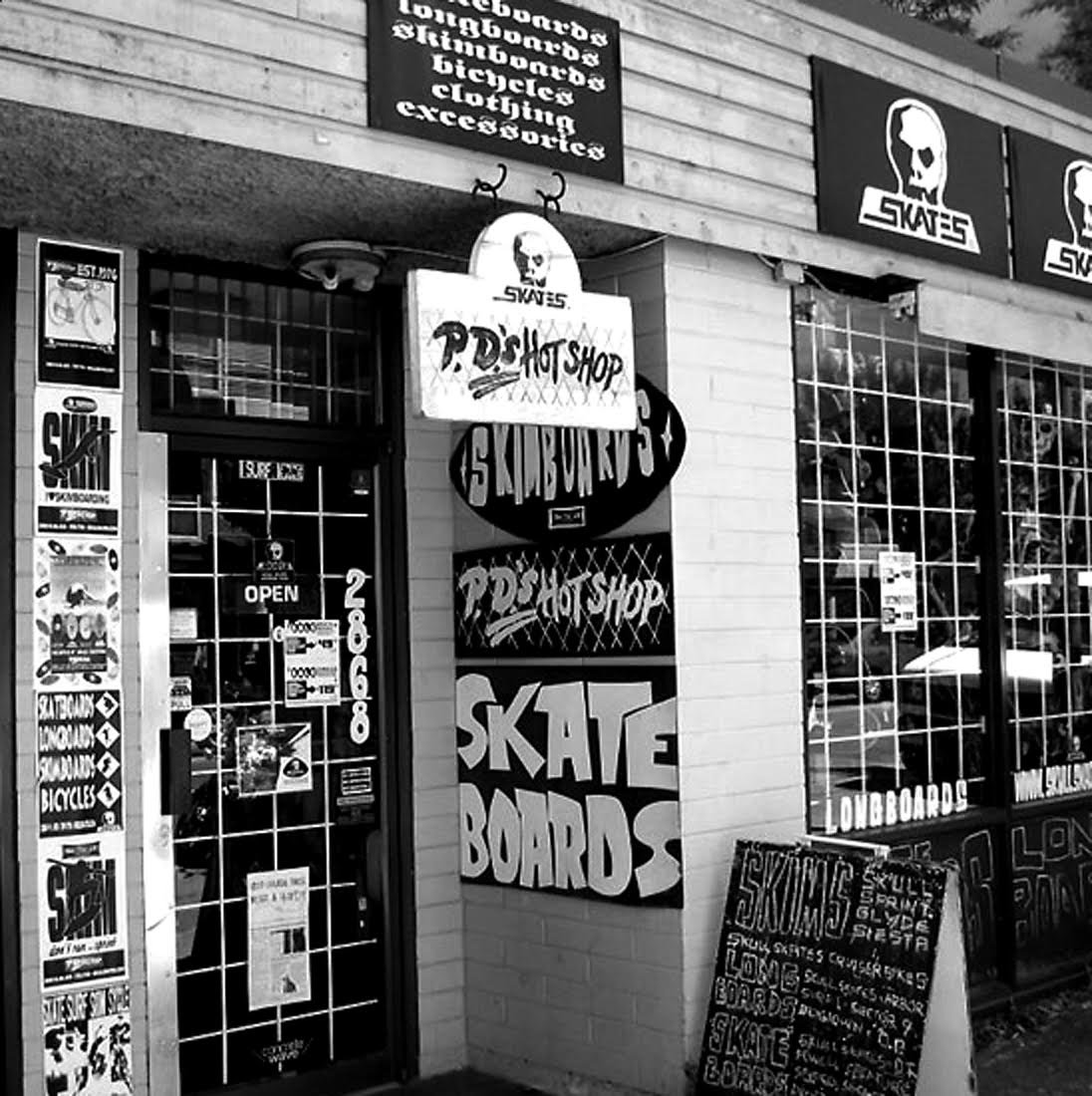 In April 1978, they form Great North Country Skateboards, although they had already been experimenting and making boards years prior to this. This makes them Canada's oldest skateboard company, and one of the longest-running skateboard brands in the world. The name would later be shortened to GNC Skateboards.
The original GNC Skates logo is a ying-yang logo, inspired by the Town & Country Surfboards logo.


2) The Skull Skates Logo:
When the brand was still called GNC Skates PD hand carves a Skull into the top of his griptape, his brother Rick sees this and says this should be the logo. PD said "I can do a better one", but Rick said no. The logo is so bold and basic because it was originally carved into an already gripped skateboard and peeled up. It's also interesting to note that the original Skull logo still says GNC Skates next to it.

After a while, the logo becomes so popular and recognizable, that customers just start refering to the brand as 'Skull Skates'. In 1979, the Saskatchewan location moves to Vancouver, BC. The Vancouver location gets named PD's Hot Shop, which again is named by older brother Rick. The name takes influence from BMX stores at the time being called a "hot shop".
03) Powell Peralta Inspiration:
There's old folklore that Skull actually inspired the Skulls artwork that became so synonymous with Powell Peralta over the years. This was still in the early days of graphics on skateboards, many brands at the time would just print their name on the bottom of a board. Ray 'Bones' Rodriguez who had the first even pro model with Powell drawn by the iconic VCJ Vernon Cortland Johnson, he was asked what he wanted on his board and he asked for a graphic with a skull. Although we cannot confirm or deny this rumor, it's pretty coincidental and rad to think that the skulls and dark graphics of VCJ that defined a generation, were inspired by a little skateboard company in Canada. VCJ's skull have gone on to be probably the most iconic graphics in skateboarding ever.

04) US CHAPTER:
In 1983, they open a LA chapter of the brand, as Rick's acting career is taking off and he's spending more time in California.  They currently also have a location in Japan (1994) PD Hot Shops. The US chapter built a lot of lasting relationships with iconic pros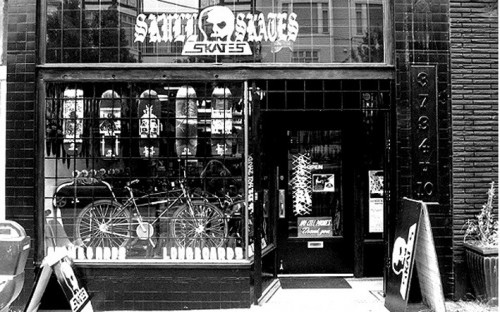 05) THE TEAM:
Over the years the skull team reads like a Skateboarding Hall of Fame. Jacks is a skate crew originally from SF, all along the west, and had a heavy presence in east van, they all embraced Skull right away. Feetus was one of the first Canadian Jacks. Steve Olson was Skull's first official pro skater, he famously make a 'checkerboard falling apart' graphic that symbolized his relationship with NHS falling apart. Over the years Skull has had many legendary American pros like: Dave Hackett, Steve Olson, Hosoi, Duane Peters, Mondo (from Thrashin), Johnny Ray, Phil E (designed one of the first big nose board), Todd Swank, Godoy Brothers, RIcki Styles (scurbs crew, Sacramento original slappy crew), Sluggo, Bucky Lasek, and many more. They've also made boards for iconic Canadian skaters like Mark Tison, Barry Walsh, Barrier Cult, Deer Man Of Dark Woods, Chris Haslam, Moses Itkonen, Christian Heiss (Germany freestyle rider), and Kevin Harris.

06) HAMMERHEADS:
The Original and first ever Hosoi hammerheads were released through Skull, the shape was designed by Christian Hosoi himself, the logo was designed by his father Ivan Hosoi. Later on, Hosoi decides to quit Sims to start his own brand; HOSOI Skates. Hosoi was the 3rd pro skater to own his own company, Tony Alva was the first, Brad Bowman was the second. These were the best selling Skull skateboard model ever, 10,000 boards sold worldwide. Skull original hammerheads made by Skull are worth insane money. The boards were so insanely popular that bootlegged versions of the boards were showing up all over the place. This stemmed the famous "THE REAL HOSOI" Skull skates ad, saying "if it doesn't say Skull Skates, its not the real thing".
07) BAND BOARDS:
Skull has had a rich history in the music scene: Including, Social Distortion, Gang Green, Red Hot Chilli Peppers before they blew up, Vandals, D.O.A, SNFU, The Hives, Wasted Youth, and more! Its interesting to note that many of these amazing brand collaborations were lined up by legendary skater Gerry Hurtado aka Skatemaster Tate who was a brand manager for skull in the 80's. 

08) No Cell Phones:
Rick realizes the popularity of PD and decides to rename the storefront "PD's Hot Shop", the name Hot Shop came from the BMX world, SE racing used to call it's store a Hot Shop. Skull doesn't allow any cell phones in the store; keeping a more old school feel at the shop.


09) Rare & Limited:
It's interesting to note that Skull Skate has never stopped making crazy shaped and unique boards. All though it is a big trend nowadays, they've done it even when it wasn't the flavour of the month. They've always made a wide variety of long boards short boards, experimented with all sorts of wheels bases and widths.




10) SKULL SKATES & OTHER THINGS:
Skull is famous for doing whatever they want and making lots of insane skateboard shapes, longboards, cruisers and even bikes & skimboards. In the early 80's they even started making snowboards, they collabed with Endeavor Snowboards. Some of their boards ended up in the "A Brief History Of Snowboards" Book, which details some of the most sought after and rare snowboards of all time, by the Snowboard Museum.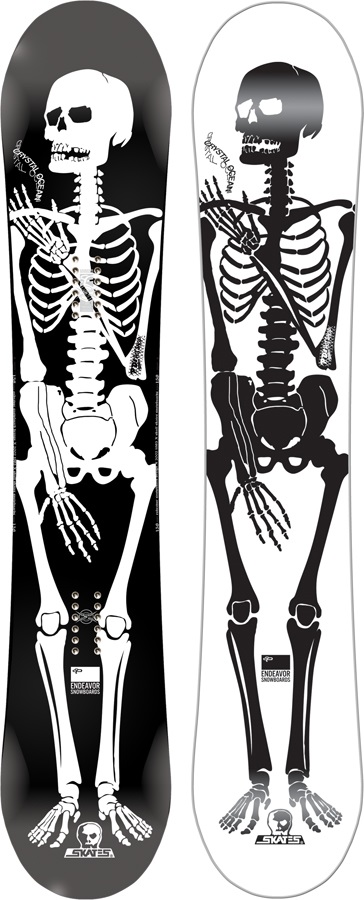 11) Celebrity Sightings:
Loads of celebrities have been seen wearing Skull products over the years; Skull got their Hollywood start with Rick Ducommun staring in the moving the Burbs.
Tom Green had a guest model with Skull and is seen wearing skull gear all the time. In the new Justin Bieber video he's seen wearing a retro Skull Skates jacket; In an interview with vancouverisawesome, PD says he has no clue how JB got his hands on this jacket and states its a very rare team only jackets. He says they are so rare there was only around 10-12 ever made and given out to team riders.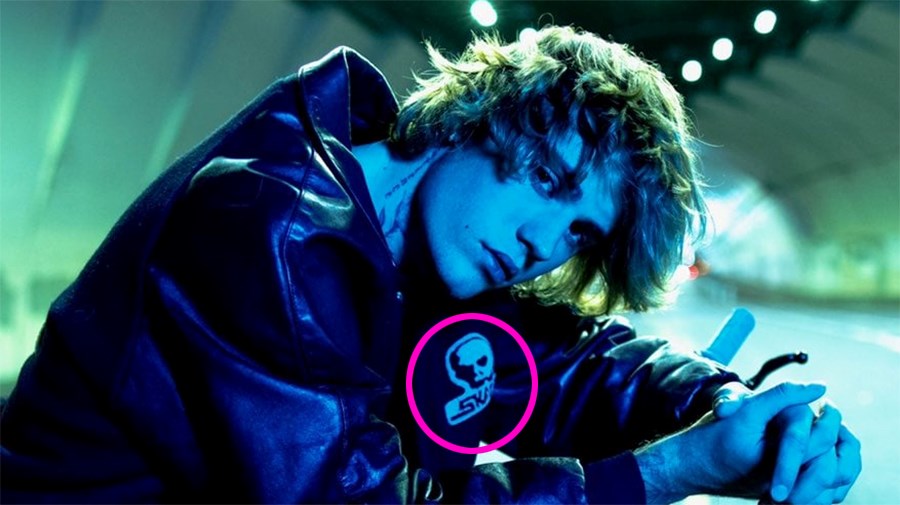 Thrashin had skull cameos, some others include, Van Halen Guitar Magazine Cover., Slayer's guitarist had a skull sticker on his guitar, Milli Vanilli's Dummer is seen wearing a Skull Skates Long sleeve, INXS music videos, even Mic Jagger's son bought a bike while wearing a skull long sleeve.

12) Andy Anderson:
Andy Anderson has been riding for PD's Hot Shop for a long time, well before he was pro for Powell. The Hans lingren board was heavy inspiration for the extremely popular Andy Anderson shape.
You can see a skull sticker on most of his boards and Skull Patches on his clothing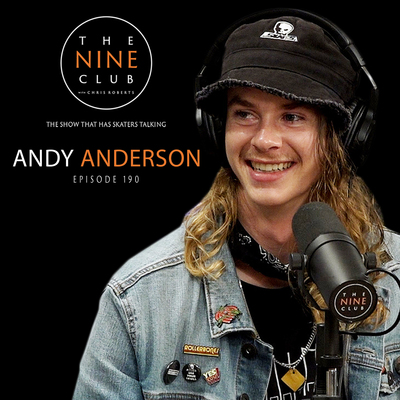 13) Skateboard Museum:
Skull has an amazing virtual skateboard museum on their website we have a link below for people interested, it's really a must see for skate nerds (https://www.skullskates.com/museum/intro.html.)
14) Barrier Kult:
Barrier Kult has always had a strong connection with SKULL, they do a lot of boards with Skull. They have also done Deer man of the Dark Woods guest boards, his character also featured a Skull logo in Skate 3, the Skull patch is the only real logo on the jacket he is wearing.